5.80 g of methyl 6-chloro-2-pyrazinecarboxylate was synthesised which will be used in the synthesis of 6-chloropyrazine-2-carboxylic acid (see Synthesis of 6-chloropyrazine-2-carboxylic acid (IT 4-1).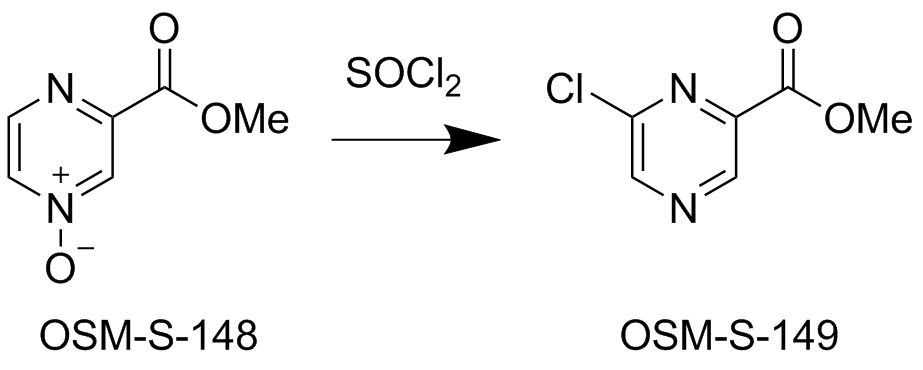 I am followed the method used in this paper (DOI: 10.1021/jm201045m, see p. 7688).
Methyl 4-oxy-2-pyrazinecarboxylate (13.0 g, 84.3 mmol, from IT 2-1, impure) was dissolved in SOCl2 (80 mL) and the mixture heated at reflux for 22 h (however, a mini work-up of reaction mixture after 4 h of heating suggested that the reaction had probably already gone to completion after this amount of time). After the solution had cooled to ambient temperature, the SOCl2 was removed under vacuum and the residue quenched with the dropwise addition of water (80 mL) at 0 oC. The reaction mixture was neutralised by the addition of K2CO3 (1 M, aq.) and extracted with dichloromethane (3 x 180 mL). The organic extracts were washed with brine (180 mL), dried over anhydrous magnesium sulfate, filtered and then concentrated in vacuo. The brown-orange residue was purified by silica column chromatography (eluent: 100 % hexane to 50:50 ethyl acetate:hexane). This yielded a yellow oil of methyl 6-chloro-2-pyrazinecarboxylate (5.80 g) shown to contain slight impurities by 1H NMR.
Hazard Assessment
Synthesis of IT 3 methyl 6-chloro-2-pyrazinecarboxylate.docx
IT 3-1.png
InChI
InChI=1S/C6H6N2O3/c1-11-6(9)5-4-8(10)3-2-7-5/h2-4H,1H3
to
InChI=1S/C6H5ClN2O2/c1-11-6(10)4-2-8-3-5(7)9-4/h2-3H,1H3
TCL plate from column chromatography (eluent EtOAc: petroleum ether 1:4, product spot Rf = 0.7)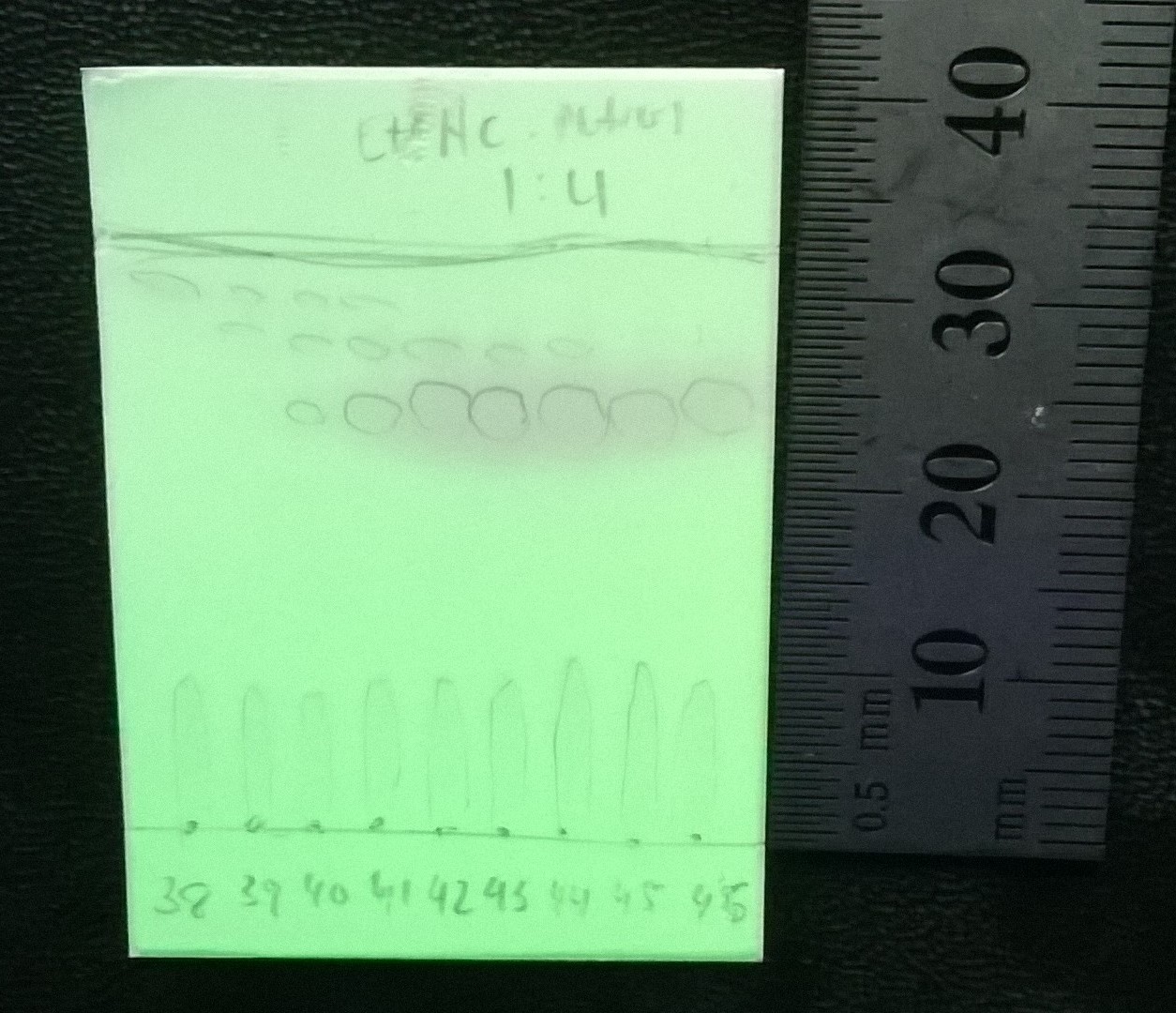 1H NMR
1H MNR IT 3-1 fractions 40-52 methyl 6-chloro-2-pyrazinecarboxylate CDCl3.pdf
Attached Files
Synthesis of IT 3-1.png
Synthesis of IT 3 methyl 6-chloro-2-pyrazinecarboxylate.docx
IT 3-1.png
1H MNR IT 3-1 fractions 40-52 methyl 6-chloro-2-pyrazinecarboxylate CDCl3.pdf
TCL IT 3-1 column chromatography EtOAc-petroleum ether 1-4.png