Procedure:
For details of synthesis of hydrazinylpyrazine, see Synthesis of 2-Chloro-6-hydrazinylpyrazine (AEW 85-7). 
Hydrazinylpyrazine can also be purchased commercially.
Hydrazinylpyrazine (8.00g, 55.3mmol, 1 equiv.), triethyl orthoformate (16.40g 18.4 ml, 111 mmol, 2 equiv.), and tosylic acid (1.9g, 11.1mmol, 0.2 equiv.) were dissolved in toluene (158ml, 0.35 M with respect to Hydrazinylpyrazine) and heated at reflux for about 24 hours(using Dean Stark Aparatus to set up)
Volatiles were removed under reduced pressure, remaining orthoester was blown off under a gentle stream of nitrogen.
NMR of the crude showed that purification is needed. TLC showed that 6 fractions were spotted. The reaction mixture was dissolved in ethyl acetate and mixed with slica. The solvent (ethyl acetate) was evaporated under reduced pressure. Purified by column chromatography (30 to 100% ethyl acetate in hexanes). All fractions are yellow solid.
Strings:
ClC1=CN=CC(NN)=N1
and
CCOC(OCC)([H])OCC
to
ClC1=CN=CC2=NN=CN21
InChI=1S/C4H5ClN4/c5-3-1-7-2-4(8-3)9-6/h1-2H,6H2,(H,8,9)  
and  
InChI=1S/C7H16O3/c1-4-8-7(9-5-2)10-6-3/h7H,4-6H2,1-3H3  
to  
InChI=1S/C5H3ClN4/c6-4-1-7-2-5-9-8-3-10(4)5/h1-3H
HIRAC
HM 1-3.docx
Log
28th Jul 
Reaction started at 11:40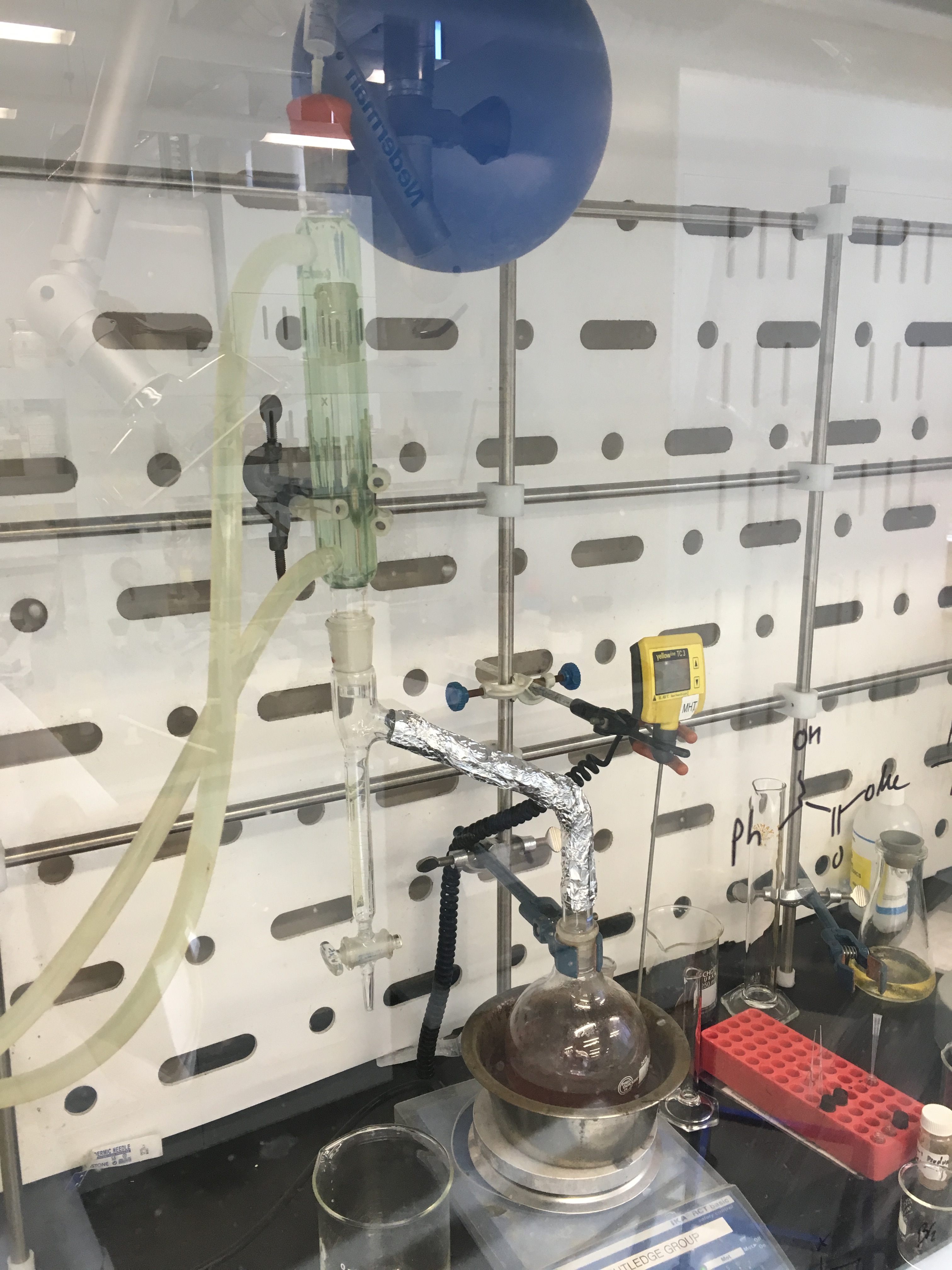 29th Jul 
There was no liquid collected in Dean Stark aparatus and solvent was not refluxing though the temperature of oil bath was 110℃.TLC was performed, showing SM was consumed and 4 product was formed.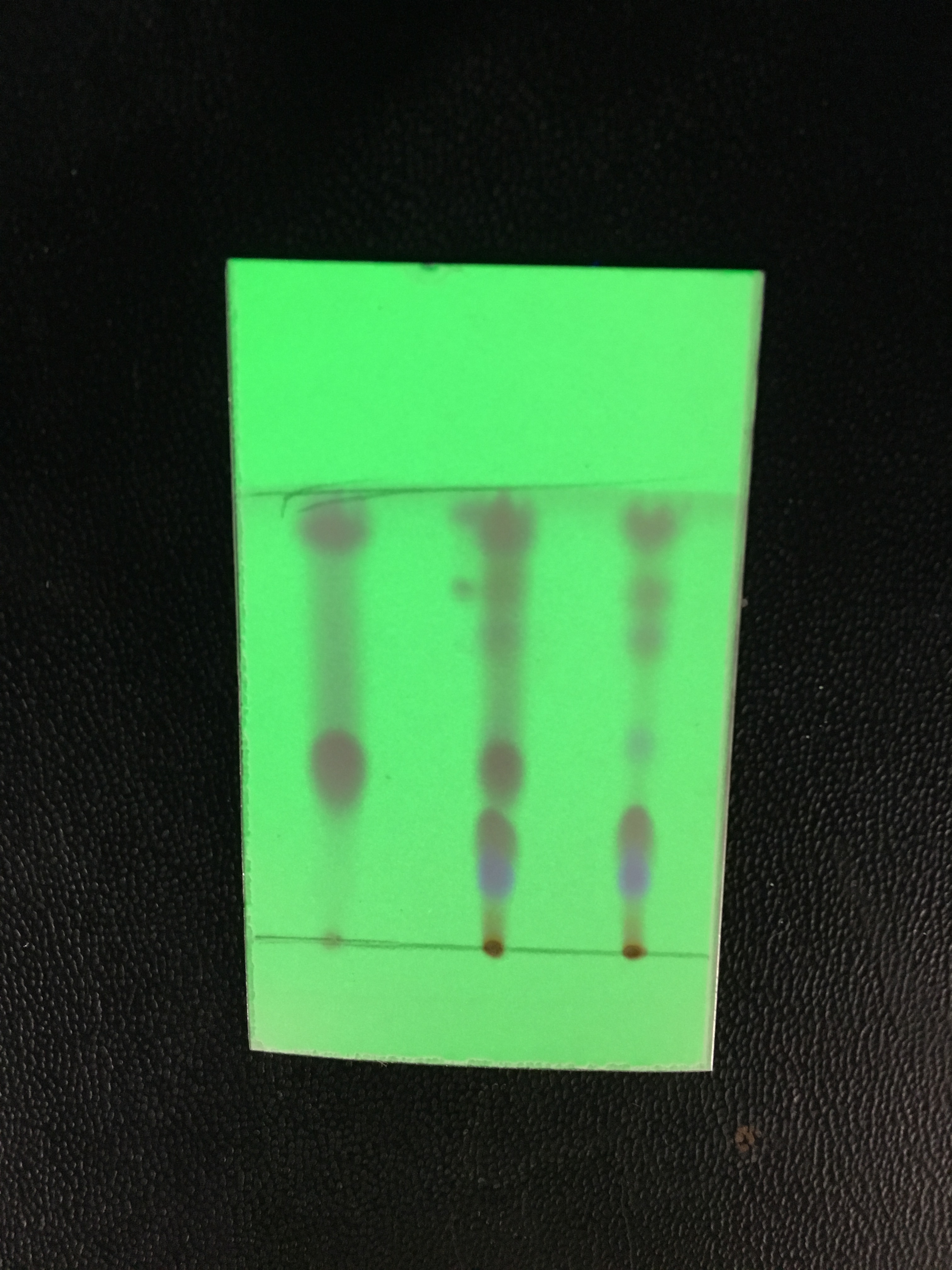 TLC also showed that there was impurity in SM. So I checked two batches of SM(The previous one and new-made one) by TLC. Both of them had two spots.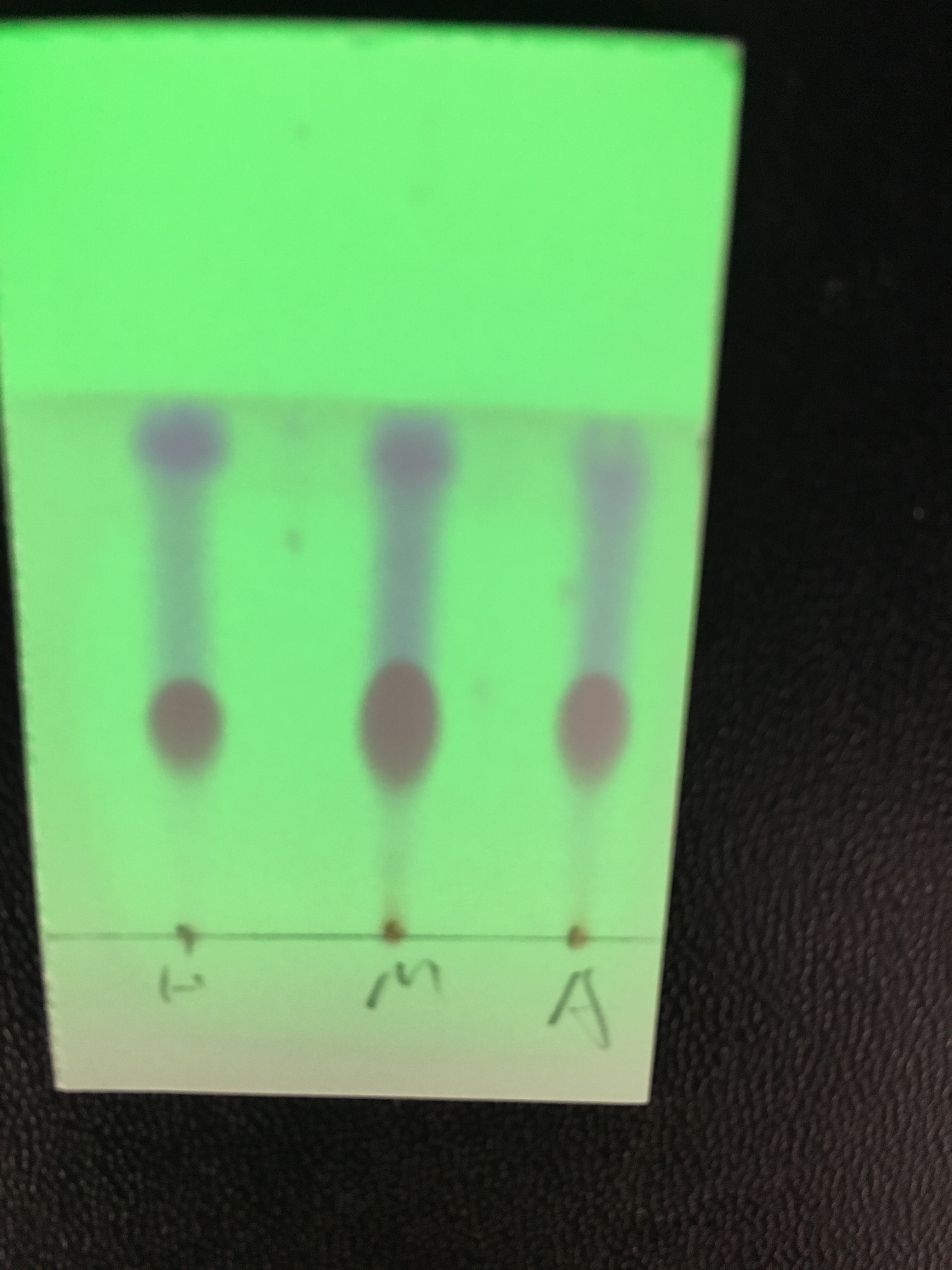 Reaction was switched of at 1:30. Toluene was removed.
This entry is linked by:
Attached Files
HM 1-3.png
HM 1-3.docx
IMG_2169.JPG
IMG_2198.JPG
IMG_2197.JPG