Hi,
I'm Sebastien, currently a second year undergraduate at the University of Sydney. I've been helping out with data mangement online and have started doing volunteer work in the lab with Alice.
My goal over the next upcoming weeks is to seperate and purify four compounds synthesised by students in the Special Students Programme at the University of Sydney, SSP-1:SSP-4 .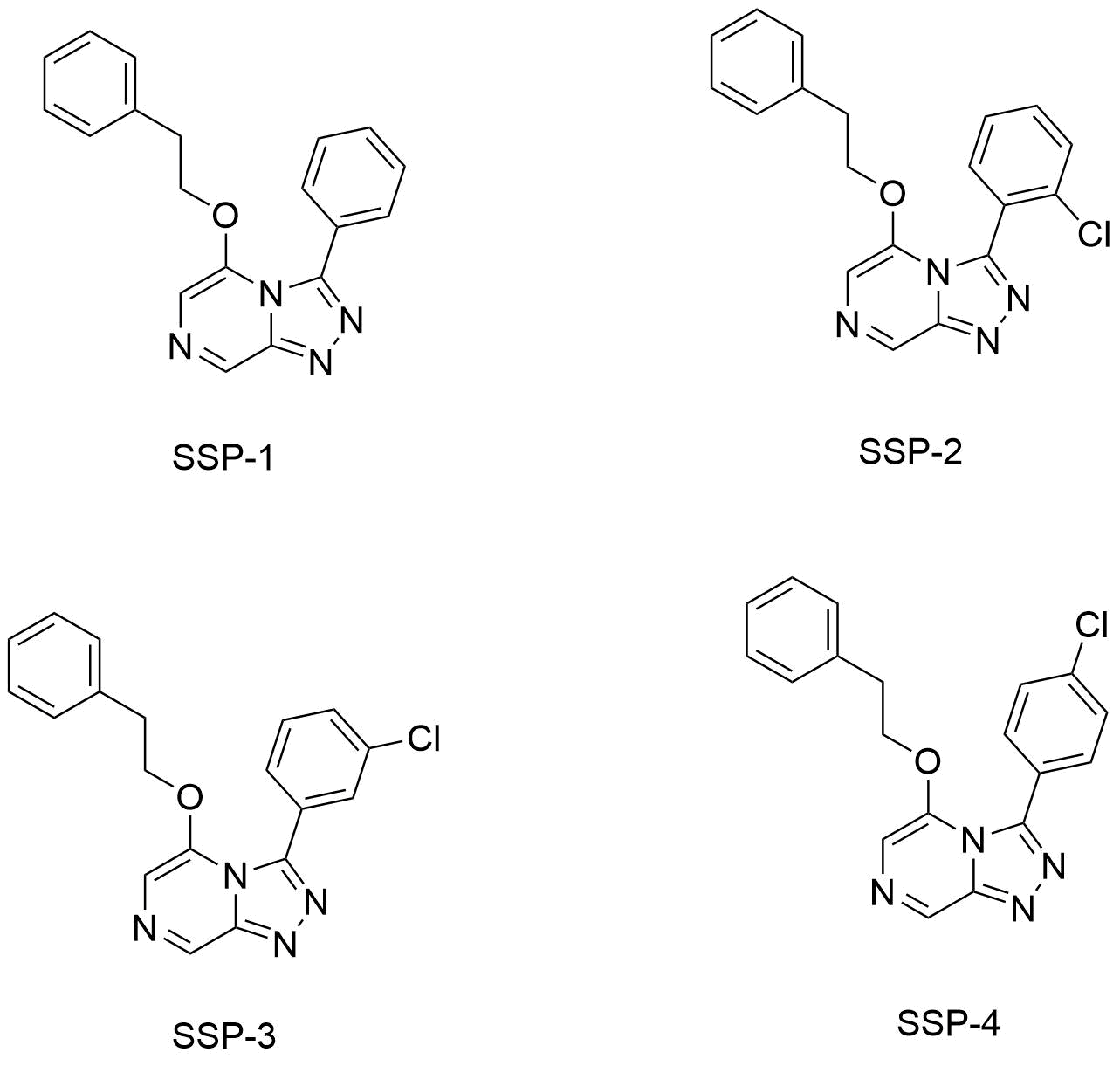 1H NMR will be used to confirm that the compounds were correctly seperated and purified.
C12=NN=C(C3=CC=CC=C3)N1C(OCCC4=CC=CC=C4)=CN=C2
InChI=1S/C19H16N4O/c1-3-7-15(8-4-1)11-12-24-18-14-20-13-17-21-22-19(23(17)18)16-9-5-2-6-10-16/h1-10,13-14H,11-12H2
ClC(C=CC=C1)=C1C2=NN=C3C=NC=C(OCCC4=CC=CC=C4)N32
InChI=1S/C19H15ClN4O/c20-16-9-5-4-8-15(16)19-23-22-17-12-21-13-18(24(17)19)25-11-10-14-6-2-1-3-7-14/h1-9,12-13H,10-11H2
ClC1=CC=CC(C2=NN=C3C=NC=C(OCCC4=CC=CC=C4)N32)=C1
InChI=1S/C19H15ClN4O/c20-16-8-4-7-15(11-16)19-23-22-17-12-21-13-18(24(17)19)25-10-9-14-5-2-1-3-6-14/h1-8,11-13H,9-10H2
ClC(C=C1)=CC=C1C2=NN=C3C=NC=C(OCCC4=CC=CC=C4)N32
InChI=1S/C19H15ClN4O/c20-16-8-6-15(7-9-16)19-23-22-17-12-21-13-18(24(17)19)25-11-10-14-4-2-1-3-5-14/h1-9,12-13H,10-11H2
Attached Files
SSP Compounds.png
SSP Compounds.cdx