Mnr:
mnr51-60
EDC Coupling of MNR55 with Ammonium Hydroxide to give MNR56-1
See - Synthesis of MNR55-1 - Synthesis of MNR54-1


Hazard Assessment
HIRAC MNR54.pdf
Procedure
reaction on at 1120am 5/11/12
EDCI (0.056, 0.29 mmol) and HOBt (0.003 g, 0.02 mmol) were added to a solution of MNR55-1 (0.07 g, 0.24 mmol) in DCM (3 mL) and the mixture was stirred for 20 minutes. Ammonium hydroxide(28%, 0.1 mL) was added and the reaction mixture stirred at room temperature. After stirring for 4 hours the TLC still showed signs of starting material but it was decided to work the reaction up. It was quenched with sodium bicarbonate (10 mL) and extracted with DCM (3 x 10 mL), dried over MgSO4, filtered and concentrated to give a white solid (0.084 g)
TLC in 100% EtOAc
SANY0019.JPG
Column - 100% EtOAc
Frac 5-17 as a white solid - needs further drying before final NMRs
product poorly soluble in CHCl3 and MeOH
Quick NMR's before going on holiday -
mnr56-1_frac5-17_1H_MeOD.pdf
mnr56-1_frac5-17_19F_MeOD.pdf
mnr56-1_frac5-17.zip
Overnight NMR in MeOD - still very poorly soluble
mnr56-1_frac5-17_13C.pdf
mnr56-1_overnight.zip
After further drying - 0.040 g, 0.14 mmol, 57%
This post is linked by:
Mnr:
MNR51-60
Hydrolysis of MJT6-1 to give MNR55-1
See
- Synthesis on MJT6-1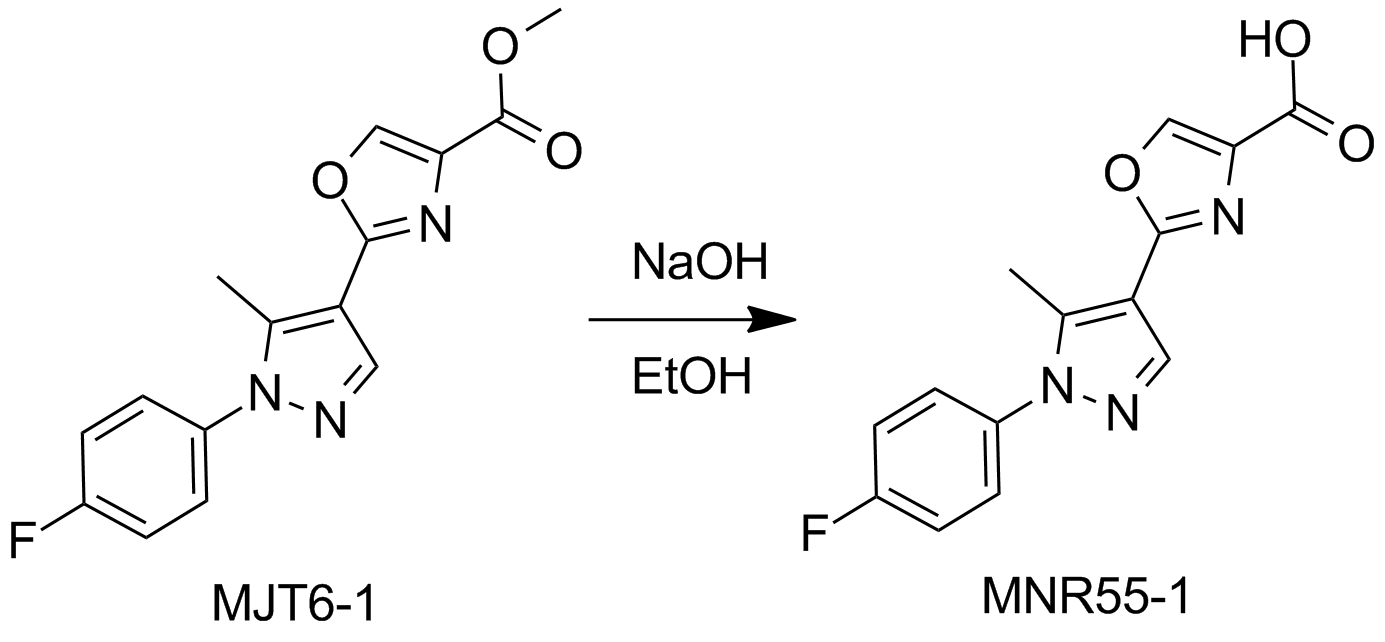 Hazard Assessment
MNR55-1.pdf
Procedure
NaOH (0.2 g, 4.98 mmol) was added to a solution of MJT6-1 (0.15 g, 0.50 mmol) in EtOH (2 mL) and water (1 mL) and then heated to reflux for 3 hours. The reaction was allowed to cool to room temperature and was then cooled in an ice bath and then acidified to pH 1 using conc. HCl. The mixture was then left to stand overnight at room temperature (time constraints). The white precipitate was then filtered and rinsed with water to give a crude off white solid (0.094 g). 1H NMR of this showed clean, product 0.094 g, 0.327 mmol, 66%.
The washings were concentrated to remove any EtOH in the solution but no further precipitate crashed out.
NMR
mnr55-1_filter1_1H.pdf
mnr55-1_filter1.zip
mnr55-1_filter1_19F.pdf
mnr55-1_conc_MeOH.zip
mnr55-1_DMSO_1H.pdf
mnr55-1_DMSO_13C.pdf
mnr55-1_dmso.zip
This post is linked by: