Mnr:
MNR51-60
Hydrolysis of MJT6-1 to give MNR55-1
See
- Synthesis on MJT6-1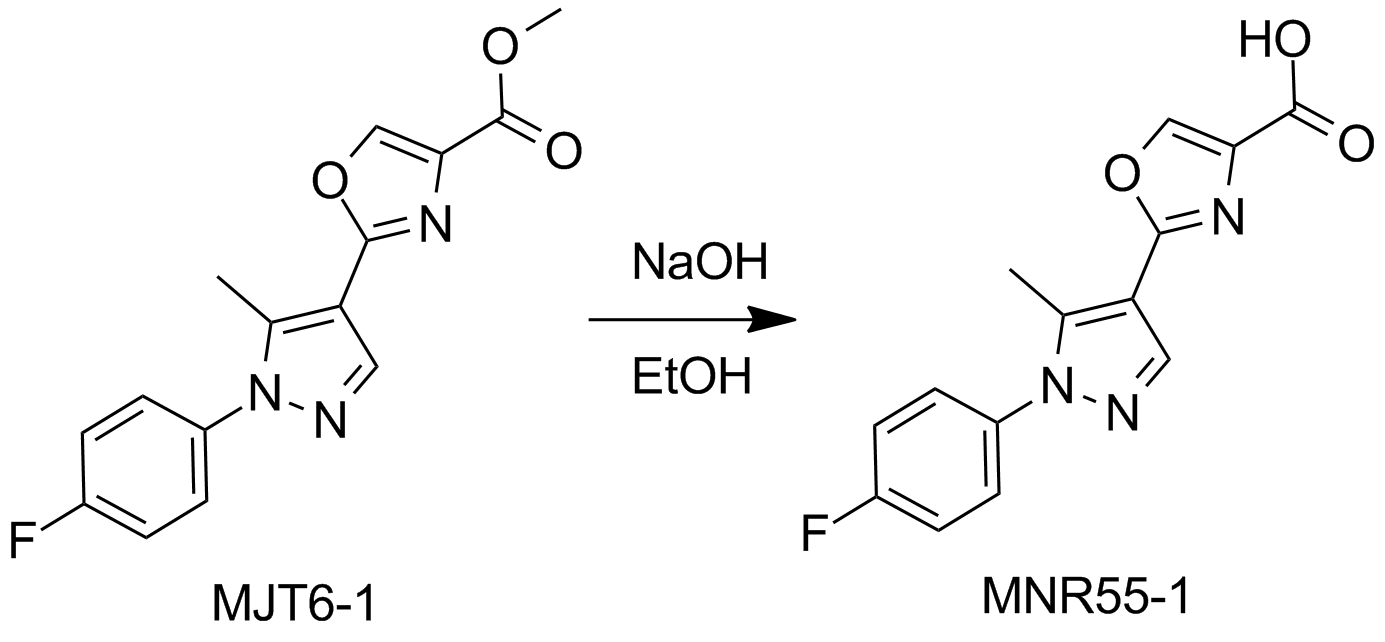 Hazard Assessment
MNR55-1.pdf
Procedure
NaOH (0.2 g, 4.98 mmol) was added to a solution of MJT6-1 (0.15 g, 0.50 mmol) in EtOH (2 mL) and water (1 mL) and then heated to reflux for 3 hours. The reaction was allowed to cool to room temperature and was then cooled in an ice bath and then acidified to pH 1 using conc. HCl. The mixture was then left to stand overnight at room temperature (time constraints). The white precipitate was then filtered and rinsed with water to give a crude off white solid (0.094 g). 1H NMR of this showed clean, product 0.094 g, 0.327 mmol, 66%.
The washings were concentrated to remove any EtOH in the solution but no further precipitate crashed out.
NMR
mnr55-1_filter1_1H.pdf
mnr55-1_filter1.zip
mnr55-1_filter1_19F.pdf
mnr55-1_conc_MeOH.zip
mnr55-1_DMSO_1H.pdf
mnr55-1_DMSO_13C.pdf
mnr55-1_dmso.zip
This post is linked by:
Attached Files
MNR55_scheme.png
MNR55-1_table.PNG
MNR55-1.pdf
mnr55-1_filter1_1H.pdf
mnr55-1_filter1.zip
mnr55-1_conc_MeOH.zip
mnr55-1_dmso.zip
mnr55-1_DMSO_1H.pdf
mnr55-1_DMSO_13C.pdf
mnr55-1_filter1_19F.pdf