Mnr:
MNR49-50
Hydrolisis of MNR49-1 to give MNR50-1
See
- Synthesis on MNR49-1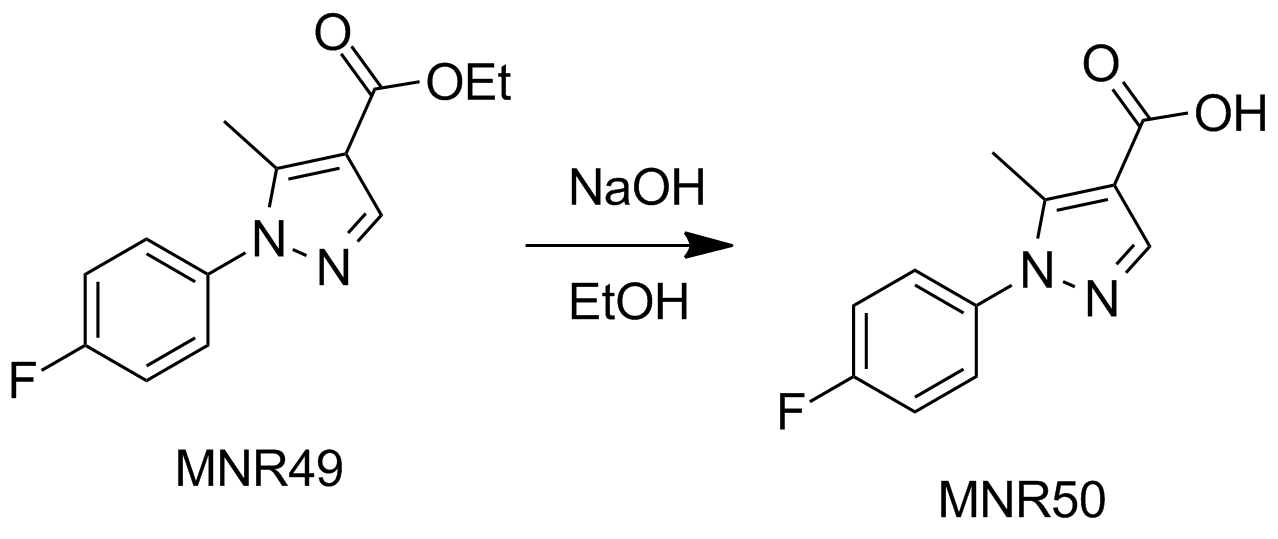 Hazard Assessment
HIRAC MNR50.pdf
Procedure
reaction on at 11am 22/10/12
NaOH (10.6 g, 265 mmol) was added to a solution of MNR49-1 (6.6 g, XX mmol) in EtOH (90 mL) and water (45 mL) and then heated to reflux for 90 minutes. The reaction was allowed to cool to room temperature and was then cooled in an ice bath and then acidified to pH 1 using conc. HCl. The white precipitate was then filtered and rinsed with water to give a crude (wet) off white solid (9.9 g). The crude was then recrystallised in Et2O (250 ml) and left to stand overnight. The fine white crystals were filtered and washed with Et2O and dried under vacuum. The filtrate was also concentrated and dried under vacuum.
1st crop - 3.285 g 14.91 mmol, 56%
filtrate - 2.012 g, 9.14 mmol, 34% - almost as clean as the crystals
upon standing overnight, more precipitate had formed in the acidified aqueous layer. This was filtered, washed with water and dried under vacuum.
2nd filter - 0.711 g, 3.23 mmol, 12% - nmr was as clean as the recrystallised product.
Total mass recovered - 6.008 g, >26.6 mmol, 102%
No more purification was carried out at this time but the 3 samples were kept separate.
NMR
1st crop
mnr50-1_recryst1_1H.pdf
mnr50-1_recryst1_13C.pdf
mnr50-1_recryst1.zip
Filtrate
mnr50-1_crude_1H.pdf
mnr50-1_crude.zip
2nd filter
mnr50-1_filt2_1H.pdf
mnr50-1_filt2.zip
This post is linked by:
Attached Files
HIRAC MNR50.pdf
MNR50_scheme.png
MNR50_scheme.png
MNR50-1_table.PNG
mnr50-1_crude_1H.pdf
mnr50-1_recryst1_1H.pdf
mnr50-1_recryst1_13C.pdf
mnr50-1_crude.zip
mnr50-1_recryst1.zip
mnr50-1_filt2_1H.pdf
mnr50-1_filt2.zip