DMF
(5.0 mL) was stirred under a nitrogen atmosphere in an ice-bath.
Phosphoryl chloride
(1.18 mL, 12.7 mmol, 1.2 equiv.) was added and the reaction stirred for 25 minutes. Reaction still colourless. A solution of pyrrole
PMY 1-6
(2.00 g, 10.5 mmol, 1 equiv.) in DMF (5 mL) was added dropwise over 5 minutes. The reaction was removed from the ice-bath and allowed to warm to room temperature. After 45 minutes, reaction was complete by TLC. Poured over ice (100 ml). pH adjusted to 6 (approx. 20% NaOH) and left stirring overnight. In the morning, pH was 3. 20% NaOH added until pH 11 and left for a further 30 minutes. The solid was filtered and washed with water. The solid was a wet beige paste. Recrystallised (MeCN/water) to obtain a first crop of tan free-flowing powder (2.05 g, 89%).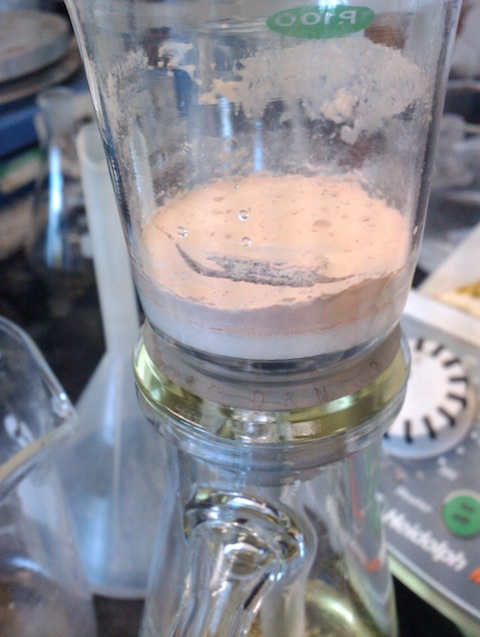 Solid prior to recrystallisation.
Hazard and Risk Assessment:
As for
Scale up (3 mmol): Formylation of 1-(4-fluorophenyl)-2,5-dimethyl-1H-pyrrole (PMY 2-2)
.
This post is linked by:
List:
OSM-S-1_to
This page is no longer actively edited. The active spreadsheet of all OSM compounds is here. The corresponding visualisation of the data is here. Note that in the below the structure given for OSM-S-56 is slightly wrong (an isomer). The correct structure may be seen here or via the above links.
OSM-E Compounds













OSM-L Compounds


A procedure for the Paal-Knorr synthesis of
1-(4-Fluoro-phenyl)-2,5-dimethyl-1H-pyrrole
.

4-fluoroaniline
(10.4 mL, 110 mmol, 1.1 equiv.) and
2,5-hexanedione
(11.7 mL, 100 mmol, 1 equiv.) were heated to 110 °C (oil bath temp.). After 15 hours, reaction was cooled to room temperature. The mixture was dissolved in hot EtOH (15 mL) and a mixture of EtOH (30 mL) and aqueous solution of 10% citric acid (15 mL). The reaction was slowly cooled to approx. 10 °C with periodic shaking. The resulting crystals were filted and washed with water (approx. 200 mL) to obtain the product as pale tan crystals (14.98 g, 79%) after drying under vacuum at room temperature. A further crop of brown crystals (1.89 g, 10%) could be obtained from mother liquor.
Data:
1H and 13C 300 MHz Data
mpt: 48-49 °C (EtOH/water)
m/z
(APCI+) 190 [M+H]
+
, 100%.
References:
Manetti, F.; Magnani, M.; Castagnolo, D.; Passalacqua, L.; Botta, M.; Corelli, F.; Saddi, M.; Deidda, D; De Logu, A.
ChemMedChem
,
2006
,
1
, 973–989. doi:
10.1002/cmdc.200600026
Original Experiment:
Scale-up (100 mmol) of Paal-Knorr Synthesis of 1-aryl-2,5-dimethyl Pyrrole Core (PMY 1-6)
Structural Information
InChI=1S/C6H6FN/c7-5-1-3-6(8)4-2-5/h1-4H,8H2
and
InChI=1S/C6H10O2/c1-5(7)3-4-6(2)8/h3-4H2,1-2H3
gives: InChI=1S/C12H12FN/c1-9-3-4-10(2)14(9)12-7-5-11(13)6-8-12/h3-8H,1-2H3
This post is linked by:
By clicking here this page can be viewed using the Chemicalize website which will display the sturtures of the compounds when you mouse over the InChI strings.
OSM_ID

3D7_IC50_nM_Avery
Link / InChI
OSM-S-1
 
InChI=1S/C12H12FN/c1-9-3-4-10(2)14(9)12-7-5-11(13)6-8-12/h3-8H,1-2H3
OSM-S-2
60% @ 120000
InChI=1S/C13H12FNO/c1-9-7-11(8-16)10(2)15(9)13-5-3-12(14)4-6-13/h3-8H,1-2H3
OSM-S-3
11960
InChI=1S/C15H16FNO2/c1-4-19-15(18)14-9-10(2)17(11(14)3)13-7-5-12(16)6-8-13/h5-9H,4H2,1-3H3
OSM-S-4
75% @ 120000
InChI=1S/C13H12FNO2/c1-8-7-12(13(16)17)9(2)15(8)11-5-3-10(14)4-6-11/h3-7H,1-2H3,(H,16,17)
OSM-S-5
404
InChI=1S/C15H15FN2O3/c1-9-7-13(15(20)21-8-14(17)19)10(2)18(9)12-5-3-11(16)4-6-12/h3-7H,8H2,1-2H3,(H2,17,19)
OSM-S-6
345
InChI=1S/C26H25FN4O4/c1-16-14-22(17(2)30(16)20-12-10-19(27)11-13-20)26(34)35-15-23(32)28-24-18(3)29(4)31(25(24)33)21-8-6-5-7-9-21/h5-14H,15H2,1-4H3,(H,28,32)
OSM-S-7
7800
InChI=1S/C26H34FN3O2/c1-18-17-24(19(2)29(18)23-15-13-20(27)14-16-23)25(31)30(22-11-7-4-8-12-22)26(32)28-21-9-5-3-6-10-21/h13-17,21-22H,3-12H2,1-2H3,(H,28,32)
OSM-S-8
100% @ 80000
InChI=1S/C24H23FN4O2/c1-15-14-21(16(2)28(15)19-12-10-18(25)11-13-19)23(30)26-22-17(3)27(4)29(24(22)31)20-8-6-5-7-9-20/h5-14H,1-4H3,(H,26,30)
OSM-S-9
47
InChI=1S/C24H20FN3O2S/c1-15-13-18(16(2)27(15)21-11-9-19(25)10-12-21)14-22-23(30)26-24(31-22)28(17(3)29)20-7-5-4-6-8-20/h4-14H,1-3H3/b22-14-
OSM-S-10
176
InChI=1S/C22H18FN3OS/c1-14-12-16(15(2)26(14)19-10-8-17(23)9-11-19)13-20-21(27)25-22(28-20)24-18-6-4-3-5-7-18/h3-13H,1-2H3,(H,24,25,27)/b20-13-
OSM-S-11
 
InChI=1S/C13H14FNO/c1-9-7-11(8-16)10(2)15(9)13-5-3-12(14)4-6-13/h3-7,16H,8H2,1-2H3
OSM-S-12
70% @ 120000
InChI=1S/C13H13NO2/c1-9-8-12(13(15)16)10(2)14(9)11-6-4-3-5-7-11/h3-8H,1-2H3,(H,15,16)
OSM-S-13
70% @ 120000
InChI=1S/C14H15NO2/c1-9-4-6-12(7-5-9)15-10(2)8-13(11(15)3)14(16)17/h4-8H,1-3H3,(H,16,17)
OSM-S-14
25% @ 120000
InChI=1S/C14H12F3NO2/c1-8-7-12(13(19)20)9(2)18(8)11-5-3-10(4-6-11)14(15,16)17/h3-7H,1-2H3,(H,19,20)
OSM-S-15
 
InChI=1S/C9H9NO3/c11-8(12)6-10-9(13)7-4-2-1-3-5-7/h1-5H,6H2,(H,10,13)(H,11,12)
OSM-S-16
>80000
InChI=1S/C20H20N4O3/c1-14-18(20(27)24(23(14)2)16-11-7-4-8-12-16)22-17(25)13-21-19(26)15-9-5-3-6-10-15/h3-12H,13H2,1-2H3,(H,21,26)(H,22,25)
OSM-S-17
 
InChI=1S/C18H24N4O4/c1-12-15(20-14(23)11-19-17(25)26-18(2,3)4)16(24)22(21(12)5)13-9-7-6-8-10-13/h6-10H,11H2,1-5H3,(H,19,25)(H,20,23)
OSM-S-18
 
InChI=1S/C13H16N4O2/c1-9-12(15-11(18)8-14)13(19)17(16(9)2)10-6-4-3-5-7-10/h3-7H,8,14H2,1-2H3,(H,15,18)
OSM-S-19
25-80% @ 80000
InChI=1S/C15H16FN3O2/c1-9-7-13(15(21)18-8-14(17)20)10(2)19(9)12-5-3-11(16)4-6-12/h3-7H,8H2,1-2H3,(H2,17,20)(H,18,21)
OSM-S-20
 
InChI=1S/C13H11ClFNO/c1-8-7-12(13(14)17)9(2)16(8)11-5-3-10(15)4-6-11/h3-7H,1-2H3
OSM-S-21
31000
InChI=1S/C26H26FN5O3/c1-16-14-22(17(2)31(16)20-12-10-19(27)11-13-20)25(34)28-15-23(33)29-24-18(3)30(4)32(26(24)35)21-8-6-5-7-9-21/h5-14H,15H2,1-4H3,(H,28,34)(H,29,33)
OSM-S-22
 
InChI=1S/C13H13FN2O/c1-8-7-12(13(15)17)9(2)16(8)11-5-3-10(14)4-6-11/h3-7H,1-2H3,(H2,15,17)
OSM-S-23
 
InChI=1S/C13H14N2O2/c1-3-17-13(16)12-9-14-15(10(12)2)11-7-5-4-6-8-11/h4-9H,3H2,1-2H3
OSM-S-24
 
InChI=1S/C11H10N2O2/c1-8-10(11(14)15)7-12-13(8)9-5-3-2-4-6-9/h2-7H,1H3,(H,14,15)
OSM-S-25
 
InChI=1S/C12H13N/c1-10-8-9-11(2)13(10)12-6-4-3-5-7-12/h3-9H,1-2H3
OSM-S-26
 
InChI=1S/C13H15N/c1-10-4-8-13(9-5-10)14-11(2)6-7-12(14)3/h4-9H,1-3H3
OSM-S-27
 
InChI=1S/C13H12F3N/c1-9-3-4-10(2)17(9)12-7-5-11(6-8-12)13(14,15)16/h3-8H,1-2H3
OSM-S-28
55% @ 120000
InChI=1S/C13H13NO/c1-10-8-12(9-15)11(2)14(10)13-6-4-3-5-7-13/h3-9H,1-2H3
OSM-S-29
could not determine
InChI=1S/C14H15NO/c1-10-4-6-14(7-5-10)15-11(2)8-13(9-16)12(15)3/h4-9H,1-3H3
OSM-S-30
85% @ 120000
InChI=1S/C16H19NO2/c1-5-19-16(18)15-10-12(3)17(13(15)4)14-8-6-11(2)7-9-14/h6-10H,5H2,1-4H3
OSM-S-31
80% @ 120000
InChI=1S/C15H17NO2/c1-4-18-15(17)14-10-11(2)16(12(14)3)13-8-6-5-7-9-13/h5-10H,4H2,1-3H3
OSM-S-32
85% @ 120000
InChI=1S/C16H16F3NO2/c1-4-22-15(21)14-9-10(2)20(11(14)3)13-7-5-12(6-8-13)16(17,18)19/h5-9H,4H2,1-3H3
OSM-S-33
 
InChI=1S/C14H11F6N/c1-8-3-4-9(2)21(8)12-6-10(13(15,16)17)5-11(7-12)14(18,19)20/h3-7H,1-2H3
OSM-S-34
 
InChI=1S/C14H12F3NO/c1-9-7-11(8-19)10(2)18(9)13-5-3-12(4-6-13)14(15,16)17/h3-8H,1-2H3
OSM-S-35
26
InChI=1S/C22H19N3OS/c1-15-13-17(16(2)25(15)19-11-7-4-8-12-19)14-20-21(26)24-22(27-20)23-18-9-5-3-6-10-18/h3-14H,1-2H3,(H,23,24,26)/b20-14-
OSM-S-36
 
InChI=1S/C15H11F6NO/c1-8-3-10(7-23)9(2)22(8)13-5-11(14(16,17)18)4-12(6-13)15(19,20)21/h3-7H,1-2H3
OSM-S-37
15
InChI=1S/C23H21N3OS/c1-15-9-11-20(12-10-15)26-16(2)13-18(17(26)3)14-21-22(27)25-23(28-21)24-19-7-5-4-6-8-19/h4-14H,1-3H3,(H,24,25,27)/b21-14-
OSM-S-38
2
InChI=1S/C23H18F3N3OS/c1-14-12-16(15(2)29(14)19-10-8-17(9-11-19)23(24,25)26)13-20-21(30)28-22(31-20)27-18-6-4-3-5-7-18/h3-13H,1-2H3,(H,27,28,30)/b20-13-
OSM-S-39
0.78
InChI=1S/C24H17F6N3OS/c1-13-8-15(9-20-21(34)32-22(35-20)31-18-6-4-3-5-7-18)14(2)33(13)19-11-16(23(25,26)27)10-17(12-19)24(28,29)30/h3-12H,1-2H3,(H,31,32,34)/b20-9-
OSM-S-40
 
InChI=1S/C15H17NO2/c1-4-18-15(17)13-7-9-14(10-8-13)16-11(2)5-6-12(16)3/h5-10H,4H2,1-3H3
OSM-S-41
 
InChI=1S/C11H12N2/c1-9-6-7-10(2)13(9)11-5-3-4-8-12-11/h3-8H,1-2H3
OSM-S-42
could not determine
InChI=1S/C25H19F3N4OS/c1-16-14-18(17(2)32(16)21-10-8-19(9-11-21)25(26,27)28)15-22-23(33)31(13-12-29)24(34-22)30-20-6-4-3-5-7-20/h3-11,14-15H,13H2,1-2H3/b22-15-,30-24-
OSM-S-43
3120
InChI=1S/C25H19F3N4OS/c1-16-14-18(17(2)32(16)21-10-8-19(9-11-21)25(26,27)28)15-22-23(33)30-24(34-22)31(13-12-29)20-6-4-3-5-7-20/h3-11,14-15H,13H2,1-2H3/b22-15-
OSM-S-44
 
InChI=1S/C12H12N2O/c1-9-7-11(8-15)10(2)14(9)12-5-3-4-6-13-12/h3-8H,1-2H3
OSM-S-45
12
InChI=1S/C25H20F3N3O2S/c1-15-13-18(16(2)30(15)21-11-9-19(10-12-21)25(26,27)28)14-22-23(33)29-24(34-22)31(17(3)32)20-7-5-4-6-8-20/h4-14H,1-3H3/b22-14-
OSM-S-46
 
InChI=1S/C16H17NO3/c1-4-20-16(19)13-5-7-15(8-6-13)17-11(2)9-14(10-18)12(17)3/h5-10H,4H2,1-3H3
OSM-S-47
 
InChI=1S/C15H12N2OS/c18-14-11-19-15(16-12-7-3-1-4-8-12)17(14)13-9-5-2-6-10-13/h1-10H,11H2/b16-15-
OSM-S-48
169
InChI=1S/C25H23N3O3S/c1-4-31-24(30)18-10-12-21(13-11-18)28-16(2)14-19(17(28)3)15-22-23(29)27-25(32-22)26-20-8-6-5-7-9-20/h5-15H,4H2,1-3H3,(H,26,27,29)/b22-15-
OSM-S-49
63
InChI=1S/C24H21N3O2S/c1-16-14-19(17(2)26(16)20-10-6-4-7-11-20)15-22-23(29)25-24(30-22)27(18(3)28)21-12-8-5-9-13-21/h4-15H,1-3H3/b22-15-
OSM-S-50
326
InChI=1S/C25H23N3O2S/c1-16-10-12-22(13-11-16)27-17(2)14-20(18(27)3)15-23-24(30)26-25(31-23)28(19(4)29)21-8-6-5-7-9-21/h5-15H,1-4H3/b23-15-
OSM-S-51
307
InChI=1S/C21H18N4OS/c1-14-12-16(15(2)25(14)19-10-6-7-11-22-19)13-18-20(26)24-21(27-18)23-17-8-4-3-5-9-17/h3-13H,1-2H3,(H,23,24,26)/b18-13-
OSM-S-52
54
InChI=1S/C29H22F3N3OS/c1-19-17-21(20(2)34(19)25-15-13-22(14-16-25)29(30,31)32)18-26-27(36)35(24-11-7-4-8-12-24)28(37-26)33-23-9-5-3-6-10-23/h3-18H,1-2H3/b26-18-,33-28-
OSM-S-53
 
InChI=1S/C9H10N2O2/c1-7(12)10-9(13)11-8-5-3-2-4-6-8/h2-6H,1H3,(H2,10,11,12,13)
OSM-S-54
34
InChI=1S/C28H26F3N3OS/c1-18-16-20(19(2)33(18)24-14-12-21(13-15-24)28(29,30)31)17-25-26(35)34(23-10-6-7-11-23)27(36-25)32-22-8-4-3-5-9-22/h3-5,8-9,12-17,23H,6-7,10-11H2,1-2H3/b25-17-,32-27-
OSM-S-55
could not determine
InChI=1S/C16H12N2OS/c19-15-14(11-12-7-3-1-4-8-12)20-16(18-15)17-13-9-5-2-6-10-13/h1-11H,(H,17,18,19)/b14-11-
OSM-S-56
333
InChI=1S/C12H15N5O3S/c1-15(2)12(18)17-9-13-11(14-17)21(19,20)16(3)10-7-5-4-6-8-10/h4-9H,1-3H3
OSM-S-57
>40000
InChI=1S/C13H13N3O3/c1-9-11(13(18)19-8-12(14)17)7-15-16(9)10-5-3-2-4-6-10/h2-7H,8H2,1H3,(H2,14,17)
OSM-S-58
>40000
InChI=1S/C15H18FN3O/c1-10-7-12(8-18-9-15(17)20)11(2)19(10)14-5-3-13(16)4-6-14/h3-7,18H,8-9H2,1-2H3,(H2,17,20)
OSM-S-59
>40000
InChI=1S/C16H18FN3O2/c1-10-8-14(16(22)19(3)9-15(18)21)11(2)20(10)13-6-4-12(17)5-7-13/h4-8H,9H2,1-3H3,(H2,18,21)
OSM-S-60
>40000
InChI=1S/C16H20FN3O/c1-11-8-13(9-19(3)10-16(18)21)12(2)20(11)15-6-4-14(17)5-7-15/h4-8H,9-10H2,1-3H3,(H2,18,21)
OSM-S-61
>40000
InChI=1S/C17H19FN2O4/c1-10-8-14(16(22)19-15(9-21)17(23)24-3)11(2)20(10)13-6-4-12(18)5-7-13/h4-8,15,21H,9H2,1-3H3,(H,19,22)/t15-/m0/s1
OSM-S-62
>40000
InChI=1S/C17H15FN2O3/c1-10-8-14(16-19-15(9-23-16)17(21)22-3)11(2)20(10)13-6-4-12(18)5-7-13/h4-9H,1-3H3
OSM-S-63
>40000
InChI=1S/C17H17FN2O3/c1-10-8-14(16-19-15(9-23-16)17(21)22-3)11(2)20(10)13-6-4-12(18)5-7-13/h4-8,15H,9H2,1-3H3/t15-/m0/s1
OSM-S-64
>40000
InChI=1S/C10H11N3OS/c1-6-15-9-8(1)11-7-12-10(9)13-2-4-14-5-3-13/h1,6-7H,2-5H2
OSM-S-65
>40000
InChI=1S/C6H3IN2OS/c7-4-1-3-5(11-4)6(10)9-2-8-3/h1-2H,(H,8,9,10)
OSM-S-66
>40000
InChI=1S/C9H9N3S/c1-2-4-8(5-3-1)6-13-9-10-7-11-12-9/h1-5,7H,6H2,(H,10,11,12)
OSM-S-67
438
InChI=1S/C12H14N4OS/c1-15(2)12(17)16-9-13-11(14-16)18-8-10-6-4-3-5-7-10/h3-7,9H,8H2,1-2H3
OSM-S-68
>40000
InChI=1S/C17H19FN2O3/c1-10-9-14(15(21)23-17(3,4)16(19)22)11(2)20(10)13-7-5-12(18)6-8-13/h5-9H,1-4H3,(H2,19,22)
OSM-S-69
>40000
InChI=1S/C7H7NO3S/c1-11-7(10)6-5(8-4-9)2-3-12-6/h2-4H,1H3,(H,8,9)
OSM-S-70
94000
InChI=1S/C6H3ClN2S/c7-6-5-4(1-2-10-5)8-3-9-6/h1-3H
OSM-S-71
>40000
InChI=1S/C6H5N3S/c7-6-5-4(1-2-10-5)8-3-9-6/h1-3H,(H2,7,8,9)
OSM-S-72
>40000
InChI=1S/C18H13N3O2S2/c22-25(23,14-9-5-2-6-10-14)21-17-15-11-16(13-7-3-1-4-8-13)24-18(15)20-12-19-17/h1-12H,(H,19,20,21)
OSM-S-73
>40000
InChI=1S/C15H16N4O2S2/c1-10-4-5-11(8-13(10)23(20,21)19(2)3)18-15-14-12(6-7-22-14)16-9-17-15/h4-9H,1-3H3,(H,16,17,18)
OSM-S-74
17600
InChI=1S/C19H18N4O3S3/c1-20-29(24,25)17-8-7-14(27-17)10-21-19-18-15(22-11-23-19)9-16(28-18)12-3-5-13(26-2)6-4-12/h3-9,11,20H,10H2,1-2H3,(H,21,22,23)
OSM-S-75
>40000
InChI=1S/C18H20N4O3S2/c1-25-14-2-4-15(5-3-14)27(23,24)22-9-6-13(7-10-22)21-18-17-16(8-11-26-17)19-12-20-18/h2-5,8,11-13H,6-7,9-10H2,1H3,(H,19,20,21)
OSM-S-76
>40000
InChI=1S/C14H14N4O2S2/c1-9(10-3-2-4-11(7-10)22(15,19)20)18-14-13-12(5-6-21-13)16-8-17-14/h2-9H,1H3,(H2,15,19,20)(H,16,17,18)/t9-/m1/s1
OSM-S-77
>40000
InChI=1S/C16H18N4O3S2/c1-4-23-13-6-5-11(9-14(13)25(21,22)20(2)3)19-16-15-12(7-8-24-15)17-10-18-16/h5-10H,4H2,1-3H3,(H,17,18,19)
OSM-S-78
>40000
InChI=1S/C19H16N4O2S2/c20-27(24,25)15-7-5-13(6-8-15)11-21-19-16-3-1-2-4-17(16)22-18(23-19)14-9-10-26-12-14/h1-10,12H,11H2,(H2,20,24,25)(H,21,22,23)
OSM-S-79
>40000
InChI=1S/C13H12N4O2S2/c14-21(18,19)10-3-1-2-9(6-10)7-15-13-12-11(4-5-20-12)16-8-17-13/h1-6,8H,7H2,(H2,14,18,19)(H,15,16,17)
OSM-S-80
80% @ 40000
InChI=1S/C23H21N3O5S2/c1-29-17-4-2-16(3-5-17)21-14-20-22(32-21)23(25-15-24-20)31-18-6-8-19(9-7-18)33(27,28)26-10-12-30-13-11-26/h2-9,14-15H,10-13H2,1H3
OSM-S-81
>40000
InChI=1S/C17H21N3O2/c1-12-10-15(17(22)18-11-16(21)19(3)4)13(2)20(12)14-8-6-5-7-9-14/h5-10H,11H2,1-4H3,(H,18,22)
OSM-S-82
9400
InChI=1S/C16H17FN2O3/c1-10-8-14(16(21)22-9-15(20)18-3)11(2)19(10)13-6-4-12(17)5-7-13/h4-8H,9H2,1-3H3,(H,18,20)
OSM-S-83
>40000
InChI=1S/C17H19N3O2/c1-12-10-15(17(22)19-9-8-18-16(21)11-19)13(2)20(12)14-6-4-3-5-7-14/h3-7,10H,8-9,11H2,1-2H3,(H,18,21)
OSM-S-84
70% @ 40000
InChI=1S/C17H20BrN3O2/c1-11-9-15(17(23)20(4)10-16(22)19-3)12(2)21(11)14-7-5-13(18)6-8-14/h5-9H,10H2,1-4H3,(H,19,22)
OSM-S-85
>40000
InChI=1S/C23H22N4O3S/c1-15-12-20(16(2)27(15)18-9-5-4-6-10-18)22-25-26-23(30-22)31-14-21(28)24-17-8-7-11-19(13-17)29-3/h4-13H,14H2,1-3H3,(H,24,28)
OSM-S-86
>40000
InChI=1S/C23H22F3N3O2/c1-4-28(13-21(30)27-22-19(25)6-5-7-20(22)26)23(31)18-12-14(2)29(15(18)3)17-10-8-16(24)9-11-17/h5-12H,4,13H2,1-3H3,(H,27,30)
OSM-S-87
85% @ 40000
InChI=1S/C21H24N4O3/c1-13-7-6-8-17(9-13)25-14(2)10-18(16(25)4)21(27)24(5)12-20(26)22-19-11-15(3)28-23-19/h6-11H,12H2,1-5H3,(H,22,23,26)
OSM-S-88
14700
InChI=1S/C21H29ClN4O/c1-15-12-17(16(2)26(15)20-6-4-18(22)5-7-20)13-24-19-8-10-25(11-9-19)14-21(27)23-3/h4-7,12,19,24H,8-11,13-14H2,1-3H3,(H,23,27)
OSM-S-89
24700
InChI=1S/C20H27ClN4O/c1-4-23-20(26)19-10-16(22)12-24(19)11-15-9-13(2)25(14(15)3)18-8-6-5-7-17(18)21/h5-9,16,19H,4,10-12,22H2,1-3H3,(H,23,26)/t16-,19+/m1/s1
OSM-S-90
>40000
InChI=1S/C21H28N2O2/c1-4-17-5-7-20(8-6-17)23-15(2)13-19(16(23)3)14-22-11-9-18(10-12-22)21(24)25/h5-8,13,18H,4,9-12,14H2,1-3H3,(H,24,25)
OSM-S-91
11300
InChI=1S/C17H19FN2O3/c1-11-9-15(17(22)23-10-16(21)19(3)4)12(2)20(11)14-7-5-13(18)6-8-14/h5-9H,10H2,1-4H3
OSM-S-92
>40000
InChI=1S/C12H10FN3O3/c13-9-1-3-10(4-2-9)16-6-8(5-15-16)12(18)19-7-11(14)17/h1-6H,7H2,(H2,14,17)
OSM-S-93
>40000
InChI=1S/C15H17FN2O/c1-10-9-14(15(19)17(3)4)11(2)18(10)13-7-5-12(16)6-8-13/h5-9H,1-4H3
OSM-S-94
96% @ 40000
InChI=1S/C17H21FN2/c1-13-11-15(12-19-9-3-4-10-19)14(2)20(13)17-7-5-16(18)6-8-17/h5-8,11H,3-4,9-10,12H2,1-2H3
OSM-S-95
4800
InChI=1S/C25H30FN3/c1-19-16-22(20(2)29(19)25-10-8-23(26)9-11-25)17-27-24-12-14-28(15-13-24)18-21-6-4-3-5-7-21/h3-11,16,24,27H,12-15,17-18H2,1-2H3
OSM-S-96
>40000
InChI=1S/C15H12FN3O3/c1-9-12(14-18-13(8-22-14)15(20)21-2)7-17-19(9)11-5-3-10(16)4-6-11/h3-8H,1-2H3
OSM-S-97
>40000
InChI=1S/C16H16FNO3/c1-10-9-14(15(19)7-8-16(20)21)11(2)18(10)13-5-3-12(17)4-6-13/h3-6,9H,7-8H2,1-2H3,(H,20,21)
OSM-S-98
>40000
InChI=1S/C18H21FN2O2/c1-12-11-16(17(22)9-10-18(23)20(3)4)13(2)21(12)15-7-5-14(19)6-8-15/h5-8,11H,9-10H2,1-4H3
OSM-S-99
>40000
InChI=1S/C18H20FNO4/c1-5-23-17(21)13(4)24-18(22)16-10-11(2)20(12(16)3)15-8-6-14(19)7-9-15/h6-10,13H,5H2,1-4H3/t13-/m1/s1
OSM-S-100
>40000
InChI=1S/C16H16FNO4/c1-9-8-14(16(21)22-11(3)15(19)20)10(2)18(9)13-6-4-12(17)5-7-13/h4-8,11H,1-3H3,(H,19,20)/t11-/m1/s1
OSM-S-101
>40000
InChI=1S/C16H13FN2O3/c1-9-7-13(15-18-14(8-22-15)16(20)21)10(2)19(9)12-5-3-11(17)4-6-12/h3-8H,1-2H3,(H,20,21)
OSM-S-102
>40000
InChI=1S/C17H19FN2O2/c1-11-10-15(16(21)8-9-17(22)19-3)12(2)20(11)14-6-4-13(18)5-7-14/h4-7,10H,8-9H2,1-3H3,(H,19,22)
OSM-S-103
61% @ 40000
InChI=1S/C16H17FN2O2/c1-10-9-14(15(20)7-8-16(18)21)11(2)19(10)13-5-3-12(17)4-6-13/h3-6,9H,7-8H2,1-2H3,(H2,18,21)
OSM-S-104
>40000
InChI=1S/C14H10FN3O3/c1-8-11(13-17-12(7-21-13)14(19)20)6-16-18(8)10-4-2-9(15)3-5-10/h2-7H,1H3,(H,19,20)
OSM-S-105
>40000
InChI=1S/C14H11FN4O2/c1-8-11(14-18-12(7-21-14)13(16)20)6-17-19(8)10-4-2-9(15)3-5-10/h2-7H,1H3,(H2,16,20)
OSM-S-106
36
InChI=1S/C12H10N4O2S2/c13-12-11-9(15-6-16-12)5-10(19-11)7-2-1-3-8(4-7)20(14,17)18/h1-6H,(H2,13,15,16)(H2,14,17,18)
OSM-S-107
92% @ 40,000
InChI=1S/C17H17FN4S/c18-14-3-1-13(2-4-14)11-21-6-8-22(9-7-21)17-16-15(5-10-23-16)19-12-20-17/h1-5,10,12H,6-9,11H2
OSM-S-108
1200
InChI=1S/C16H15N3OS/c1-10-8-12(11(2)17-10)9-14-15(20)19-16(21-14)18-13-6-4-3-5-7-13/h3-9,17H,1-2H3,(H,18,19,20)/b14-9-
OSM-S-109
262
InChI=1S/C22H18N4O3S/c1-14-12-16(15(2)25(14)18-8-10-19(11-9-18)26(28)29)13-20-21(27)24-22(30-20)23-17-6-4-3-5-7-17/h3-13H,1-2H3,(H,23,24,27)/b20-13-
OSM-S-110
2300
InChI=1S/C22H18N4O4S/c1-13-10-15(14(2)25(13)17-6-8-18(9-7-17)26(29)30)11-20-21(28)24-22(31-20)23-16-4-3-5-19(27)12-16/h3-12,27H,1-2H3,(H,23,24,28)/b20-11-
OSM-S-111
146
InChI=1S/C23H21N3O2S/c1-15-13-17(16(2)26(15)19-9-11-20(28-3)12-10-19)14-21-22(27)25-23(29-21)24-18-7-5-4-6-8-18/h4-14H,1-3H3,(H,24,25,27)/b21-14-
OSM-S-112
1600
InChI=1S/C23H21N3O3S/c1-14-11-16(15(2)26(14)18-7-9-20(29-3)10-8-18)12-21-22(28)25-23(30-21)24-17-5-4-6-19(27)13-17/h4-13,27H,1-3H3,(H,24,25,28)/b21-12-
OSM-S-113
>40000
InChI=1S/C21H18N4O2S/c1-13-11-15(14(2)25(13)19-5-3-4-10-22-19)12-18-20(27)24-21(28-18)23-16-6-8-17(26)9-7-16/h3-12,26H,1-2H3,(H,23,24,27)/b18-12-
OSM-S-114
1200
InChI=1S/C22H19N3O2S/c1-14-11-16(15(2)25(14)18-8-4-3-5-9-18)12-20-21(27)24-22(28-20)23-17-7-6-10-19(26)13-17/h3-13,26H,1-2H3,(H,23,24,27)/b20-12-
OSM-S-115
1800
InChI=1S/C22H19N3O2S/c1-14-12-16(15(2)25(14)18-6-4-3-5-7-18)13-20-21(27)24-22(28-20)23-17-8-10-19(26)11-9-17/h3-13,26H,1-2H3,(H,23,24,27)/b20-13-
OSM-S-116
11000
InChI=1S/C16H17FN2O3/c1-9-8-14(16(21)22-11(3)15(18)20)10(2)19(9)13-6-4-12(17)5-7-13/h4-8,11H,1-3H3,(H2,18,20)/t11-/m1/s1
OSM-S-117
>40,000
InChI=1S/C10H11N3OS/c1-6-15-9-8(1)11-7-12-10(9)13-2-4-14-5-3-13/h1,6-7H,2-5H2
OSM-S-118
>40,000
InChI=1S/C12H8N2S/c1-2-4-9(5-3-1)11-12-10(6-7-15-12)13-8-14-11/h1-8H
OSM-S-119
>40,000
InChI=1S/C12H6Br2N2S/c13-8-10-11(17-12(8)14)9(15-6-16-10)7-4-2-1-3-5-7/h1-6H
OSM-S-120
>40,000
InChI=1S/C12H7BrN2S/c13-10-6-9-12(16-10)11(15-7-14-9)8-4-2-1-3-5-8/h1-7H
OSM-S-121
95% @ 40,000
InChI=1S/C6H2BrClN2S/c7-4-1-3-5(11-4)6(8)10-2-9-3/h1-2H
OSM-S-122
>40,000
InChI=1S/C18H12N2S/c1-3-7-13(8-4-1)16-11-15-18(21-16)17(20-12-19-15)14-9-5-2-6-10-14/h1-12H
OSM-S-123
>40,000
InChI=1S/C12H9N3S/c13-12-11-9(14-7-15-12)6-10(16-11)8-4-2-1-3-5-8/h1-7H,(H2,13,14,15)
OSM-S-124
62% @ 40,000
InChI=1S/C17H17N3O2S/c1-21-13-4-2-12(3-5-13)15-10-14-16(23-15)17(19-11-18-14)20-6-8-22-9-7-20/h2-5,10-11H,6-9H2,1H3
OSM-S-125
>40,000
InChI=1S/C10H10BrN3OS/c11-8-5-7-9(16-8)10(13-6-12-7)14-1-3-15-4-2-14/h5-6H,1-4H2
OSM-S-126
39% @ 40,000
InChI=1S/C16H15N3OS/c1-2-4-12(5-3-1)14-10-13-15(21-14)16(18-11-17-13)19-6-8-20-9-7-19/h1-5,10-11H,6-9H2
OSM-S-127
42% @ 40,000
InChI=1S/C16H16N4O3S2/c17-25(21,22)12-3-1-2-11(8-12)14-9-13-15(24-14)16(19-10-18-13)20-4-6-23-7-5-20/h1-3,8-10H,4-7H2,(H2,17,21,22)
OSM-S-128
54% @ 40,000
InChI=1S/C16H17N3S/c1-16(2,3)11-6-4-10(5-7-11)13-8-12-14(20-13)15(17)19-9-18-12/h4-9H,1-3H3,(H2,17,18,19)
OSM-S-129
>40,000
InChI=1S/C12H10N4O2S2/c13-12-11-9(15-6-16-12)5-10(19-11)7-1-3-8(4-2-7)20(14,17)18/h1-6H,(H2,13,15,16)(H2,14,17,18)
OSM-S-130
>40,000
InChI=1S/C15H14N4OS/c1-19(2)15(20)10-5-3-9(4-6-10)12-7-11-13(21-12)14(16)18-8-17-11/h3-8H,1-2H3,(H2,16,17,18)
OSM-S-131
>40,000
InChI=1S/C13H11N3OS/c1-17-9-4-2-8(3-5-9)11-6-10-12(18-11)13(14)16-7-15-10/h2-7H,1H3,(H2,14,15,16)
OSM-S-132
>40,000
InChI=1S/C17H16N4O2S/c18-16-15-13(19-10-20-16)9-14(24-15)11-1-3-12(4-2-11)17(22)21-5-7-23-8-6-21/h1-4,9-10H,5-8H2,(H2,18,19,20)
OSM-S-133
73% @ 40,000
InChI=1S/C15H14N4OS/c1-19(2)15(20)10-5-3-4-9(6-10)12-7-11-13(21-12)14(16)18-8-17-11/h3-8H,1-2H3,(H2,16,17,18)
OSM-S-134
>40,000
InChI=1S/C18H19N5OS/c1-22-6-8-23(9-7-22)18(24)13-4-2-12(3-5-13)15-10-14-16(25-15)17(19)21-11-20-14/h2-5,10-11H,6-9H2,1H3,(H2,19,20,21)
OSM-S-135
>40,000
InChI=1S/C13H10N4OS/c14-12-11-9(16-6-17-12)5-10(19-11)7-2-1-3-8(4-7)13(15)18/h1-6H,(H2,15,18)(H2,14,16,17)
OSM-S-136
15000
InChI=1S/C17H16BrFN4S/c18-15-9-14-16(24-15)17(21-11-20-14)23-7-5-22(6-8-23)10-12-1-3-13(19)4-2-12/h1-4,9,11H,5-8,10H2
OSM-S-137
17000
InChI=1S/C23H22FN5O2S2/c24-18-6-4-16(5-7-18)14-28-8-10-29(11-9-28)23-22-20(26-15-27-23)13-21(32-22)17-2-1-3-19(12-17)33(25,30)31/h1-7,12-13,15H,8-11,14H2,(H2,25,30,31)
OSM-S-138
23000
InChI=1S/C22H20N4OS/c1-14-12-16(15(2)26(14)19-10-8-17(23)9-11-19)13-20-21(27)25-22(28-20)24-18-6-4-3-5-7-18/h3-13H,23H2,1-2H3,(H,24,25,27)/b20-13-
OSM-S-139
 
InChI=1S/C6H4BrN3S/c7-4-1-3-5(11-4)6(8)10-2-9-3/h1-2H,(H2,8,9,10)
OSM-S-140
 

InChI=1S/C6H5BrN4S/c7-4-1-3-5(12-4)6(11-8)10-2-9-3/h1-2H,8H2,(H,9,10,11) 

OSM-S-141
 

InChI=1S/C8H9N3S/c1-11(2)8-7-6(3-4-12-7)9-5-10-8/h3-5H,1-2H3

OSM-S-142
 
InChI=1S/C18H19N5OS/c1-22-5-7-23(8-6-22)18(24)13-4-2-3-12(9-13)15-10-14-16(25-15)17(19)21-11-20-14/h2-4,9-11H,5-8H2,1H3,(H2,19,20,21)
OSM-S-143
 
InChI=1S/C12H8ClN3O2S2/c13-12-11-9(15-6-16-12)5-10(19-11)7-2-1-3-8(4-7)20(14,17)18/h1-6H,(H2,14,17,18)
OSM-S-144
 
InChI=1S/C16H18N4O3S2/c1-20(2)6-7-23-16-15-13(18-10-19-16)9-14(24-15)11-4-3-5-12(8-11)25(17,21)22/h3-5,8-10H,6-7H2,1-2H3,(H2,17,21,22)
OSM-S-145
 
InChI=1S/C14H14N4O2S2/c1-18(2)14-13-11(16-8-17-14)7-12(21-13)9-4-3-5-10(6-9)22(15,19)20/h3-8H,1-2H3,(H2,15,19,20)
OSM-S-146
 
InChI=1S/C17H26BNO6S/c1-15(2,3)23-14(20)19-26(21,22)13-10-8-9-12(11-13)18-24-16(4,5)17(6,7)25-18/h8-11H,1-7H3,(H,19,20)
OSM-S-147
 
InChI=1S/C6H6N2O2/c1-10-6(9)5-4-7-2-3-8-5/h2-4H,1H3
OSM-S-148
 
InChI=1S/C6H6N2O3/c1-11-6(9)5-4-8(10)3-2-7-5/h2-4H,1H3
OSM-S-149
 
InChI=1S/C6H5ClN2O2/c1-11-6(10)4-2-8-3-5(7)9-4/h2-3H,1H3
OSM-S-150
 
InChI=1S/C5H3ClN2O2/c6-4-2-7-1-3(8-4)5(9)10/h1-2H,(H,9,10)
OSM-S-151
 
InChI=1S/C12H18BNO4S/c1-11(2)12(3,4)18-13(17-11)9-6-5-7-10(8-9)19(14,15)16/h5-8H,1-4H3,(H2,14,15,16)
OSM-S-152
 
InChI=1S/C13H20BNO4S/c1-12(2)13(3,4)19-14(18-12)10-7-6-8-11(9-10)20(16,17)15-5/h6-9,15H,1-5H3
OSM-S-153
 
InChI=1S/C14H22BNO4S/c1-13(2)14(3,4)20-15(19-13)11-8-7-9-12(10-11)21(17,18)16(5)6/h7-10H,1-6H3
OSM-S-154
 
InChI=1S/C7H8BrNO2S/c1-9-12(10,11)7-4-2-3-6(8)5-7/h2-5,9H,1H3
OSM-S-155
 
InChI=1S/C8H10BrNO2S/c1-10(2)13(11,12)8-5-3-4-7(9)6-8/h3-6H,1-2H3
OSM-S-156
 
InChI=1S/C9H16O4S/c1-3-12-8(10)5-6-14-7-9(11)13-4-2/h3-7H2,1-2H3
OSM-S-157
 
InChI=1S/C7H12O2S/c1-2-9-7(8)6-4-3-5-10-6/h6H,2-5H2,1H3
OSM-S-158
 
InChI=1S/C8H6F3NO3S/c1-15-6(13)5-4(2-3-16-5)12-7(14)8(9,10)11/h2-3H,1H3,(H,12,14)
OSM-S-159
 
InChI=1S/C10H10IN3OS/c11-8-5-7-9(16-8)10(13-6-12-7)14-1-3-15-4-2-14/h5-6H,1-4H2
OSM-S-160
 
InChI=1S/C9H12F3NO3/c1-16-7(14)5-3-2-4-6(5)13-8(15)9(10,11)12/h5-6H,2-4H2,1H3,(H,13,15)
OSM-S-161
 
InChI=1S/C13H10BrN3O2S2/c1-8-2-4-9(5-3-8)21(18,19)17-13-12-10(15-7-16-13)6-11(14)20-12/h2-7H,1H3,(H,15,16,17)
OSM-S-162
 
InChI=1S/C15H13N3S/c1-10-8-11-4-2-3-5-13(11)18(10)15-14-12(6-7-19-14)16-9-17-15/h2-7,9-10H,8H2,1H3
OSM-S-163
 
InChI=1S/C13H11BrN2O/c14-10-5-4-8-12(9-10)16-13(17)15-11-6-2-1-3-7-11/h1-9H,(H2,15,16,17)
OSM-S-164
 
InChI=1S/C12H17BO2/c1-11(2)12(3,4)15-13(14-11)10-8-6-5-7-9-10/h5-9H,1-4H3
OSM-S-165
 
InChI=1S/C10H11N3S2/c1-4-15-9-8(1)11-7-12-10(9)13-2-5-14-6-3-13/h1,4,7H,2-3,5-6H2
OSM-S-166
 

InChI=1S/C13H10ClN3S/c1-17(10-4-2-9(14)3-5-10)13-12-11(6-7-18-12)15-8-16-13/h2-8H,1H3 

OSM-S-167
 
InChI=1S/C7H6BrN3S/c1-9-7-6-4(10-3-11-7)2-5(8)12-6/h2-3H,1H3,(H,9,10,11)
OSM-S-168
 
InChI=1S/C7H7N3S/c1-8-7-6-5(2-3-11-6)9-4-10-7/h2-4H,1H3,(H,8,9,10)
OSM-S-169
 
InChI=1S/C8H8BrN3S/c1-12(2)8-7-5(10-4-11-8)3-6(9)13-7/h3-4H,1-2H3
OSM-S-170
 
InChI=1S/C10H12BrN3OS/c1-14(2)3-4-15-10-9-7(12-6-13-10)5-8(11)16-9/h5-6H,3-4H2,1-2H3
OSM-S-171
 

InChI=1S/C6H4N2OS/c9-6-5-4(1-2-10-5)7-3-8-6/h1-3H,(H,7,8,9)

OSM-S-172
 

InChI=1S/C7H6N2OS/c1-10-7-6-5(2-3-11-6)8-4-9-7/h2-4H,1H3

OSM-S-173
 
InChI=1S/C8H10BrNO2S/c1-10(2)13(11,12)8-5-3-7(9)4-6-8/h3-6H,1-2H3
OSM-S-174
 
InChI=1S/C11H14N4S/c1-14-3-5-15(6-4-14)11-10-9(2-7-16-10)12-8-13-11/h2,7-8H,3-6H2,1H3
OSM-S-175
 
InChI=1S/C18H11F3N6O2/c19-14-7-11(5-6-23-14)24-17(28)13-8-22-9-15-25-26-16(27(13)15)10-1-3-12(4-2-10)29-18(20)21/h1-9,18H,(H,23,24,28)
OSM-S-176
250
InChI=1S/C20H14ClF2N5O2/c21-14-3-1-2-12(8-14)9-25-19(29)16-10-24-11-17-26-27-18(28(16)17)13-4-6-15(7-5-13)30-20(22)23/h1-8,10-11,20H,9H2,(H,25,29)
OSM-S-177
>10000
InChI=1S/C20H15F2N5O2/c21-20(22)29-16-7-5-13(6-8-16)18-25-24-12-27(18)17(9-23)19(28)26-10-14-3-1-2-4-15(14)11-26/h1-9,12,20H,10-11H2/b17-9+
OSM-S-178
1330
InChI=1S/C20H14ClF2N5O2/c21-14-5-1-12(2-6-14)9-25-19(29)16-10-24-11-17-26-27-18(28(16)17)13-3-7-15(8-4-13)30-20(22)23/h1-8,10-11,20H,9H2,(H,25,29)
OSM-S-179
>10000
InChI=1S/C19H19F2N5O3/c20-19(21)29-14-3-1-13(2-4-14)17-25-24-16-11-22-10-15(26(16)17)18(27)23-9-12-5-7-28-8-6-12/h1-4,10-12,19H,5-9H2,(H,23,27)
OSM-2-180
 >10000
InChI=1S/C23H22F2N8O2/c24-23(25)35-17-6-4-16(5-7-17)21-30-29-20-14-26-13-18(33(20)21)22(34)28-15-31-9-11-32(12-10-31)19-3-1-2-8-27-19/h1-8,13-14,23H,9-12,15H2,(H,28,34)
OSM-S-181
 >10000
InChI=1S/C19H20F2N6O3/c20-19(21)30-14-3-1-13(2-4-14)17-25-24-16-12-22-11-15(27(16)17)18(28)23-5-6-26-7-9-29-10-8-26/h1-4,11-12,19H,5-10H2,(H,23,28)
OSM-S-182
 >10000
InChI=1S/C17H15F2N5O2/c18-17(19)26-12-5-3-11(4-6-12)15-22-21-14-10-20-9-13(24(14)15)16(25)23-7-1-2-8-23/h3-6,9-10,17H,1-2,7-8H2
OSM-S-183
3560
InChI=1S/C23H19F2N5O2/c24-23(25)32-17-10-8-16(9-11-17)21-28-27-20-14-26-13-19(30(20)21)22(31)29-12-4-7-18(29)15-5-2-1-3-6-15/h1-3,5-6,8-11,13-14,18,23H,4,7,12H2
OSM-S-184
>10000
InChI=1S/C18H18F2N6O4S/c1-31(28,29)25-8-6-24(7-9-25)17(27)14-10-21-11-15-22-23-16(26(14)15)12-2-4-13(5-3-12)30-18(19)20/h2-5,10-11,18H,6-9H2,1H3
OSM-S-185
>10000
InChI=1S/C17H15F2N5O3/c18-17(19)27-12-3-1-11(2-4-12)15-22-21-14-10-20-9-13(24(14)15)16(25)23-5-7-26-8-6-23/h1-4,9-10,17H,5-8H2

OSM-S-186

1350

InChI=1S/C21H17F2N5O2/c1-13(14-5-3-2-4-6-14)25-20(29)17-11-24-12-18-26-27-19(28(17)18)15-7-9-16(10-8-15)30-21(22)23/h2-13,21H,1H3,(H,25,29)/t13-/m0/s1

OSM-S-187

 

InChI=1S/C20H15N5O/c21-12-16-6-8-17(9-7-16)20-24-23-18-13-22-14-19(25(18)20)26-11-10-15-4-2-1-3-5-15/h1-9,13-14H,10-11H2

OSM-S-188
 

InChI=1S/C20H15N5S/c21-12-16-6-8-17(9-7-16)20-24-23-18-13-22-14-19(25(18)20)26-11-10-15-4-2-1-3-5-15/h1-9,13-14H,10-11H2

OSM-S-189
 

InChI=1S/C20H14ClN5O/c21-17-4-2-1-3-15(17)9-10-27-19-13-23-12-18-24-25-20(26(18)19)16-7-5-14(11-22)6-8-16/h1-8,12-13H,9-10H2

OSM-S-190
 

InChI=1S/C20H15ClN6/c21-17-3-1-2-14(10-17)8-9-24-18-12-23-13-19-25-26-20(27(18)19)16-6-4-15(11-22)5-7-16/h1-7,10,12-13,24H,8-9H2

OSM-S-191
 

InChI=1S/C19H15Cl2N5/c20-15-6-4-14(5-7-15)19-25-24-18-12-22-11-17(26(18)19)23-9-8-13-2-1-3-16(21)10-13/h1-7,10-12,23H,8-9H2

OSM-S-192
 

InChI=1S/C13H15N3O3/c1-9-12(14-11(18)8-17)13(19)16(15(9)2)10-6-4-3-5-7-10/h3-7,17H,8H2,1-2H3,(H,14,18)

OSM-S-193
 

InChI=1S/C5H8O3/c1-5(2)7-3-4(6)8-5/h3H2,1-2H3

OSM-S-194
 

InChI=1S/C22H24N2O/c1-2-6-17(7-3-1)16-24-13-11-22(12-14-24)21-19(10-15-25-22)18-8-4-5-9-20(18)23-21/h1-9,23H,10-16H2

OSM-S-195
 
InChI=1S/C20H22ClNO/c21-19-8-4-7-18-17(19)9-14-23-20(18)10-12-22(13-11-20)15-16-5-2-1-3-6-16/h1-8H,9-15H2
OSM-S-196
 
InChI=1S/C22H27NO3/c1-24-20-14-18-8-13-26-22(19(18)15-21(20)25-2)9-11-23(12-10-22)16-17-6-4-3-5-7-17/h3-7,14-15H,8-13,16H2,1-2H3
OSM-S-197
 
InChI=1S/C15H17N2O/c1-2-4-13-11(3-1)12-5-10-18-15(14(12)17-13)6-8-16-9-7-15/h1-4,16H,5-10H2
OSM-S-198
 
InChI=1S/C18H21NOS/c1-2-4-15(5-3-1)14-19-10-8-18(9-11-19)17-16(6-12-20-18)7-13-21-17/h1-5,7,13H,6,8-12,14H2
OSM-S-199
 
InChI=1S/C24H25N2O3/c1-2-4-20-18(3-1)19-7-12-29-24(23(19)25-20)8-10-26(11-9-24)16-17-5-6-21-22(15-17)28-14-13-27-21/h1-6,15H,7-14,16H2
OSM-S-200
 
InChI=1S/C22H23NOS/c1-2-6-17(7-3-1)16-23-13-11-22(12-14-23)21-19(10-15-24-22)18-8-4-5-9-20(18)25-21/h1-9H,10-16H2
OSM-S-201
 
InChI=1S/C20H14ClF2N5O2/c1-11-14(21)3-2-4-15(11)25-19(29)16-9-24-10-17-26-27-18(28(16)17)12-5-7-13(8-6-12)30-20(22)23/h2-10,20H,1H3,(H,25,29)
OSM-S-202
 

InChI=1S/C19H12ClF2N5O2/c20-12-2-1-3-13(8-12)24-18(28)15-9-23-10-16-25-26-17(27(15)16)11-4-6-14(7-5-11)29-19(21)22/h1-10,19H,(H,24,28)

OSM-S-203
 
 InChI=1S/C19H11ClN6O/c20-14-2-1-3-15(8-14)23-19(27)16-10-22-11-17-24-25-18(26(16)17)13-6-4-12(9-21)5-7-13/h1-8,10-11H,(H,23,27)
OSM-S-204
 
 InChI=1S/C19H11ClF3N5O2/c20-12-2-1-3-13(16(12)21)25-18(29)14-8-24-9-15-26-27-17(28(14)15)10-4-6-11(7-5-10)30-19(22)23/h1-9,19H,(H,25,29)
OSM-S-205 
 
 InChI=1S/C19H10ClFN6O/c20-13-2-1-3-14(17(13)21)24-19(28)15-9-23-10-16-25-26-18(27(15)16)12-6-4-11(8-22)5-7-12/h1-7,9-10H,(H,24,28)
OSM-S-206
 
InChI=1S/C21H11F8N5O2/c22-19(23)36-14-3-1-10(2-4-14)17-33-32-16-9-30-8-15(34(16)17)18(35)31-13-6-11(20(24,25)26)5-12(7-13)21(27,28)29/h1-9,19H,(H,31,35)
OSM-S-207
 
InChI=1S/C21H14F3N5O2/c22-16-3-1-2-13-10-28(11-15(13)16)20(30)17-8-25-9-18-26-27-19(29(17)18)12-4-6-14(7-5-12)31-21(23)24/h1-9,21H,10-11H2
OSM-S-208
 
InChI=1S/C21H15F2N5O2/c1-29-18(15-6-7-16(22)17(23)8-15)12-30-20-11-25-10-19-26-27-21(28(19)20)14-4-2-13(9-24)3-5-14/h2-8,10-11,18H,12H2,1H3
OSM-S-209
 

InChI=1S/C18H21NOS/c1-2-4-15(5-3-1)14-19-10-8-18(9-11-19)16-7-13-21-17(16)6-12-20-18/h1-5,7,13H,6,8-12,14H2

OSM-S-210
 

InChI=1S/C20H23NO3S/c1-2-17-18(23-11-10-22-17)13-15(1)14-21-7-5-20(6-8-21)16-4-12-25-19(16)3-9-24-20/h1-2,4,12-13H,3,5-11,14H2

OSM-S-211
 

InChI=1S/C19H21NO3S/c1-2-16-17(22-13-21-16)11-14(1)12-20-7-5-19(6-8-20)15-4-10-24-18(15)3-9-23-19/h1-2,4,10-11H,3,5-9,12-13H2

OSM-S-212
 

InChI=1S/C18H20ClNOS/c19-15-3-1-14(2-4-15)13-20-9-7-18(8-10-20)16-6-12-22-17(16)5-11-21-18/h1-4,6,12H,5,7-11,13H2

OSM-S-213
 
 

InChI=1S/C18H18BrNO2S/c19-14-3-1-13(2-4-14)17(21)20-9-7-18(8-10-20)15-6-12-23-16(15)5-11-22-18/h1-4,6,12H,5,7-11H2

OSM-S-214
 
 InChI=1S/C24H27FN2OS/c1-17-15-19(18(2)27(17)21-5-3-20(25)4-6-21)16-26-11-9-24(10-12-26)22-8-14-29-23(22)7-13-28-24/h3-6,8,14-15H,7,9-13,16H2,1-2H3
OSM-S-215
 
 InChI=1S/C17H25NOS/c1-2-4-14(5-3-1)18-10-8-17(9-11-18)15-7-13-20-16(15)6-12-19-17/h7,13-14H,1-6,8-12H2
OSM-S-216
 
 InChI=1S/C18H19NO2S/c20-17(14-4-2-1-3-5-14)19-10-8-18(9-11-19)15-7-13-22-16(15)6-12-21-18/h1-5,7,13H,6,8-12H2
OSM-S-217
 
 InChI=1S/C14H18ClNO3S/c15-5-9-18-13(17)16-6-3-14(4-7-16)11-2-10-20-12(11)1-8-19-14/h2,10H,1,3-9H2
OSM-S-218
 
InChI=1S/C21H15F2N5O2/c1-29-18(15-6-7-16(22)17(23)8-15)12-30-20-11-25-10-19-26-27-21(28(19)20)14-4-2-13(9-24)3-5-14/h2-8,10-11,18H,12H2,1H3
OSM-S-219
 
InChI=1S/C12H6ClN5/c13-10-6-15-7-11-16-17-12(18(10)11)9-3-1-8(5-14)2-4-9/h1-4,6-7H
OSM-S-220
 
InChI=1S/C15H14F2I/c1-9-6-10(2)15(11(3)7-9)18-12-4-5-13(16)14(17)8-12/h4-8H,1-3H3/q+1
OSM-S-221
 
InChI=1S/C12H13NO4/c14-11(13-6-7-17-12(13)15)9-16-8-10-4-2-1-3-5-10/h1-5H,6-9H2
OSM-S-222
 
InChI=1S/C9H8F2O3/c1-14-9(13)8(12)5-2-3-6(10)7(11)4-5/h2-4,8,12H,1H3
OSM-S-223
 

InChI=1S/C4H5ClN4/c5-3-1-7-2-4(8-3)9-6/h1-2H,6H2,(H,8,9)

 
OSM-S-224 
 

InChI=1S/C12H8ClN5/c13-11-7-15-8-12(17-11)18-16-6-10-3-1-9(5-14)2-4-10/h1-4,6-8H,(H,17,18)/b16-6+

 
OSM-S-225 
 

InChI=1S/C12H8ClN5/c13-11-7-15-8-12(17-11)18-16-6-10-3-1-9(5-14)2-4-10/h1-4,6-8H,(H,17,18)/b16-6+

 
OSM-S-226
 
InChI=1S/C11H13F2NOSi/c1-16(2,3)15-11(7-14)8-4-5-9(12)10(13)6-8/h4-6,11H,1-3H3
OSM-S-227
 
InChI=1S/C12H9Cl2N3O/c1-7-8(13)3-2-4-9(7)17-12(18)10-5-15-6-11(14)16-10/h2-6H,1H3,(H,17,18)
OSM-S-228
 
InChI=1S/C11H6Cl2FN3O/c12-6-2-1-3-7(10(6)14)17-11(18)8-4-15-5-9(13)16-8/h1-5H,(H,17,18)
OSM-S-229
 
InChI=1S/C12H9Cl2N3O/c1-7-2-3-8(13)4-9(7)17-12(18)10-5-15-6-11(14)16-10/h2-6H,1H3,(H,17,18)
OSM-S-230
 
InChI=1S/C11H10ClN5O/c12-7-2-1-3-8(4-7)15-11(18)9-5-14-6-10(16-9)17-13/h1-6H,13H2,(H,15,18)(H,16,17)
OSM-S-231
 
InChI=1S/C12H12ClN5O/c1-7-8(13)3-2-4-9(7)17-12(19)10-5-15-6-11(16-10)18-14/h2-6H,14H2,1H3,(H,16,18)(H,17,19)
OSM-S-232
 
InChI=1S/C11H9ClFN5O/c12-6-2-1-3-7(10(6)13)17-11(19)8-4-15-5-9(16-8)18-14/h1-5H,14H2,(H,16,18)(H,17,19)
OSM-S-233
 
InChI=1S/C12H12ClN5O/c1-7-2-3-8(13)4-9(7)17-12(19)10-5-15-6-11(16-10)18-14/h2-6H,14H2,1H3,(H,16,18)(H,17,19)
OSM-S-234
 
InChI=1S/C19H14ClF2N5O2/c20-13-2-1-3-14(8-13)25-18(28)16-10-23-11-17(26-16)27-24-9-12-4-6-15(7-5-12)29-19(21)22/h1-11,19H,(H,25,28)(H,26,27)/b24-9+
OSM-S-235
 
InChI=1S/C20H16ClF2N5O2/c1-12-15(21)3-2-4-16(12)27-19(29)17-10-24-11-18(26-17)28-25-9-13-5-7-14(8-6-13)30-20(22)23/h2-11,20H,1H3,(H,26,28)(H,27,29)/b25-9+
 
 
 
OSM-S-258
 

InChI=1S/C18H14ClN5O/c19-15-4-2-1-3-13(15)7-10-25-17-12-21-11-16-22-23-18(24(16)17)14-5-8-20-9-6-14/h1-6,8-9,11-12H,7,10H2

OSM-S-259
 

InChI=1S/C18H11ClF2N4O/c19-13-4-2-12(3-5-13)18-24-23-16-8-22-9-17(25(16)18)26-10-11-1-6-14(20)15(21)7-11/h1-9H,10H2

OSM-S-260
 

InChI=1S/C20H14F4N4O2/c21-15-6-1-12(9-16(15)22)7-8-29-18-11-25-10-17-26-27-19(28(17)18)13-2-4-14(5-3-13)30-20(23)24/h1-6,9-11,20H,7-8H2

OSM-S-261
 

InChI=1S/C20H18ClN5O/c21-16-8-6-15(7-9-16)20-25-24-18-11-23-12-19(26(18)20)27-13-17(22)10-14-4-2-1-3-5-14/h1-9,11-12,17H,10,13,22H2/t17-/m1/s1

 
 
 
OSM-L-01
3200
InChI=1S/C28H22FN3OS/c1-19-16-21(20(2)31(19)25-15-9-10-22(29)18-25)17-26-27(33)32(24-13-7-4-8-14-24)28(34-26)30-23-11-5-3-6-12-23/h3-18H,1-2H3/b26-17-,30-28-
chloroquine
18.7
InChI=1S/C18H26ClN3/c1-4-22(5-2)12-6-7-14(3)21-17-10-11-20-18-13-15(19)8-9-16(17)18/h8-11,13-14H,4-7,12H2,1-3H3,(H,20,21)/t14-/m1/s1
artemisinin
6
InChI=1S/C15H22O5/c1-8-4-5-11-9(2)12(16)17-13-15(11)10(8)6-7-14(3,18-13)19-20-15/h8-11,13H,4-7H2,1-3H3/t8-,9-,10+,11+,13-,14-,15-/m1/s1
artesunate
 
InChI=1S/C19H28O8/c1-10-4-5-13-11(2)16(23-15(22)7-6-14(20)21)24-17-19(13)12(10)8-9-18(3,25-17)26-27-19/h10-13,16-17H,4-9H2,1-3H3,(H,20,21)/t10-,11-,12+,13+,16-,17-,18-,19-/m1/s1
Pyrimethamine
11
InChI=1S/C12H13ClN4/c1-2-9-10(11(14)17-12(15)16-9)7-3-5-8(13)6-4-7/h3-6H,2H2,1H3,(H4,14,15,16,17)
Tafenoquine
451
InChI=1S/C24H28F3N3O3/c1-14-11-20(32-4)30-22-18(29-15(2)7-6-10-28)13-19(31-3)23(21(14)22)33-17-9-5-8-16(12-17)24(25,26)27/h5,8-9,11-13,15,29H,6-7,10,28H2,1-4H3/t15-/m0/s1
Pyronaridine
 
InChI=1S/C29H32ClN5O2/c1-37-26-9-8-24-28(33-26)27(23-7-6-21(30)16-25(23)32-24)31-22-14-19(17-34-10-2-3-11-34)29(36)20(15-22)18-35-12-4-5-13-35/h6-9,14-16,32-33H,2-5,10-13,17-18H2,1H3
This post is linked by: