This is a template for all biologists contributing lab book entries to the OSM project. For general guidelines on how to post, please follow this link.
1. Title
The title of your blog should descibe the assay performed.
2. Assay Details
A summary of the assay performed and the methods should be included at the beginning of the post. Ideally mention ought to be made of the compound codes involved.
3. Raw Data
The raw data should be uploaded (e.g. as an Excel file). If possible a pictorial summary of the data should be included in the body of the blog post.
4. Comments and Conclusions
Any observations made during the assay measurements should be included and conclusions about the data can be made in this section. Opinions on the data are also very welcome.
This post is linked by:
This is a template for all chemists contributing lab book entries to the OSM project. For general guidelines on how to post please follow this link.
For a model OSM ELN Chemistry Post, see here <- Link needed.
1. Title
The title of your post should be along the lines of "Synthesis of [insert chemical name]" and should also included a chemist identifier featuring the chemist initials followed by the reaction number a dash and then a number corresponding to how many times the reaction has been repeated. e.g
"Synthesis of 1-(4-fluorophenyl)-2,5-dimethyl-1H-pyrrole (AEW 1-3)"
If this is the first reaction AEW performed and is the third time AEW has done the reaction. Keeping this format makes the entries much easier to search.
N.B. The post should be saved as a draft until the reaction is about to be started.

2. Summary
A one or two line summary of the reason for carrying out the reaction is very helpful when scrolling through the ELN.
When the reaction is complete, a short comment as a conclusion is very useful and makes it much quicker to read through the ELN.
Also try to include links to starting materials or similar/repeat posts. For compounds that require further characterisation, a comment here is a great help for project organisation.
3. Hazard and Risk Assessment
This is the most important document on your post. A comprehensive risk assessment should be performed prior to commencing your reaction. Please follow your institutional guidelines and communicate with health and safety representatives at your school. 

4. Reaction Scheme
A reaction scheme saved as a PNG and uploaded should be posted close to the top of the blog entry featuring all reagents and conditions. Any amendments should be noted in the text.
5. Tabulated Chemicals and Quantities
A record of mass, moles, densities and volumes etc for chemicals used is a great tool for anyone repeating your experiment. Either use the limited table function in labtrove or save excel tables as png images and import.
6. Procedure
A detailed chemical procedure (journal standard) should be included for all experiments. Feel free (in fact we encourage it) to add extra details about your reaction and pictures or videos of your observations. The more information the better. Important: Don't worry if you make mistakes, no matter how daft they may seem. The purpose of this ELN is to be honest and transparent. If you drop your reaction, just write that down - we all make mistakes and this is an open document for an open and understanding team of scientists.
7. Data
If you record a TLC, NMR, IR or any other measurement upload a picture or a file containing your raw data. Please feel free to also upload processed data such as pdf, but remember to always post the raw data too. This means that other scientists can analyse and use your data.
8. Write up Data
When you have collected some or all of your data, write it up as you would for publication. This means that when the time comes for publication, noone will have to repeat your results and so you will be credited as an author for your contribution. It also means that other members of the project or external contributors can proofread your data in real time, and add a comment to say that they agree with your data.
9. References
Include references, links and/or DOIs to any publications that you followed for your reaction or for data comparison.
10. InChi Strings
In order for the ELN to be machine searchable it is important to include InChi Key for reagents and products. Just paste those in as text at the bottom somewhere.
Good luck with your reactions and thanks for joining the OSM team.
This post is linked by:
Hello and thank you for your interest in OSM and the ELN.
This post serves as a general 'How To' for creating an OSM lab book entry. Specific guidelines for Creating the 'Perfect' Chemistry ELN entry or Creating the 'Perfect' Biological Data ELN entry are found elsewhere.
If you have any questions or queries contact the team on G+, Twitter or as a last resort email.
Get me to the ELN!
Navigate to the electronic lab notebook (ELN) using link from the OSM landing page or by going directly to: www.malaria.ourexperiment.org.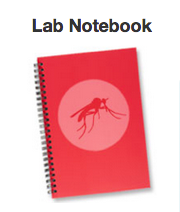 Login
Anyone can view the content in the lab notebooks but in order to comment or to create content, a simple login step is required.
Login as OSM ELN (all administrative posts)
For 99% of ELN posts where data is reported the scientist/author should login as themseleves - see next paragraph. However, for some administrative or collaborative posts, it may be more appropriate to login as 'OSM ELN' so that others can edit the text. If you would like to post as OSM ELN then message us on twitter or email: opensourcemalariaeln@gmail.com and we will send you the password.
Creating a Personal Login (all regular experimental posts)
Click the 'Login' button in the top left-hand corner of the page. 

You can use your login details for any one of a number of web services - so no need to create yet another username and password! (N.B for the purposes of this 'how to' Google has been chosen for the login, so slight variations may apply to the login instructions for other web service providers.)

Select your preferred 'login' and choose 'remember me' if you would like to login more quickly next time. Your internet browser will automatically log you out after a certain amount of time.

The first time that you use your login you will be asked to provide a few extra details. Fill in your email and password (or other requested details depending on the web service) and then choose 'sign in'.

You will be asked to enter your name and email address once again. Please use your full name, for example 'Alice Williamson' rather than a nickname or alias - that makes it easier to track who has written what. Then press continue. 

Congratulations, you are now a signed up member of the OSM ELN! Following your first login, you can subscribe to the OSM lab books you're interested in. Click 'All Blogs' in the top right-hand menu.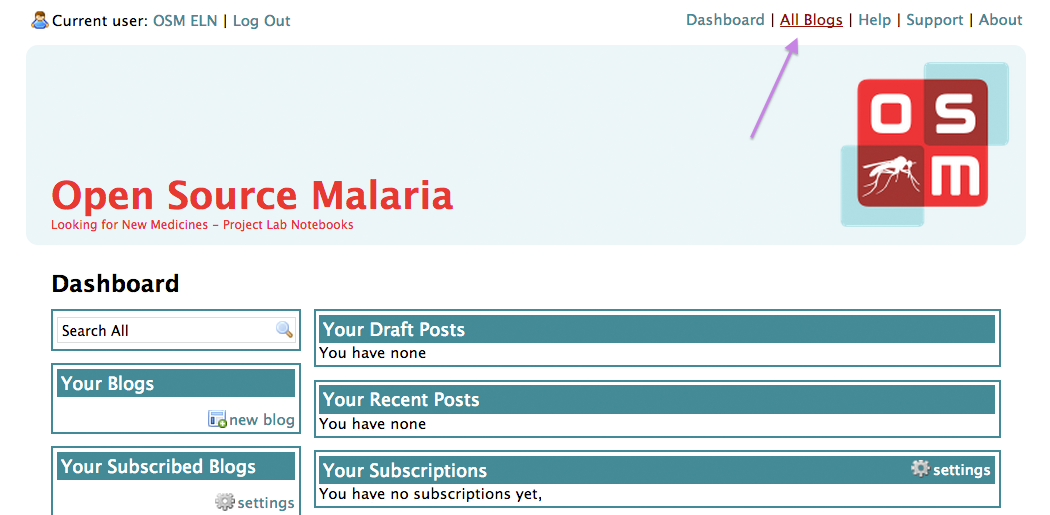 Next tick the box next to the blogs (lab books) you'd like to subscribe to (if in doubt select all). 

Once you have selected all of the blogs you would like to read/contribute to press save and navigate back to the dashboard by clicking 'Dashboard' in the top right-hand corner of the screen.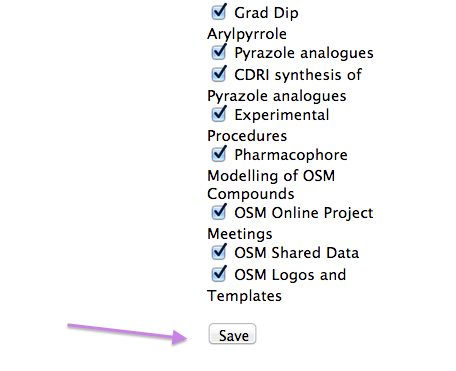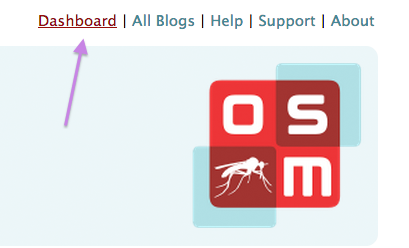 Getting Started with Creating a Post
Now you are ready to post your first entry!
Your dashboard should now look a lot busier. Select the relevant blog you want to contribute to. Blogs are "authored" according to the person who first posted in the blog, however anyone can contribute to any blog. In general, there is no need to create a new blog unless your contribution to the OSM ELN is linked to a different series of compounds, if in doubt ask the team.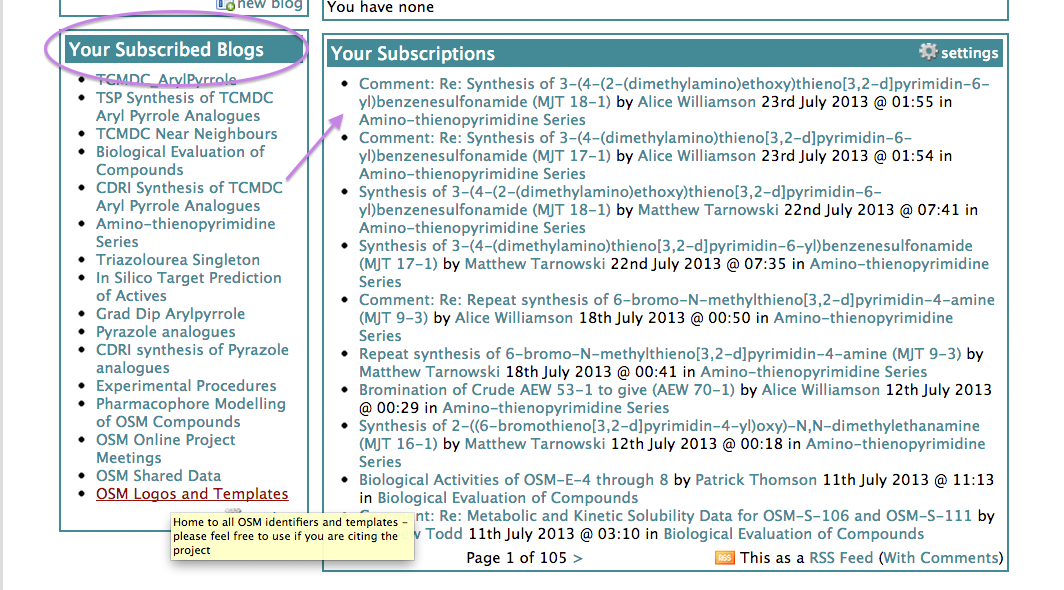 Once you have selected the relevant blog a blank template should appear on your screen. Firstly, create a title for your post (see here for experimental blog instructions) and then enter text into the blank window below. The formatting tools are similar to those used in standard word processing programs.
Saving
To avoid losing your work, or in order to save your work for further editing before publication, scroll down to the bottom of the page and click 'Save for Later'. 

A new page will now appear showing that your post is now saved and that only you can read it.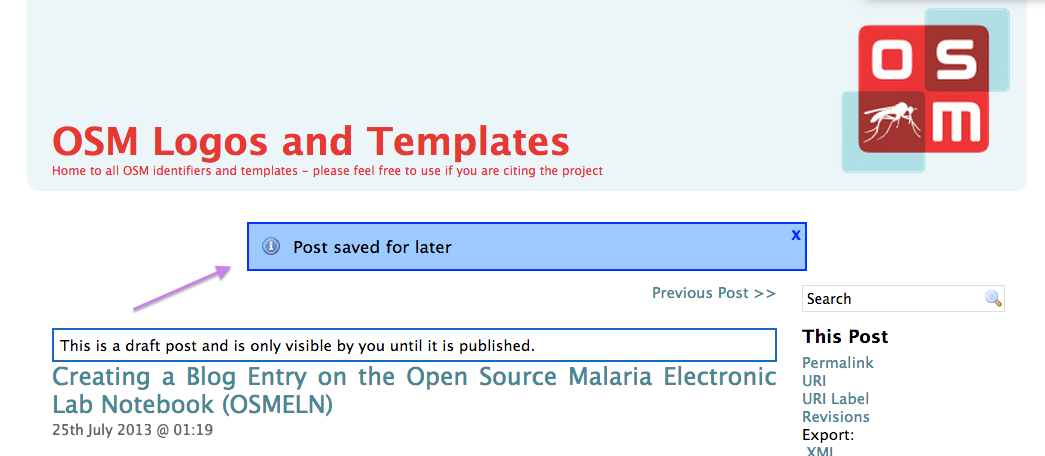 In order to edit your post, scroll down to the bottom and click 'Edit Post'.

Inserting a Link
To insert a link in your post, firstly copy the link address that you wish to include.

Next highlight the text in your post that you would like to hyperlink and then click on link icon in the toolbar.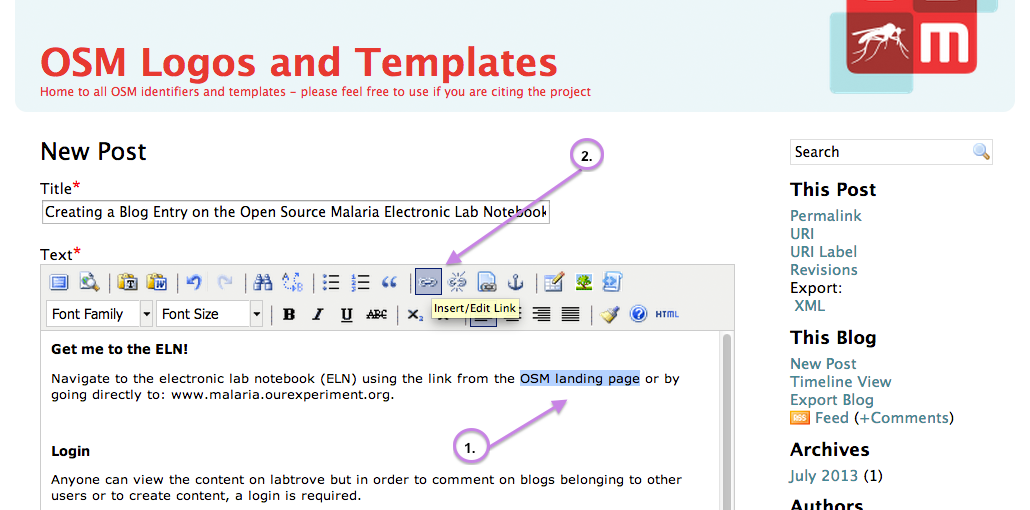 The window shown below will appear. Simply paste the link address in the box and then press insert.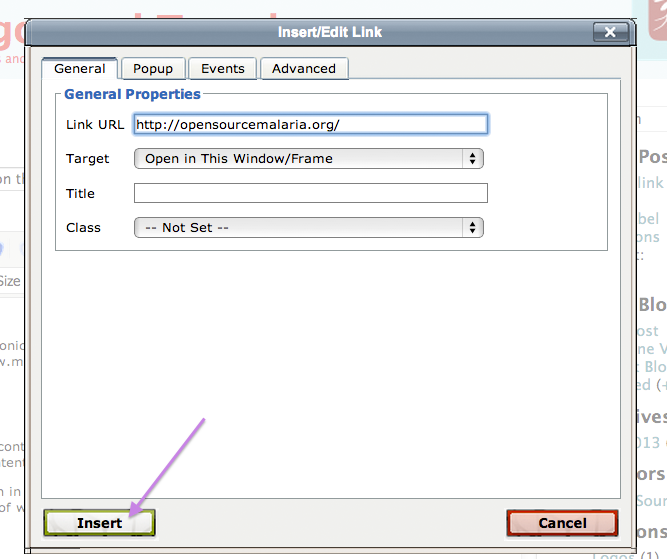 The link is now active in your text.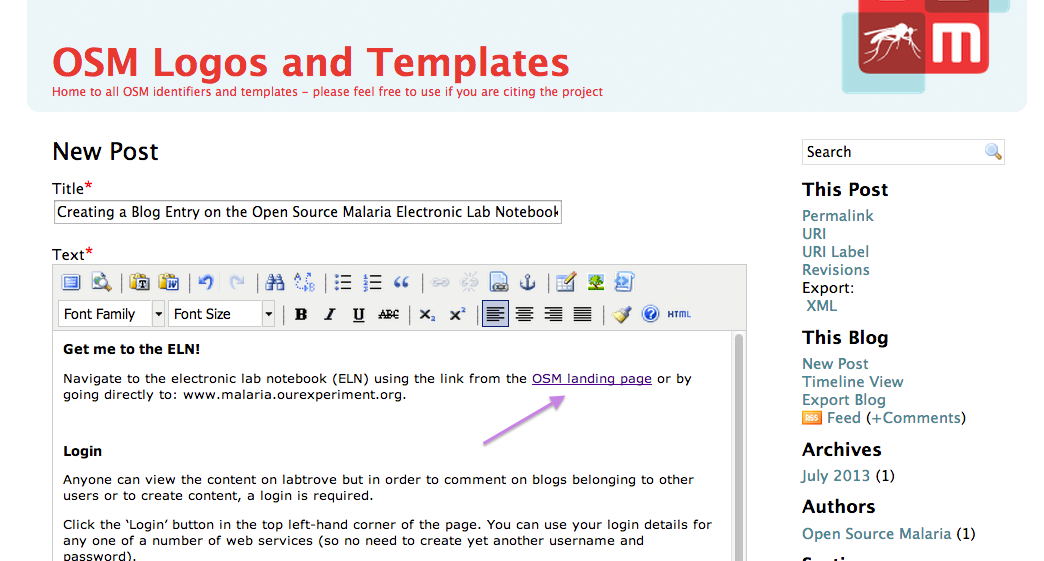 However, if you want to link to other entries in the ELN then click the icon in the toolbar shown below. This is a very useful tool for navigation between blog entries so please use this where applicable.
Place the cursor where you would like to insert the link then click on the 'insert link to blog post icon'.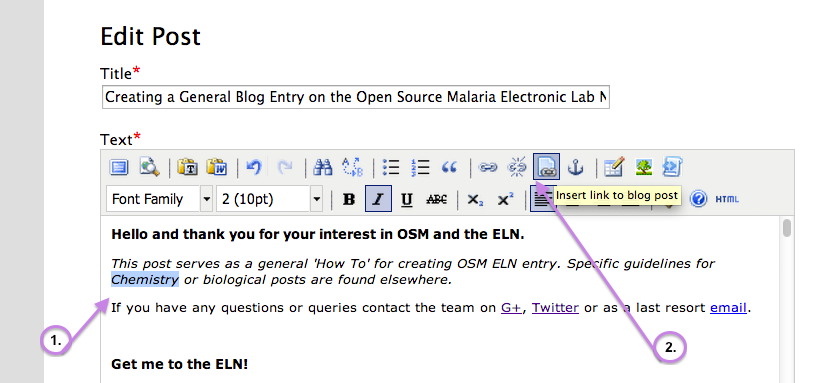 A new window will open, click on the blog post that you would like to link.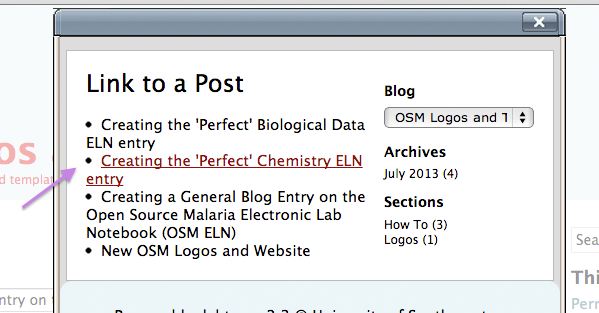 The link will now appear in the text. The post you have linked to will automatically show a link to your current post - very cool, and keeps all relevant posts nicely linked. 

Uploading Files
Almost any kind of file can be uploaded to the ELN. This means that it is a great place to store, share and access raw data, and therefore ideal for an open source science project.
Uploading files is easy. Firstly, scroll to the bottom of your post and click 'upload data'.

A new window (as shown below) will appear. You can either drag files directly into the window or click on the blue button to upload a file.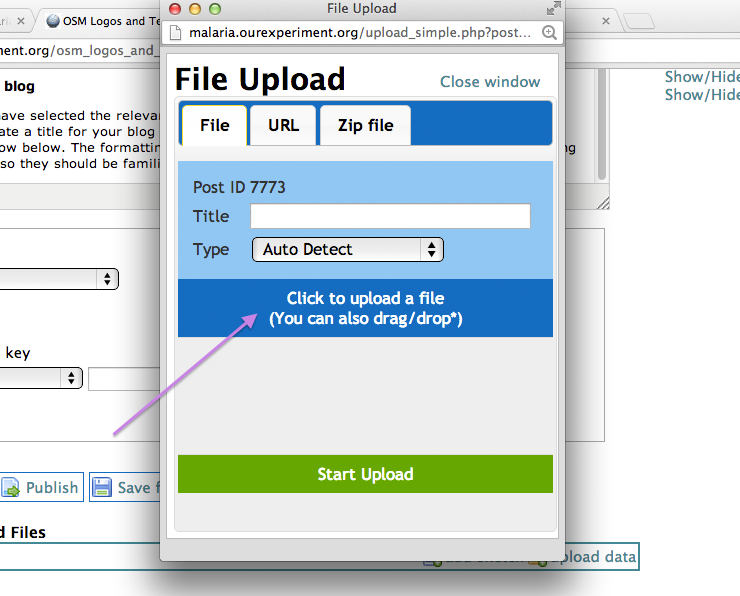 Select the file(s) to upload and then press 'Open'.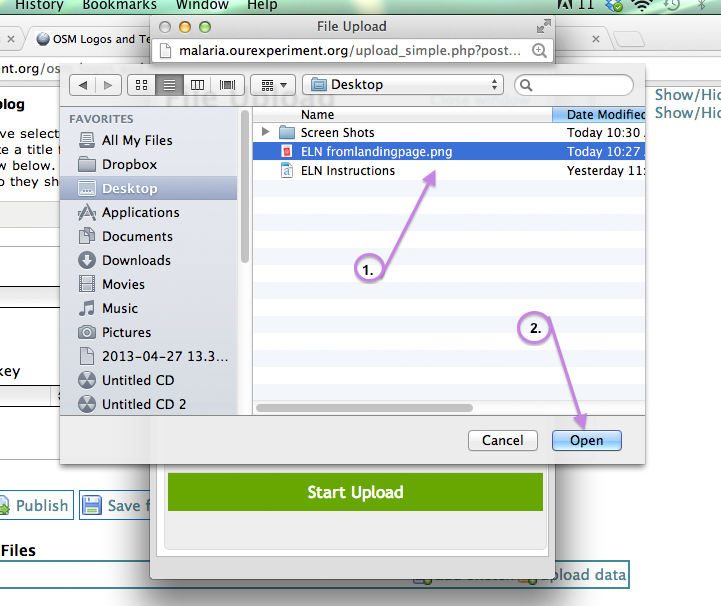 The selected file(s) will appear in the box higlighted in yellow. Click 'Start Upload' and watch as the file(s) change from yellow=not uploaded to green=uploaded.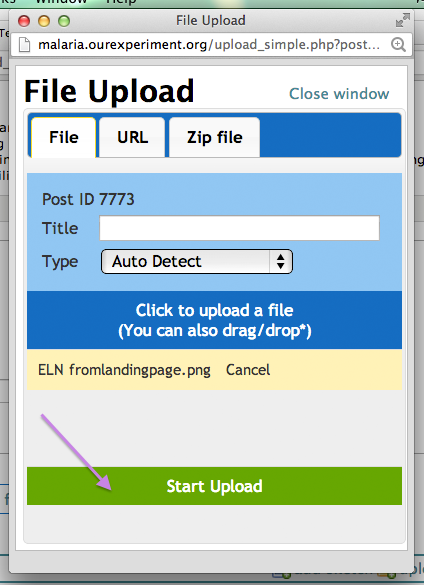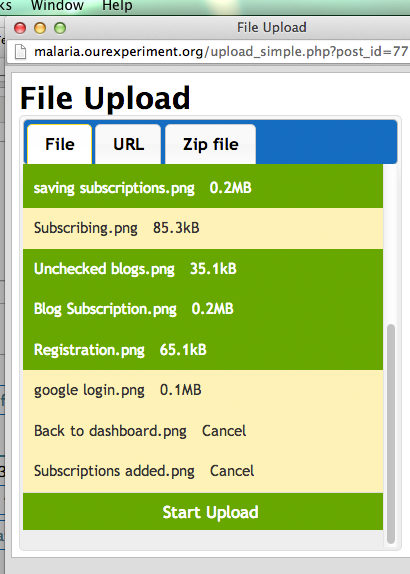 Once the file(s) are highlighted green, the upload is complete and you can exit the window and return to the ELN blog page.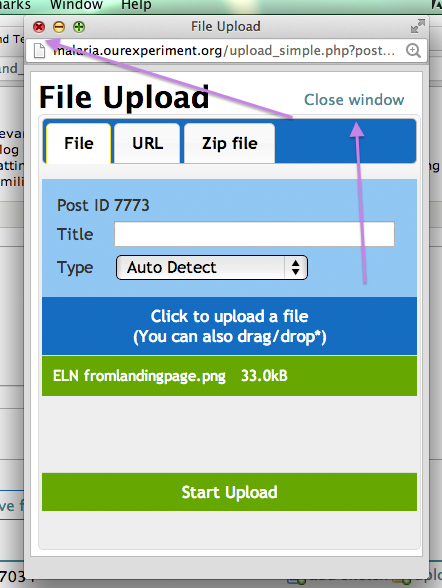 The uploaded files now appear as thumbnails at the bottom of the post.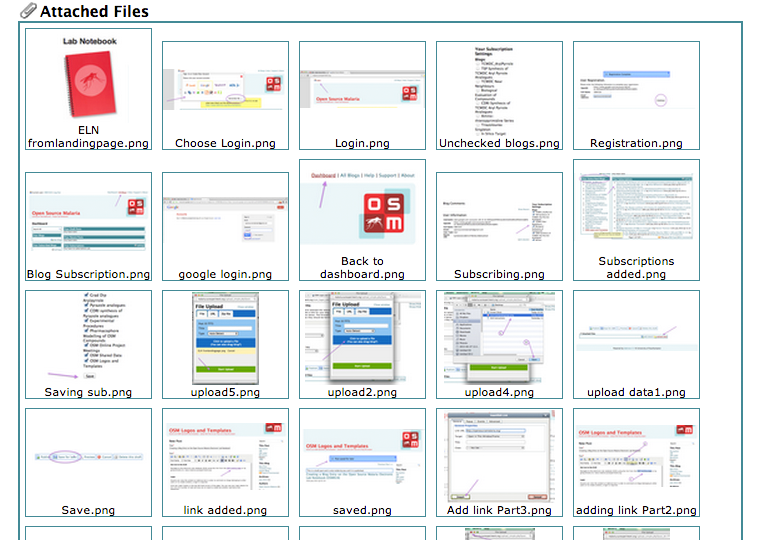 To insert a link to a particular file in the text (makes the post easier to read), click your cursor where you want the link to go and click 'add link to text' for the chosen file.

The link will appear in a code format until you save or publish your post, when it will change to a thumbnail in the main body of the text.


Inserting an Image
To insert an image in the main text body, follow the previous instructions for uploading the image file. It is best to save the image in 'PNG' format. Other formats may also work, but this might require some experimentation.
Once the chosen PNG image has been uploaded, click on the thumbnail.

A new window will open with a html link in the address bar. This is not the correct address to copy. Instead click on 'open as PNG' in the bottom left-hand corner.

A new window will appear, and the address ending with '.png' should be copied and then the window closed.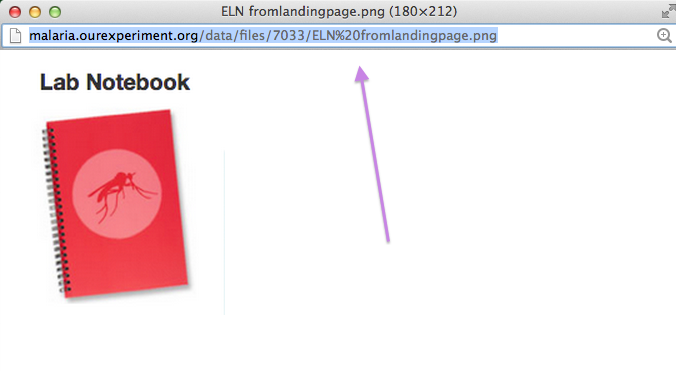 On returning to the blog entry, place the cursor in the position where the picture should go and click on the add image icon in the tool bar.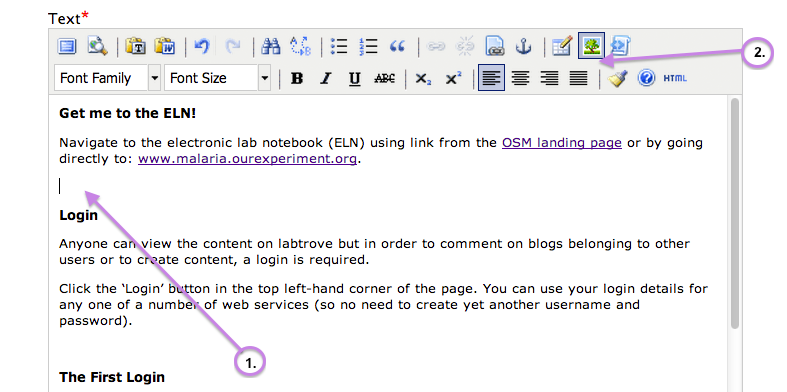 A new window will open. Paste the address into the top box and then edit the size of the image in the 'Appearance' tab. Then press insert. The image can be edited further after insertion into the text so don't worry if it doesn't look perfect first time.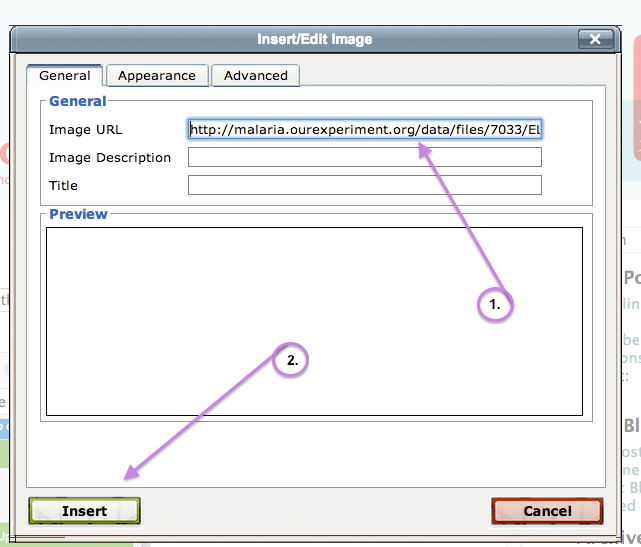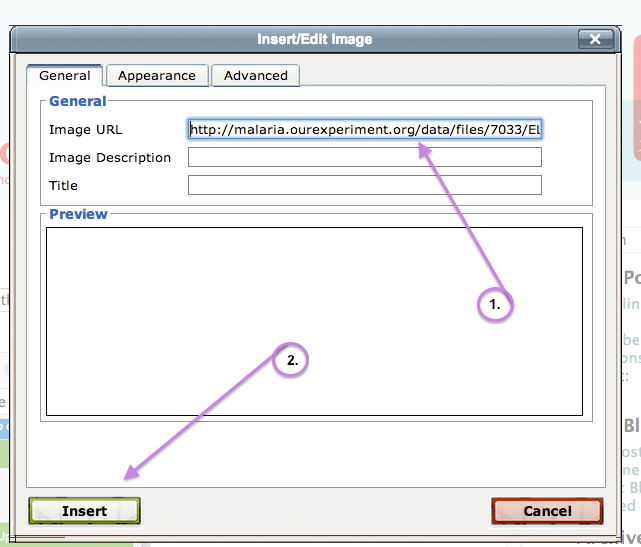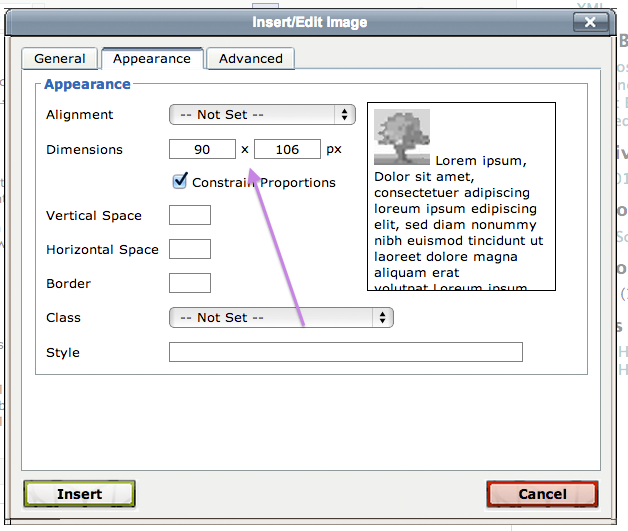 The image will now appear in the body of the post.

Publishing
When you are happy with your post, have a final proofread and then get ready to publish. In particular, check the blog title as @labtrove simultaneously tweets the title of your blog when you press 'Publish'.  
Firstly, select the appropriate section (like a post classification) from the dropdown menu.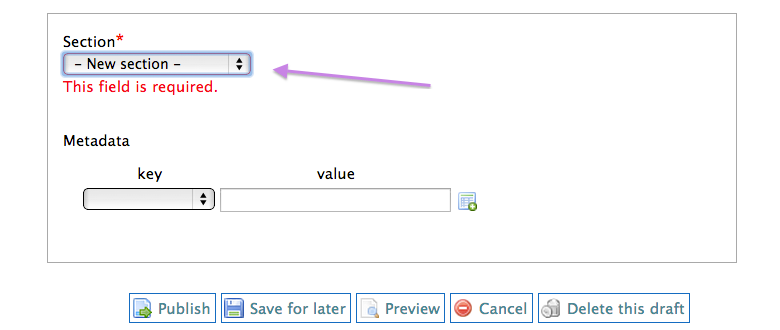 If the right description isn't there then create a new section and then press publish.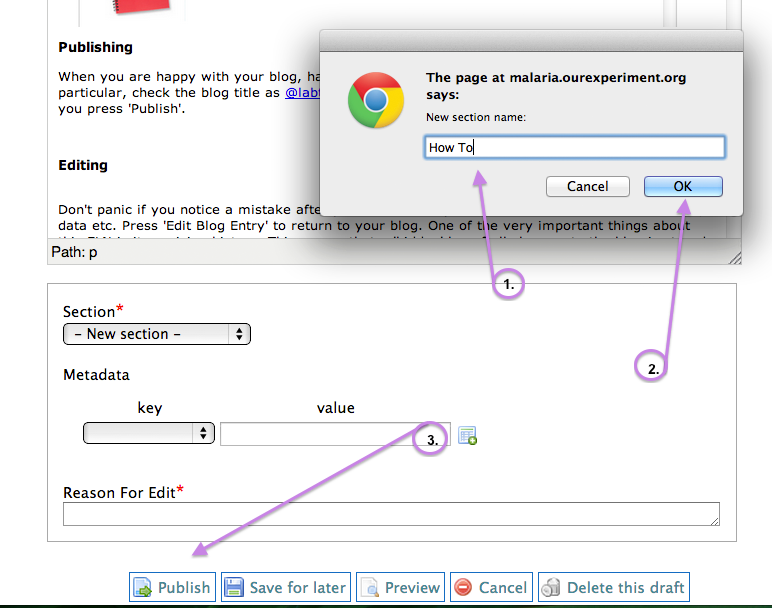 Editing
Don't panic if you notice a mistake after publication or if you would like to add some more text, data etc. Press 'Edit Blog Entry' to return to your post. One of the very important things about this ELN is its revision history. This means that a 'hidden' log of all changes to the blog is stored on each edit. This is particularly important for experimental data and procedures for legal reasons as they are time and date stamped. Additionally, nobody can sabotage a lab notebook entry by deleting or modifying data without a record of this being logged. 
When you edit a blog post you need to enter a reason for your edit before you will be able to save your entry by hitting 'Publish' again. Try to make this brief but informative.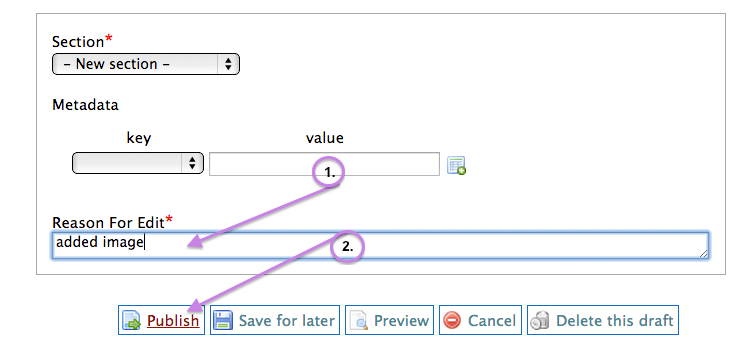 Adding Comments
If you would like to comment on someone else's post, login and click 'Add Comment' below the post you wish to comment upon.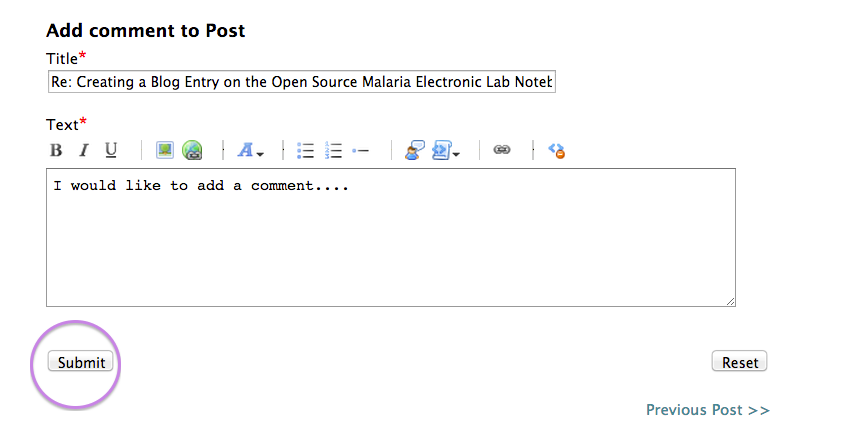 Please bear in mind that there are no notifications currently active on labtrove, so you may wish to alert the author of your comment.
Accessing your Post
It is possible to search the whole of the OSM ELN or in individual blogs to find a particular entry by typing keywords in the search box.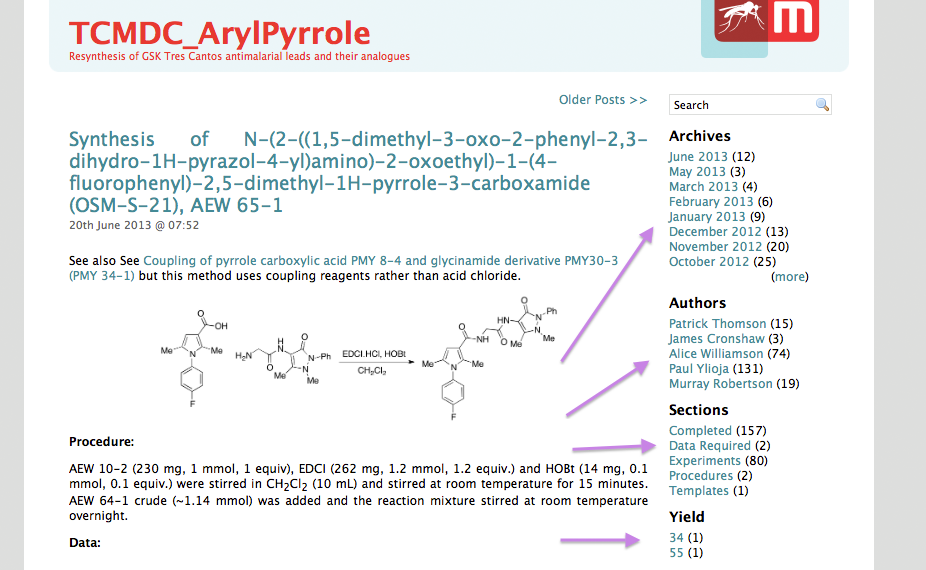 Additionally, the blog posts are collated by author and/or other metadata that has been added (month, author, section, etc) so hopefully navigation will be a breeze.
Sharing ELN Links
Once you have finished writing your post, hopefully you will want to share it with the world. The URL for a blog (as copied from the address bar) is quite cumbersome. For example, this blog's address is:
http://malaria.ourexperiment.org/osm_logos_and_templ/7773/Creating_a_General_Blog_Entry_on_the_Open_Source_Malaria_Electronic_Lab_Notebook_OSM_ELN.html
In order to shorten the link, click on 'URI Label' from the righ-hand panel.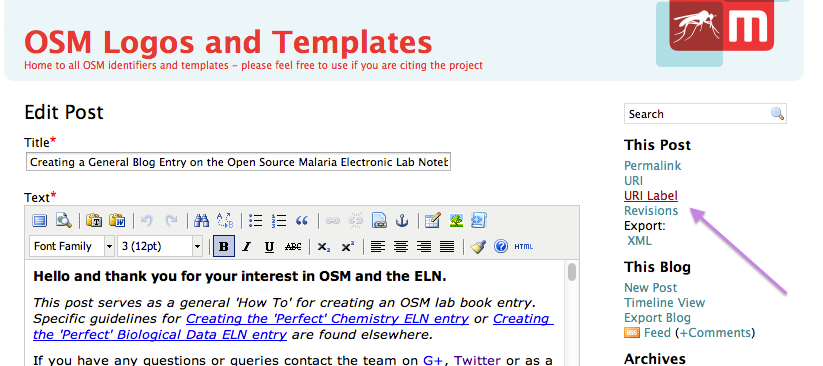 Next, select and copy the URI. This link (e.g., http://malaria.ourexperiment.org/uri/3dc)
 can be used to share your work with others.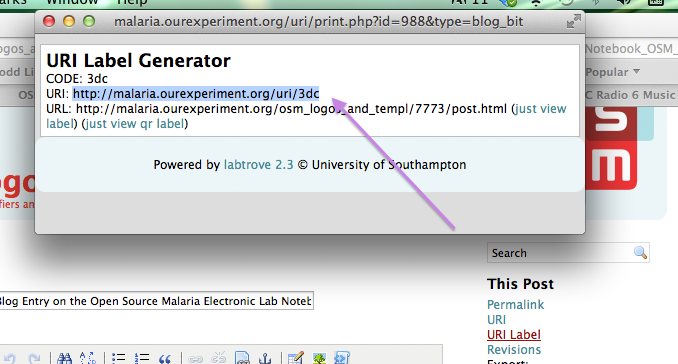 Thanks for reading this 'how to' and Happy ELN-ING!
Cheers,
The OSM Team
Our new website is live: opensourcemalaria.org so please take a look!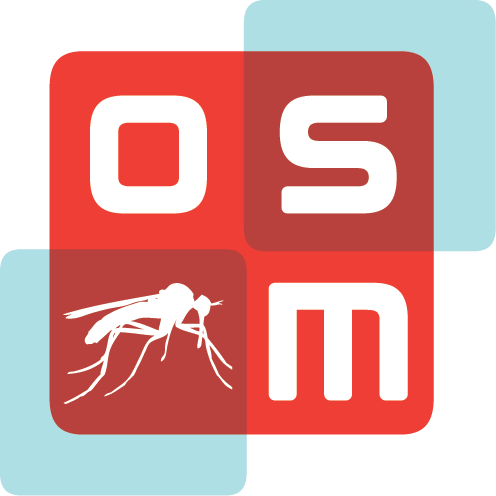 We have recently changed our name from OSDD Malaria (Open Source Drug Discovery for Malaria) to Open Source Malaria. Our twitter handle is now @O_S_M and our G+ pages will be changing over very soon, so please check out this page for updates.
New Logos can be found here:
reosmlogos.zip
Check out our GitHub page too and feel free to post and extremely welcome to tackle any of the items on our 'To_Do_List'.
If you are a member of our team and you don't feature on the website let us know and we will rectify the situation. The new email address is opensourcemalaria@gmail.com. 
Many thanks to Stephanie and Chuck (and their team) from CloudCity who have been instrumental in the design and implementation of this site - Thanks guys!