Attached is the template for the OSM Newsletter. Currently uploaded is the April 2014 version.
OSM
To be converted to PDF prior to circulation, past experience showed better results when the newsletter was produced in Keynote prior to PDF conversion. Also attached.
OSM Newsletter April 2014.key
All logos in shared 'openchem' folder in dropbox in the 'website' subfolder.
This post is linked by:
Welcome to the OSM Team, we're delighted that you've joined the project. This aim of this blog is to provide links to all the relevant information you need to get you started. This post can be used at any institution although there will of course be different guidelines for practical work and analysis at different universities/research institutes and your supervisor will tell you everything that you need to know.
So, first up here is the OSM landing page: www.opensourcemalaria.org. This is the project's porthole and where you will find links to all of the online tools for the project:
The Wiki
First of all, head over the project wiki to find out about the story so far for the OSM project and also the current progress on different compound series. You can sign up for a wiki account here (pending Mat Todd's approval) and then you will be able to edit and contribute to these important pages.
The ELN
The most important tool for the project and most especially for us experimentalists is the electronic labnotebook (ELN - http://malaria.ourexperiment.org). This is the place where the team writes up ALL experiments and posts ALL data as soon as is physically possible. The ELN is one of the features of the OSM project that sets us apart from other drug discovery teams. All of our data and experiments can be viewed by ANYONE who has access to the internet. It is therefore really important that the ELN is maintained to the highest of standards so that anyone could follow the procedures or use the data. One important feature of the ELN is something called revision history. This means that although posts can be edited, a record is kept each time changes are made to a post. This is an essential feature for a scientific project as a lab notebook is a legal document and its is important that noone can change data or modify results. 
But what if I make an error or mistake? Don't panic, that's fine we all make mistakes! Of course its good to check over work for calculation or typographical errors before publishing but its fine to edit any errors. Each time you make an edit, a short comment is required to detail the reason that changes have been made. If something goes wrong with your experiment (even the best chemists occasionally drop a flask!), again don't worry just make a note of what happened on your lab notebook. Remember, some of the most important scientific discoveries have been the result of serendipity so it's important to record what you did accurately and what happened so that you (or any other chemist) can repeat the experiment again.
OK, so how do I complete a 'perfect' entry in the ELN?
Glad you asked:
1) First of all you need to sign up following this guide.
2) Follow this template for excellent results.
A word about Hazard and Risk Assessment (HIRAC)
The HIRAC is an essential part of each experiment and should be completed BEFORE you even remove any chemicals from the cupboard. The template is found here and a new HIRAC should be completed for every new reaction that you perform or if you scale up a reaction that has already been performed. Each HIRAC MUST be signed by either Alice or Mat prior to starting your reaction. More details can be found in the school safety handbook (also found here) and you should read this before conducting any experimental work.
GitHub
The main feed found on the project landing page is directly updated from OSM's GitHub repostitory. GitHub is the organisational tool for the project and is where the 'to do list' is hosted and edited. GitHub allows anyone (in- or outside of the project) to see what's going on and what needs to be done and hopefully prevents dupliation. To sign up to Github follow this guide and then you can join in discussions or update issues once completed. 
Twitter, G+ and Facebook 
The above social media sites are used to promote and publicise the project but also as important platforms for discussion. Many great contributions are received as comments on these sites so it would be great if you signed up for accounts (particularly for Twitter and G+).
Mugshots
All members of the team have a picture on the 'meet the team' part of the landing page. To be added to this hall of fame please sign up for a gravatar account and email opensourcemalaria@gmail.com from the address you used to sign up to gravatar. Alternatively, you can send us a picture but gravatar is preferable.
Specific Links
Many useful links for USyd chemists can be found here. Other institutions that would like to link from this page please comment below and the team will add the links.
Hopefully this page will help you to get started as part of the OSM team, it can seem daunting to sign up for so many accounts but each of these tools are helping us to run the project as efficiently and 'open-ly' as possible. As always, if you have any comments or ideas such as how to improve this blog or about the project please let the team know. Comment below or on G+, Twitter or facebook. 
Welcome onboard and good luck with your reactions.

Cheers,
Team OSM
About
'GitHub is a web-based hosting service for software development projects that use the Gitrevision control system. GitHub offers both paid plans for private repositories, and free accounts for open source projects. As of May 2011, GitHub was the most popular code repository site for open source projects.' 
GitHub and OSM
The OSM project has been using GitHub for project organisation and management. Drafts for working documents like papers or posters are stored in open repostitories that can be shared with authors or editors. The GitHub hosted 'To Do List' is the central hub for the OSM project and details the project workflow by the creation of 'issues' that can be commented on or closed when a given task is completed. The 'To Do List' is synchronised with the project landing page and therefore keeps a record of project progress in realtime.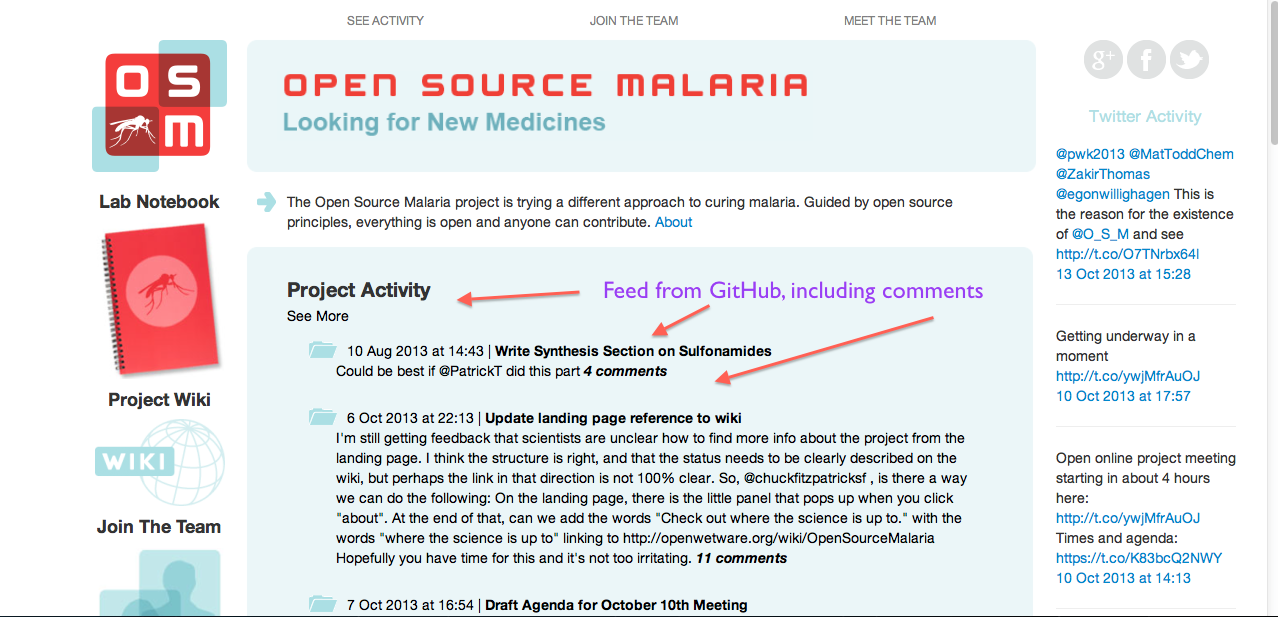 If you would like to join the OSM team, obtaining a GitHub account would be most useful as we prefer to avoid the use of emails if at all possible and GitHub allows different members of the team to converse in the open about the project.
How to sign up

Go to github.com and pick a username, enter your email and choose a password. Then hit 'sign up for GitHub'. Your email won't be visible to other users, but (depending on your settings) you will receive notifications from GitHub to this address.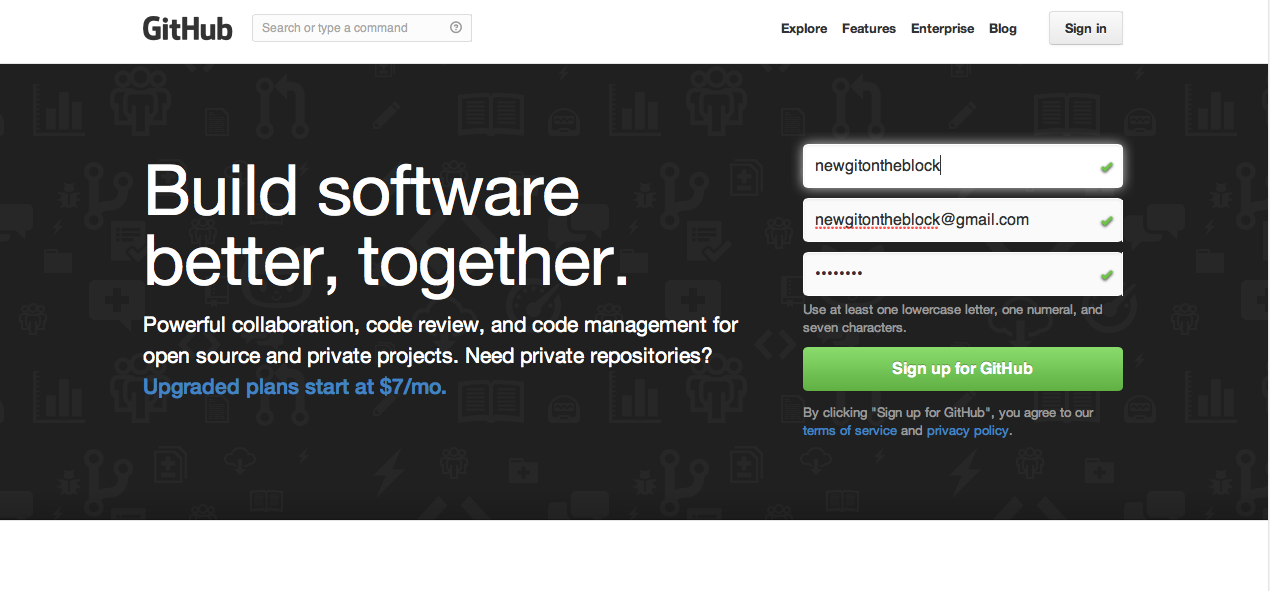 'Watching' the OSM To Do List
Go to https://github.com/OpenSourceMalaria (you will still be logged in). Here you will find the OSM repositories. You can view any 'repo' by clicking on the link - feel free to play around and peruse the content.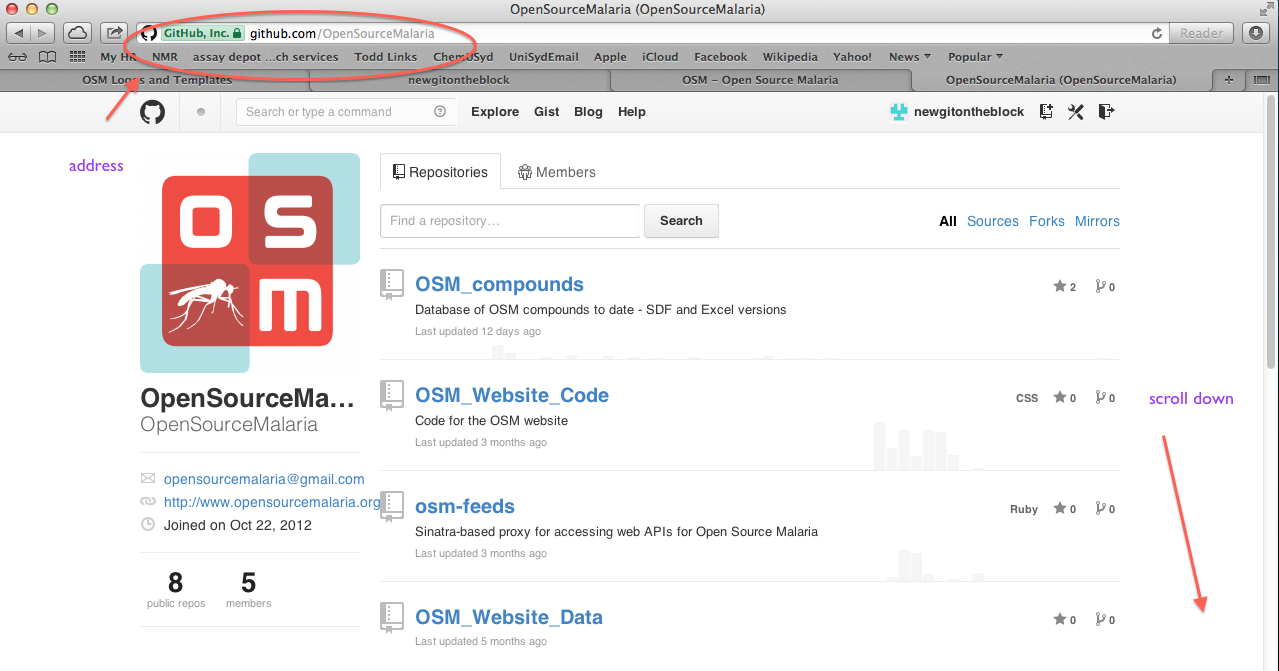 For now, scroll down the page until you reach OSM_To_Do_List and click on the link.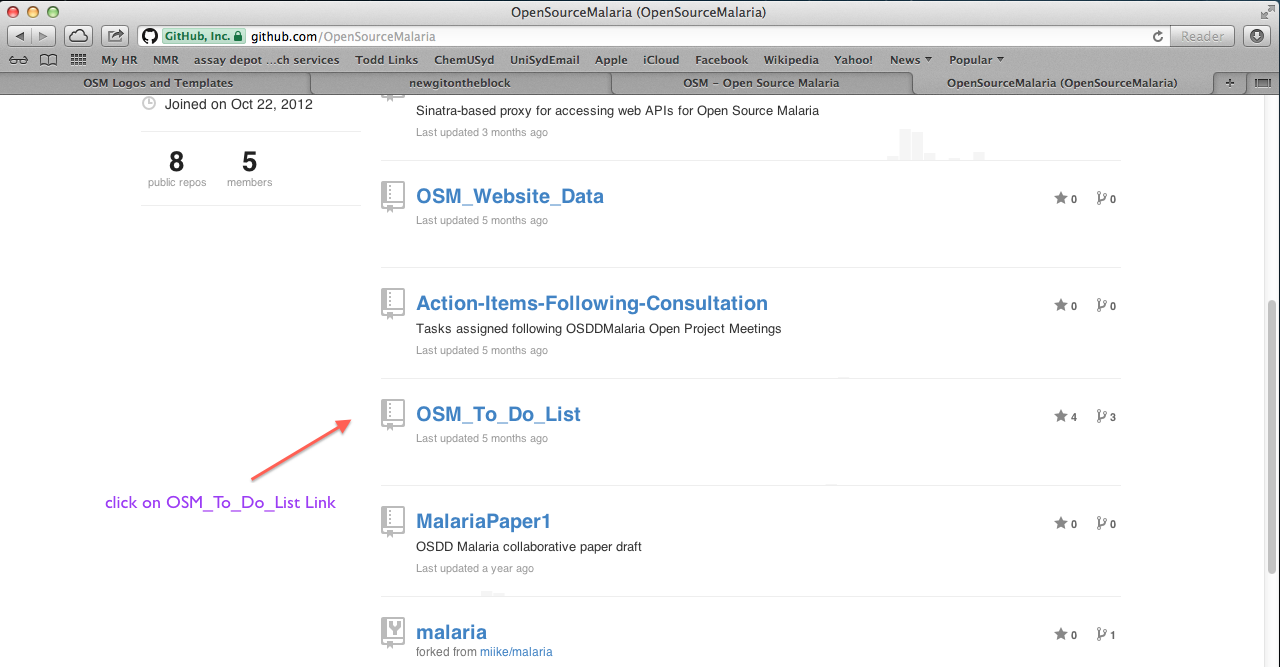 You will be able to see your username in the top right hand corner and now you should click 'Watch' so that you receive notifications for the 'To Do List'.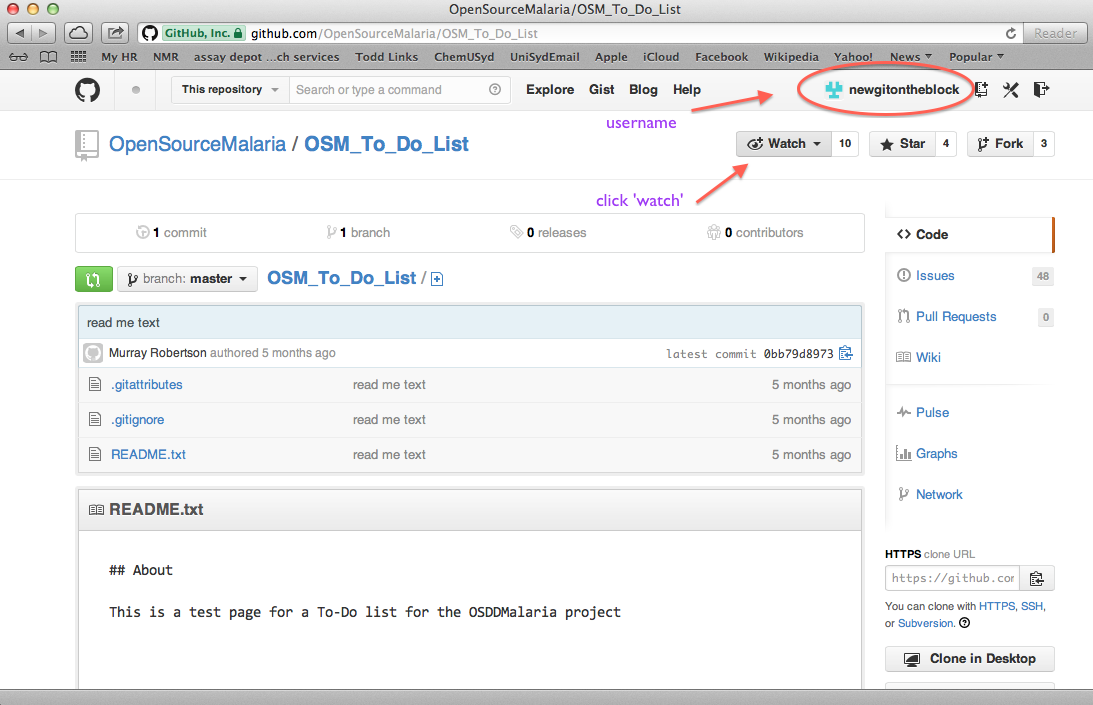 After selecting watching...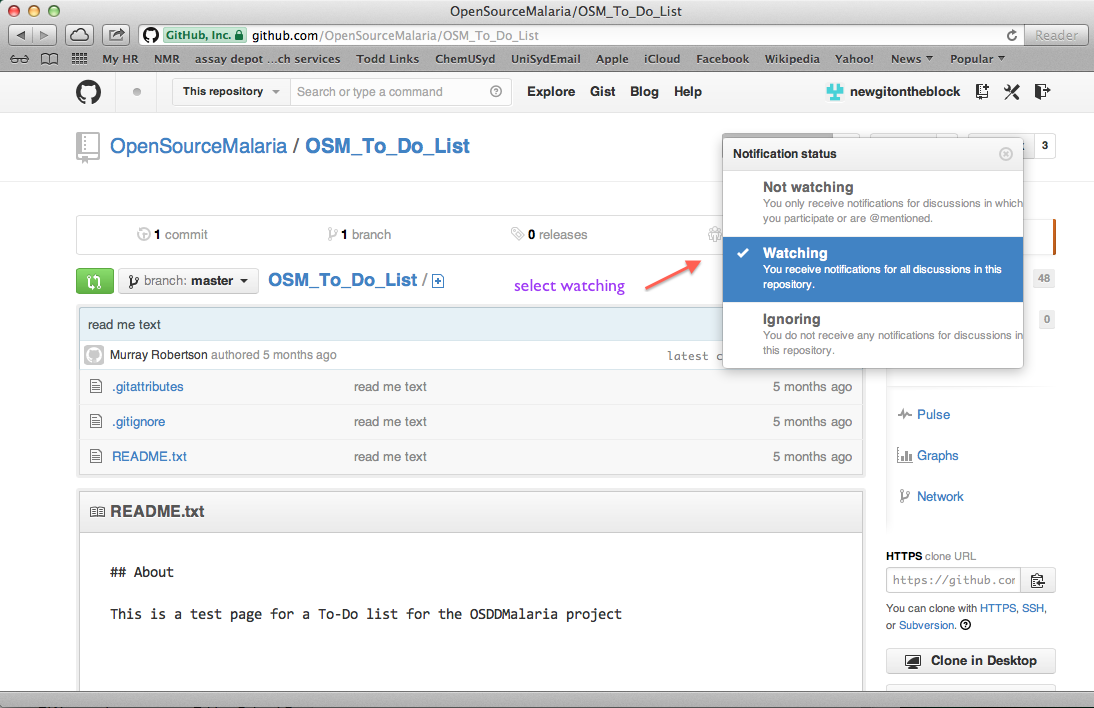 ...click the 'issues' link so that you can see the list and start to add your own issues.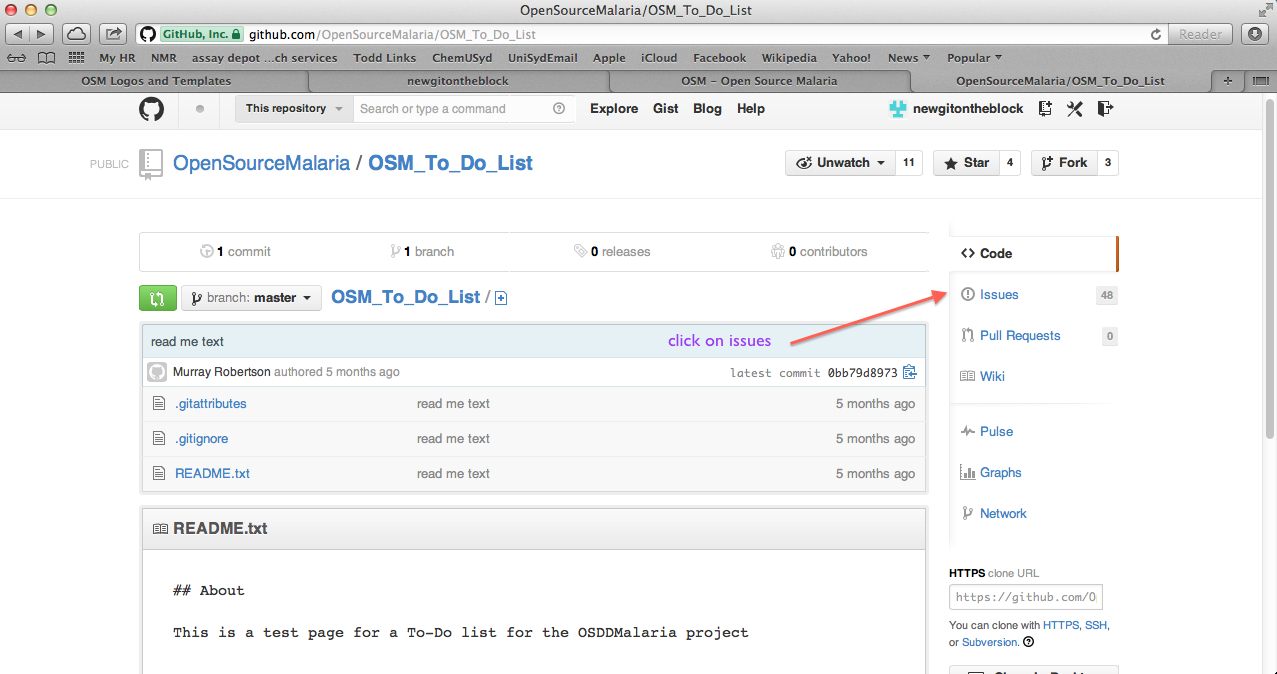 Next, you will see a list that of all the 'issues' or 'to do items' for the OSM project. The issues are listed in date order, with most recent first.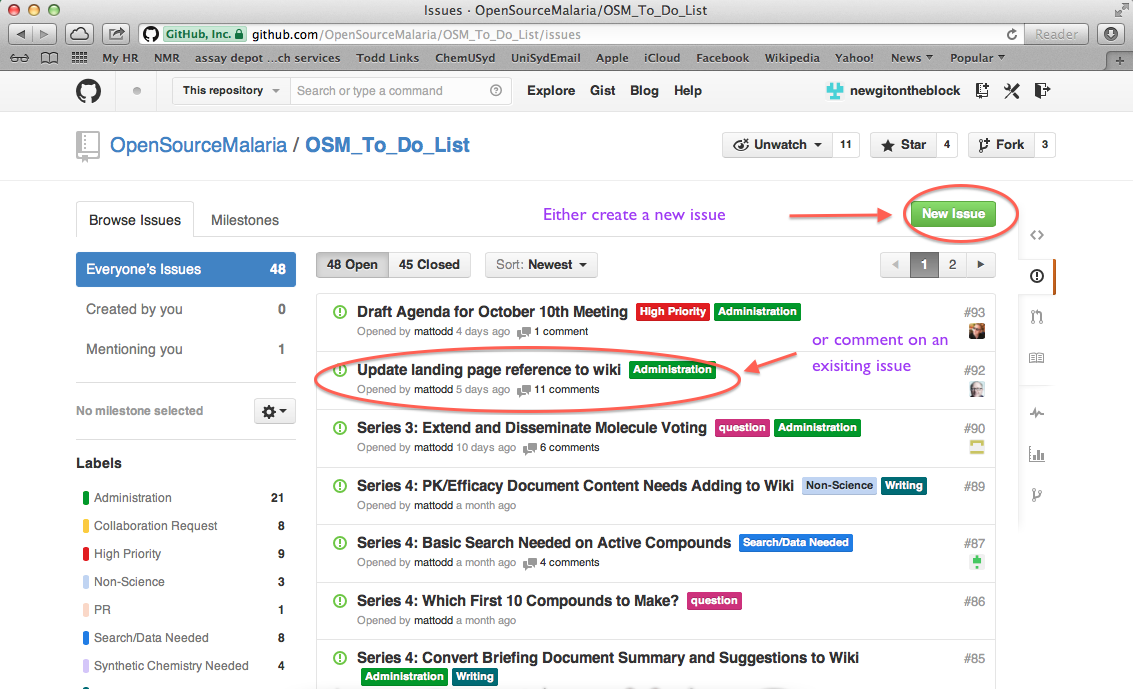 The issue number is shown in grey in the top right-hand corner of the issue box. The image, beneath the number identifies the team member who opened the issue, and this is also detailed below the issue title. Each issue also features labels, which are used to categorise the type of issue. For example, some are non-science 'issues' which means that someone without expertise in biology or chemistry or without access to a laboratory could complete the task.
To comment on an issue, click the link to the issue and enter text into the box at the bottom of the comment feed. You can upload images, include links to blog entries etc. or even add in dropbox/ELN links in order to share data this way.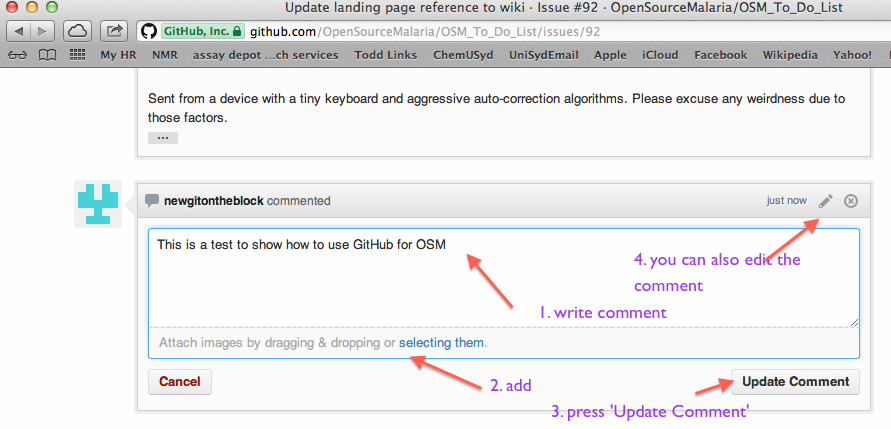 When commenting on issues, it is possible to @mention someone by typing "@' and selecting a name from a dropdown list that appears.


Everyone who is 'watching' the issue will receive an email notification when a new comment is added and this efficiently keeps the team up to date with progress or problems. A nice feature of GitHub is that you can either reply or comment using the GitHub web interface or directly from your email account.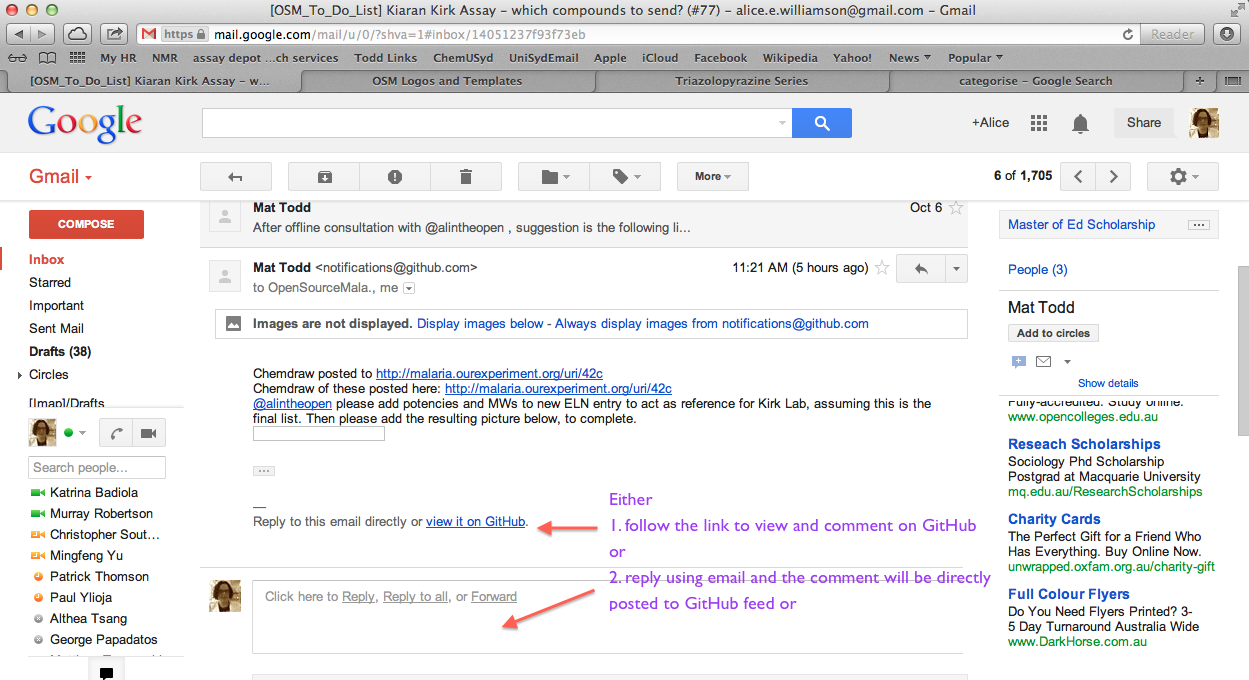 Alternatively, to create a new issue, click the green 'New Issue' tab.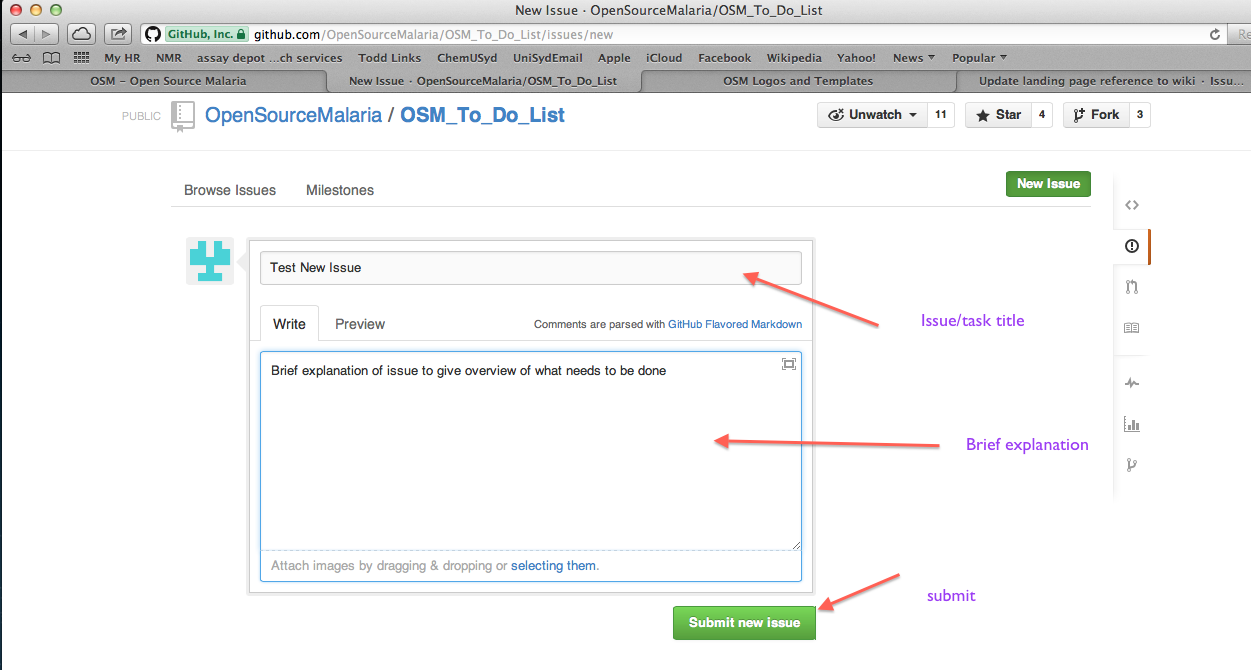 Type the issue/task in the title box and then enter a brief explanation of the issue so that other team members can read a quick overview. Then click "Submit New Issue' to add to the 'To Do List'
Issues can be filed together under 'Milestones' which are project goals with a set completion date. To add an issue to a milestone, click the dropdown link next to 'no milestone' and select the appropriate goal.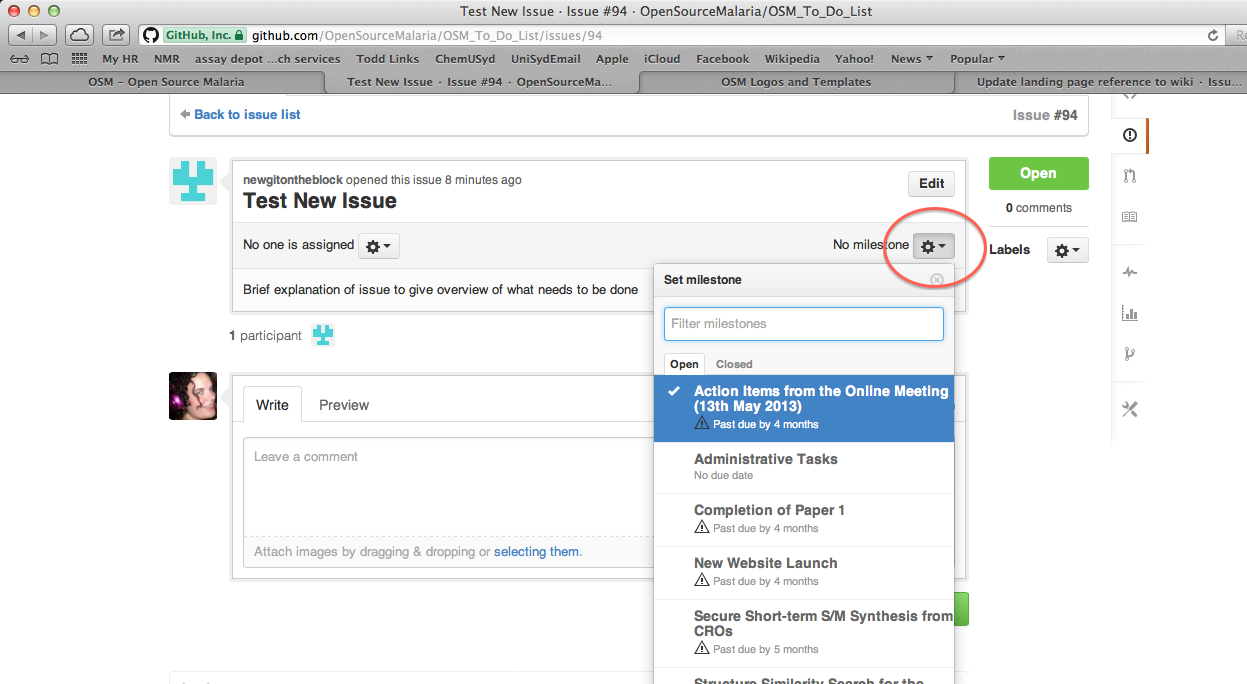 Similarly, labels can be added by clicking on the dropdown label tab and assigning the relevant label(s).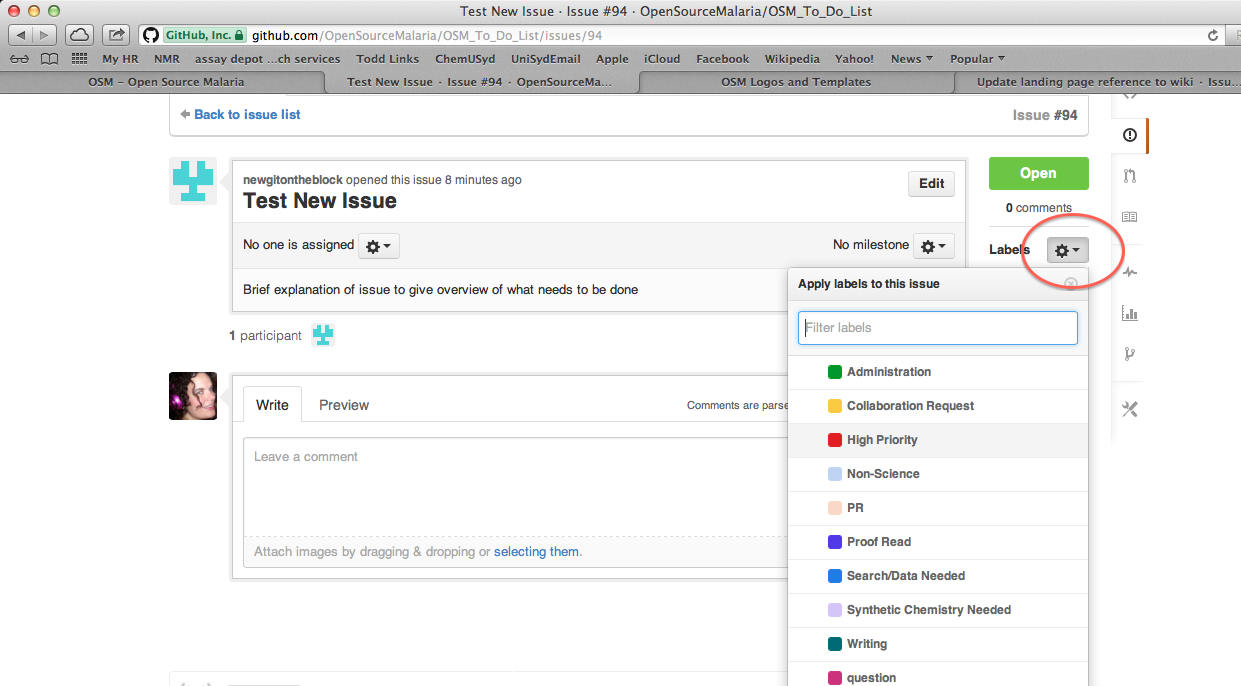 This is by no means a complete guide to GitHub, but hopefully it will serve as a useful reference for navigation around the OSM To Do List and enable participation in open discussion. Further updates will be added to this blog in the future. Please feel free to comment below.