Summary Document and Appeal for Assistance on Second Round of Synthesis
The +OSDDMalaria team held an open meeting on Monday 13th May to discuss the next molecules for synthesis and evaluation. 
All of the data contained in this summary can be found on the various websites/blog sites used by the OSDDMalaria team; this post has been compiled to summarise the data in a single blog for those generous enough to offer their advice.
We would love to know your thoughts on how we should prioritise the compounds listed in this document and would gratefully receive any other suggestions of possible target compounds.
If you would like to participate please comment below this post – you will need to login using the 'login' button at the top left of this site. Simply use your google/yahoo/AOL or other suitable login to enable comments. Alternatively, please comment on our G+ or Twitter sites. We try to discourage email (OSDDMalaria@gmail.com or matthew.todd@sydney.edu.au) as we prefer to communicate in the open! However, if you are not able to comment on this site please feel free to email and let us know if you would be willing for us to post your comments online. 
Many thanks for you time and suggestions.
The OSDDMalaria Team
Project Background – Funding and Support
In 2011, the Todd lab at The University of Sydney received funding for a pilot project in open source drug discovery from the Medicines for Malaria Venture (MMV). Work got underway in the lab in August 2011. The team was successful in securing further funding from an Australian Research Council Linkage grant - a scheme where funds from an external agency are matched by the Australian Government - and this generated funding for three years from May 2012. The OSDDMalaria team has two fully funded postdocs (along with other undergraduate students) to prepare compounds and uniquely, synthetic support from other groups around the world (e.g. CDRI, Lucknow, India and The University of Edinburgh, Scotland). The OSDDMalaria team also has access to biological screening (in vitro through Australian network and in vivo through MMV's centres of excellence). MMV also provides access to a screening network for parasite life cycle and DMPK support.
Although this is an open source drug discovery venture, the scientific idea behind the project is familiar medicinal chemistry methodology - the aim is to find a small molecule that is effective for the treatment of malaria, and that involves generating molecules (the Todd lab's primary responsibility) and evaluating them (with other members of the project). The difference with this project though (as described in the 6 Laws) is that everything is open, meaning all the experiments go on the web (including the ones that did not turn out well). All the data are available. Anyone can do anything they wish with the compounds, with the proviso the project is cited. The open nature of this project means that we receive support and guidance from the scientific community and anyone can take part - people may make molecules or offer guidance and input in other ways that change the direction of the project as it is happening. Thus the iterative cycle of analog synthesis in response to biological data that is normally guided by luck and medchem intuition is now guided by the intuition of the collective. Similarly, since the biological data are all open too, it should be easier to form an objective assessment of a molecule's performance divorced from the judgement of those closest to the compounds. This was found to be the case in a previous synthetic chemistry project involving the drug praziquantel.
Introduction
In 2010, GlaxoSmithKline (GSK) released chemical and biological data pertaining to some 13,500 compounds that displayed potent antimalarial activity in vitro (Nature Chemistry). Medicinal chemists at the Medicines for Malaria Venture (MMV) identified several compounds present in this dataset, which they believed to be excellent hits. These compounds had the combination of a drug-like profile (polar, low molecular weight, amenable to structural variation), high potency, low cytotoxicity, no known intellectual property issues, and to the best of their knowledge they were not the subject of antimalarial research by any other group, and hence suitable for an open source project.
One such compound was TCMDC-135294, which was found to have an IC50 of 150 nM against P. falciparum 3D7. The high throughput nature of the GSK screen carried the possibility of a false positive, and thus the first step was to resynthesise the hit compound and confirm its antimalarial activity. TCMDC-135294 was resynthesised (project identifier: OSM-S-106) and its potent activity was confirmed (36 nM).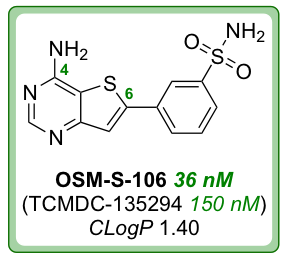 To see if the compound's activity could be further optimised, the team are currently exploring the druggability (solubility, metabolic degradation etc.) of the hit compound. Additionally, the synthesis of small sets of diverse analogs is currently underway, to see if an interesting structure-activity relationship can be found, in the hope that the compound might be suitable for lead optimisation. MMV has developed a set of compound progression criteria, which are being used to inform the project.
First Round
A number of compounds, both synthetic and commercial (including designed compounds and their intermediates as well as unanticipated by products and side products) have been evaluated to date. So far, most compounds tested have been inactive (>40 000 nM) although some interesting observations have been noted (all data can be found summarised here or on our online lab notebook)
Changing the C-6 substituent to H, Br, Ph or a selection of para-substituted phenyls kills activity.
Replacing the amino group at C-4 with a morpholine group kills activity
Replacing the ortho-sulfonamide with an amide kills activity.
Replacing the amino group at C-4 with a (4-fluorobenzyl)piperazine results in moderate levels of activity (OSM-S-137, 1700 nM).
It should be noted that the synthesis of OSM-S-137 was inspired by another molecule found in the TCAMS data set. TCMDC-132385 was found to display activity of 1015 nM. The team postulated that substituting the C-6­ phenyl group with benzene sulphonamide would lead to increased activity, however the activities were comparable. TCMDC-132385 is currently being resynthesised in the Sydney lab in order to confirm the accuracy of the result from the HTS.
A summary of selected compounds that have been biologically evaluated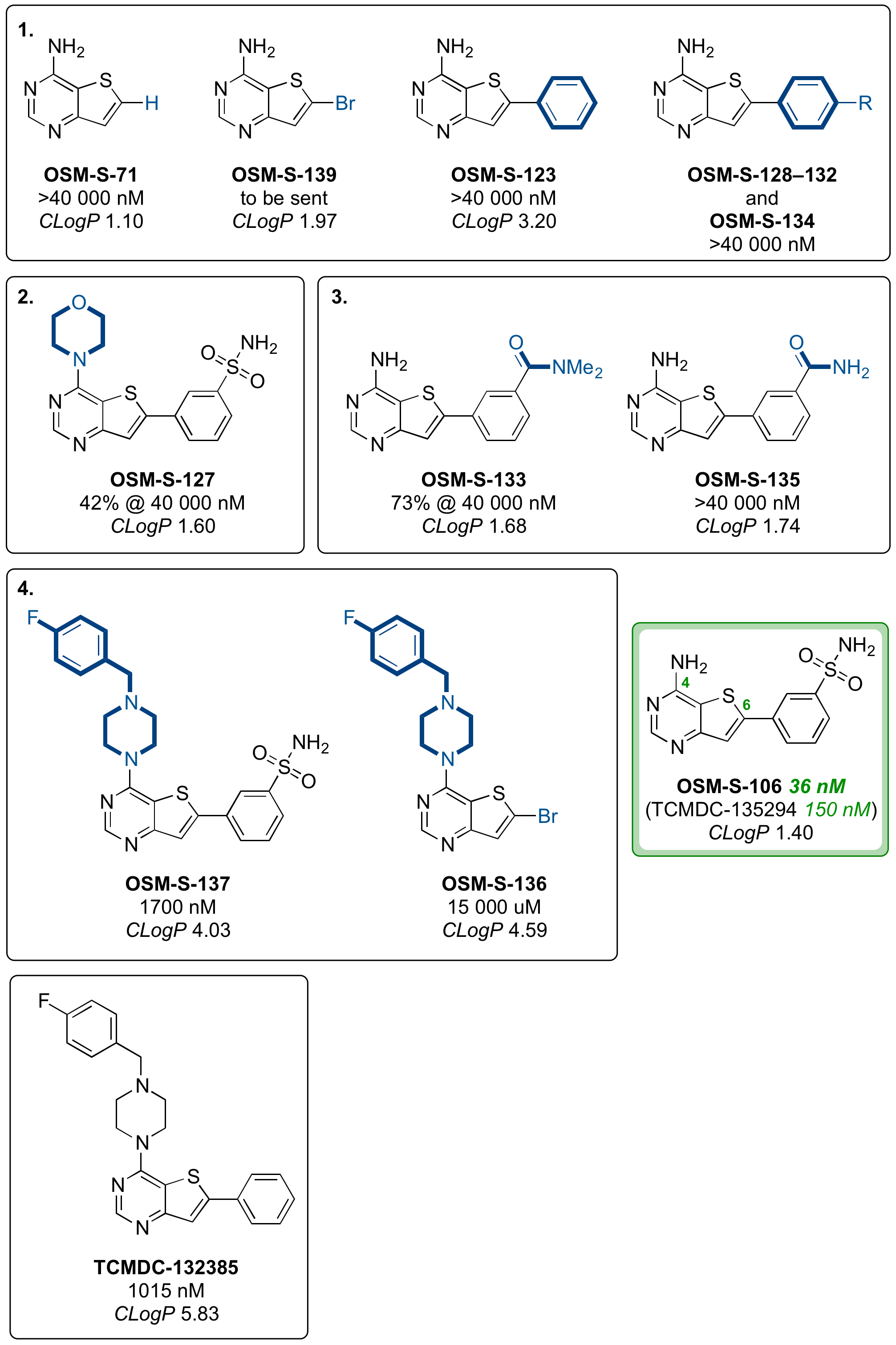 Second Round
These early results could suggest that OSM-S-106 is a singleton, but the team feel that there is still space around the core that should be explored. In particular, it seems important to determine if there is any scope for modification of the –NH­2 group and/or the sulfonamide. Improving the solubility of the compounds is also a high priority. The team have therefore proposed the following sets of molecules for the next round of synthesis. It is hoped that consultation with the medicinal chemistry community may help to refine this list of 'Wanted Compounds'. Additionally the team would be delighted to hear suggestions of other analogs based on this series.
N.B Compounds proposed in the next part of this blog post are currently ranked according to a traffic light system (green = high priority, orange = medium priority, red = low priority/toxicity issues as flagged) following an initial consultation with Paul Willis from MMV. Please let us know your thoughts on the proposed compounds and let us know your 'top ten' compounds or suggest alternative compounds that we could synthesise.
Proposed Compounds 1 (1–11)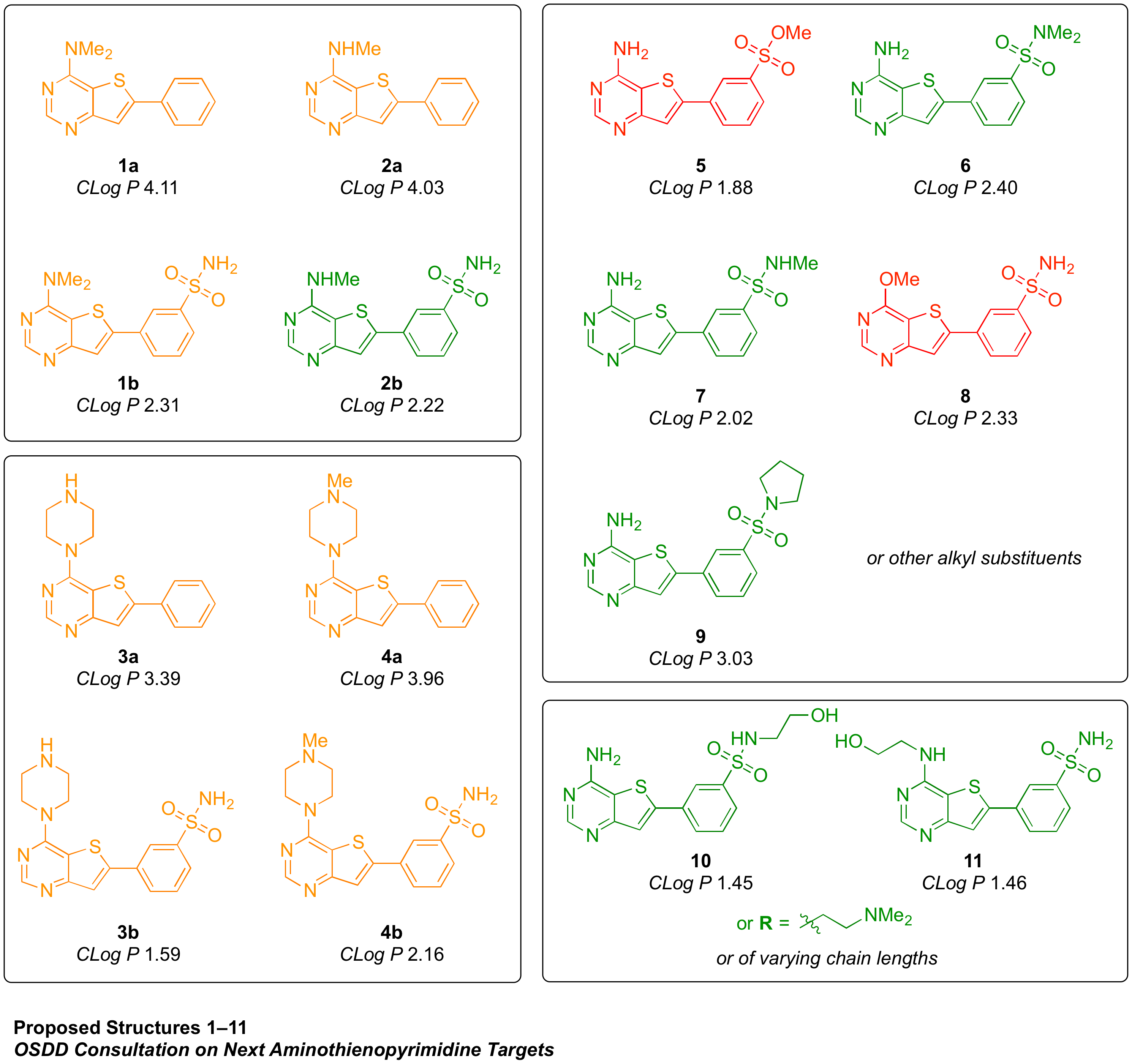 The first set of compounds (1–2) are designed to explore the effect of N-methylation on activity for both phenyl and benzene sulphonamide substituted compounds.
The second (3–4) will probe the effect piperazine ring substitution.
The third (5­–9) should give insight into the importance of the hydrogen donor extending from the meta-position of the C-6 aryl group.
The fourth (10 and 11) are designed to increase the number of interactions at the active site.
Following open consultation, the team also decided to look at some more meta-substituted boronic acids that could be incorporated to modified analogs of OSM-S-106. The compounds have below have been proposed in the hope that additional binding sites might be accessed (12–15), the importance of the hydrogen bond donor on the C-6 aryl group might be explored (16 and 17) and additionally that different functional groups might be could be investigated (18 and 19). In particular, the team are keen to explore the properties of the reverse sulphonamide (19).
Proposed Compounds 2 (12–19)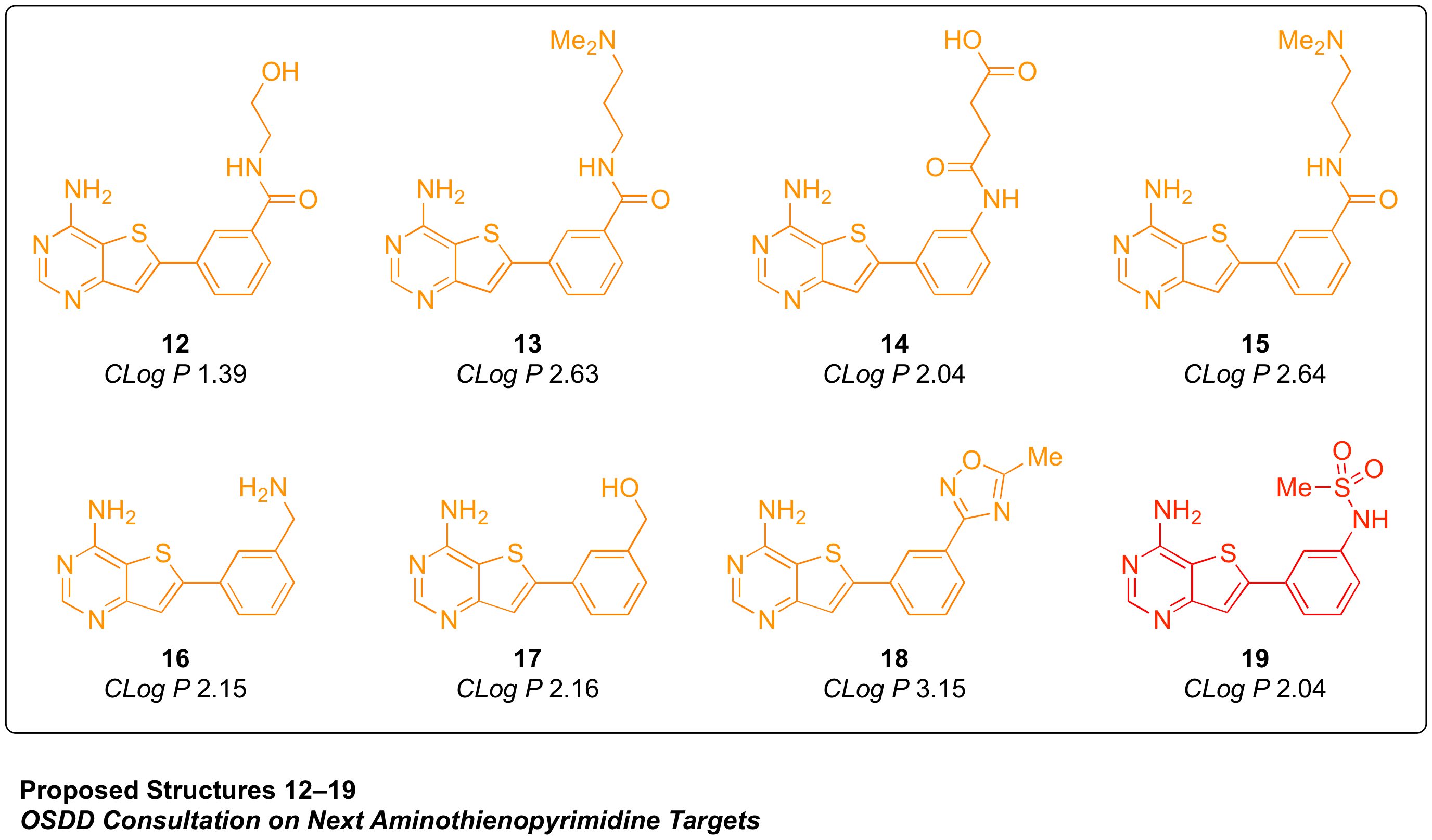 Additionally, a search of commercially available di-meta substituted boronic acids and esters was performed. The team considered the possibility that some singly meta-substituted compounds might orient themselves in a position where a hydrogen bond donating or accepting meta-substituent is unable to interact with the binding pocket. It was suggested therefore that design and evaluation of appropriate di-meta substituted analog would be of interest. Those commercially available di-meta compounds containing one or more polar group were highlighted as potential targets (20–23).
Proposed Compounds 3 (20–23)

Some solubility issues were flagged in previous rounds of testing for the aminothienopyrimidines. This was surprising owing to the favourable CLogP values calculated for the compounds. Paul Willis (MMV) suggested that this might be a result of their highly planar structure leading to favourable stacking interactions. He proposed that the team synthesise some ortho-substituted derivatives, as a bulky group in the ortho-position could force the aryl ring to twist out of plane and therefore perhaps reduce the propensity of the molecule to stack, leading to more favourable solubility's. Compounds 24 and 25 were therefore suggested as potential targets for synthesis.
Proposed Compounds 4 (24 and 25)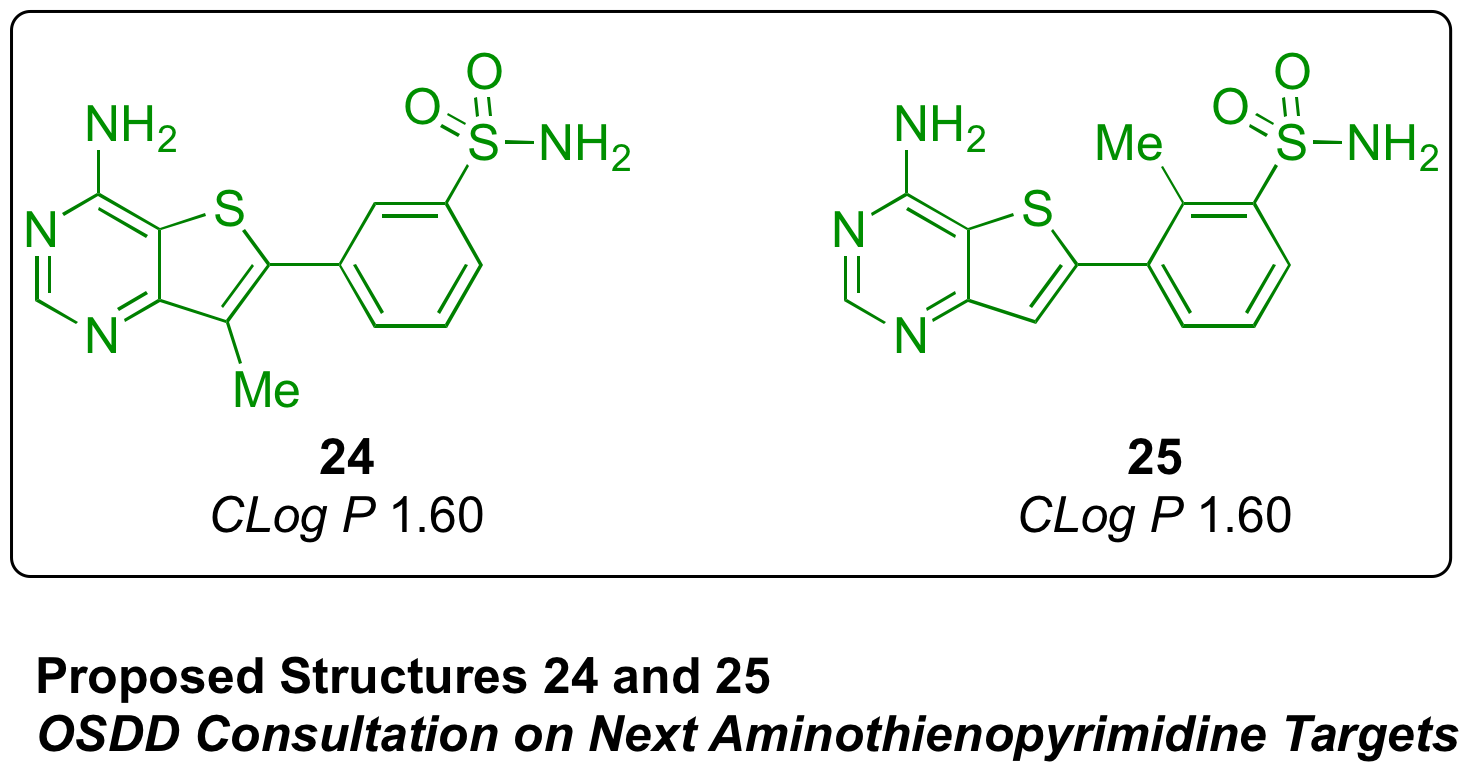 Very few ortho,meta-substituted boronic esters/acids are available and the majority are prohibitively expensive. However, depending on the result from the second round of testing, some of the analogs proposed below could be of great interest. Additionally, some ortho-substituted boronic acids/esters could be used to make singly ortho-substituted analogs. 
Proposed Compounds 5 (26–33)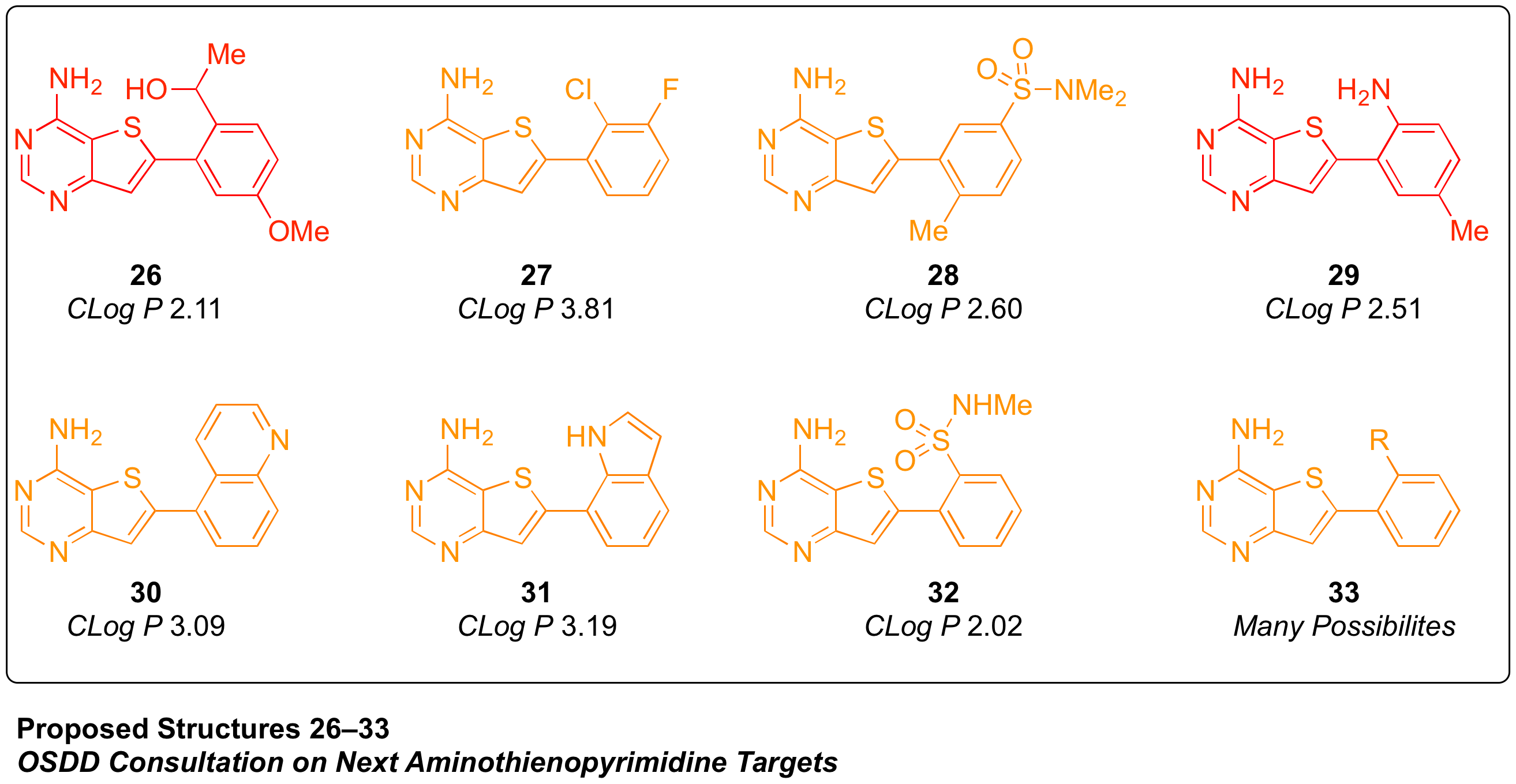 Appeal for assistance
We would be delighted if you would like to join the OSDDMalaria team. Open projects, such as ours, rely on participation by interested strangers. We are particularly interested to receive input from medicinal chemists who could assist us with compound selection for the next stages of the project. In order for the project to progress more rapidly, we would also greatly value experimental input from anyone who has access to a lab or can donate compounds. Our project is run quite differently to most medicinal chemistry projects, though as with everything in this project, nothing is static and advice is always welcome on improvements. Raw experimental data are recorded in an online, openly-readable electronic lab notebook. GitHub is being used to discuss ideas and results, as well as plan future work. The project's Google+ page is a light way to keep up with developments and discuss. The project's Twitter feed is a broadcast mechanism for updates. A wiki is used to host the current overall project status. Updates on the project's progress can also be found at our Facebook page, and this also a place for interaction. If you wish to participate in this project, you can sign up to some/all these sites, and you would then be sent the Twitter/G+ passwords so you can used the same accounts. We generally discourage the use of email in order to keep the project as open as possible, but if you would prefer to contact us in this way, OSDDMalaria@gmail.com is the project's email address.
1. Tested OSM Compounds and those ready to be sent
Thienopyrimidine Data - Summary.pdf
Attached Files
OSM-S-106.png
Summary of Compounds (ATP).png
ProposedStructures1-11.png
Proposed Structures 24 and 25.png
Proposed Structures 26-33.png
Proposed Structures 12-19.png
Proposed Structures 20-23.png
Thienopyrimidine Data - Summary.pdf