Mnr:
MNR61-70
Scaled up synthesis of (Z)-2-((3-hydroxyphenyl)imino)thiazolidin-4-one (MNR70-2) from MNR69-1.
Prep from
ZYH14-1
As for
MNR70-1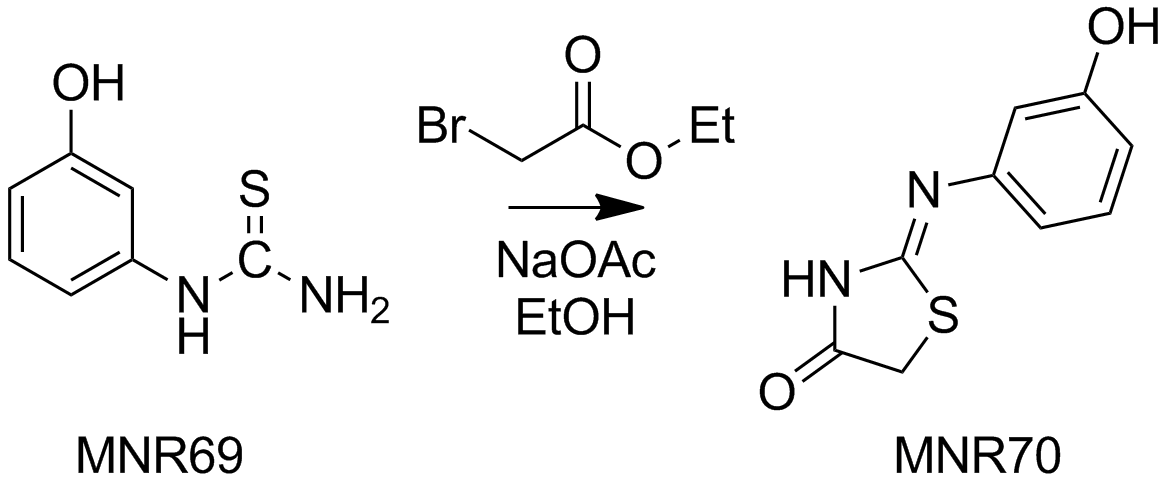 Hazard AssessmentProcedure
Reaction on at 1800, 09/01/13
To a mixture of MNR69-1 (3.10 g, 18.4 mmol) and sodium acetate trihydrate (2.51 g, 18.43 mmol) in ethanol (20 mL) was added ethyl bromoacetate (2.0 ml, 18.4 mmol) dropwise and the mixture was heated to 60 °C for 16 hours.
The reaction was allowed to cool to room temperature then ice was added. Nothing significant precipitated out, only what looked like an oily side product. The Reaction mixture was then extracted with EtOAC (25 ml x 2). The organic fractions were combined, dried over MgSO4, filtered and concentrated to give a dark orange oil ( g).
TLCNMRConclusionStrings
Starting materials
InChI=1S/C7H8N2OS/c8-7(11)9-5-2-1-3-6(10)4-5/h1-4,10H,(H3,8,9,11)
Product
InChI=1S/C9H8N2O2S/c12-7-3-1-2-6(4-7)10-9-11-8(13)5-14-9/h1-4,12H,5H2,(H,10,11,13)