Update: Please see Wiki for updated SAR information
A further set of 12  Series 4 Triazolopyrazine compounds were sent to have their efficacy evaluated against Plasmodium falciparum in-vitro at Syngene.
Some compounds were synthesised by the SSP group at The University Sydney and then purified in the research lab.
The following results were optained:
Brief Comments
Esters MMV69348-50 showed moderate activity.
3,4-halogentated SSP Compounds MMV69349 & -50 showed moderate activity whereas 4-fluoro (MMV69352) and 2,4-dichloro (MMV69353) showed promising activity and some insight into the importance of substituent position on the RH aromatic group.
Thioethers, sulfoxide and and sulfones were all inactive.
Triazole MMV693165 was also inactive.
Homologous alcohol MMV69355 showed promising activity, in common with the 3,4-difluoro anologue (MMV670947, 24 nM) and supports exploration of analogous amine and carboxylic acid.
General assay principle:
"This protocol assesses compound efficacy against Plasmodium falciparum in-vitro. This assay is using [3H]-hypoxanthine incorporation or DNA labeling by SYBR Green as a markers of parasite growth. 
This procedure is designed for use with culture adapted P. falciparum strains or clones only. On one 96-well plate typically 03 drugs are tested in duplicate. Standard strains: Plasmodium falciparum, NF54 (sensitive to all known drugs), Plasmodium falciparum, K1 (chloroquine and pyrimethamine resistant). The assay can be performed in dose response mode (12 concentrations in duplicate, 24 data points) which allows determining IC50, or in single concentration mode (one concentration in triplicate, 3 data points) which allows determining the percentage of growth inhibition.
For more information, see Desjardins et al. (Antimicrob. Agents Chemother., 16(6), 710, 1979)."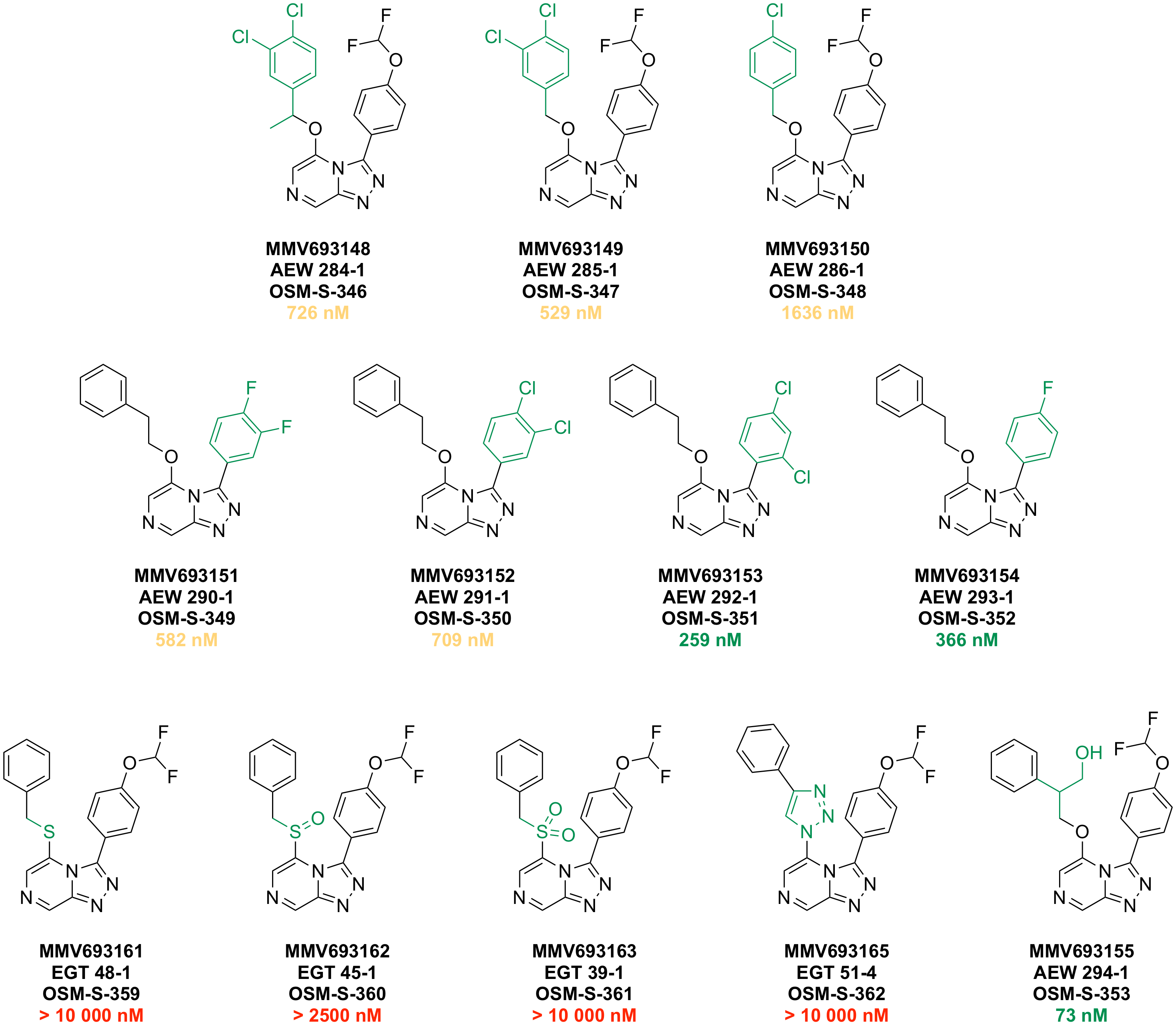 (Post originally authored by Alice Williamson)
Strings
MMV693148 OSM-S-346 AEW 284-1 FC(F)OC(C=C1)=CC=C1C2=NN=C3C=NC=C(OC(C)C4=CC=C(Cl)C(Cl)=C4)N32 InChI=1S/C20H14Cl2F2N4O2/c1-11(13-4-7-15(21)16(22)8-13)29-18-10-25-9-17-26-27-19(28(17)18)12-2-5-14(6-3-12)30-20(23)24/h2-11,20H,1H3 ILDZQTSEZGQWFR-UHFFFAOYSA-N
MMV693149 OSM-S-347 AEW 285-1 FC(F)OC(C=C1)=CC=C1C2=NN=C3C=NC=C(OCC4=CC=C(Cl)C(Cl)=C4)N32 InChI=1S/C19H12Cl2F2N4O2/c20-14-6-1-11(7-15(14)21)10-28-17-9-24-8-16-25-26-18(27(16)17)12-2-4-13(5-3-12)29-19(22)23/h1-9,19H,10H2 CSHOSFVEVPHTHZ-UHFFFAOYSA-N
MMV693150 OSM-S-348 AEW 286-1 FC(F)OC(C=C1)=CC=C1C2=NN=C3C=NC=C(OCC4=CC=C(Cl)C=C4)N32 InChI=1S/C19H13ClF2N4O2/c20-14-5-1-12(2-6-14)11-27-17-10-23-9-16-24-25-18(26(16)17)13-3-7-15(8-4-13)28-19(21)22/h1-10,19H,11H2 ROAUWAVERUYYHI-UHFFFAOYSA-N
MMV693151 OSM-S-349 AEW 290-1 FC(C=C1)=C(F)C=C1C2=NN=C3C=NC=C(OCCC4=CC=CC=C4)N32 InChI=1S/C19H14F2N4O/c20-15-7-6-14(10-16(15)21)19-24-23-17-11-22-12-18(25(17)19)26-9-8-13-4-2-1-3-5-13/h1-7,10-12H,8-9H2 DNQWZOZQWWSJTR-UHFFFAOYSA-N
MMV693152 OSM-S-350 AEW 291-1 ClC(C=C1)=C(Cl)C=C1C2=NN=C3C=NC=C(OCCC4=CC=CC=C4)N32 InChI=1S/C19H14Cl2N4O/c20-15-7-6-14(10-16(15)21)19-24-23-17-11-22-12-18(25(17)19)26-9-8-13-4-2-1-3-5-13/h1-7,10-12H,8-9H2 DJLRRTBQGVDDPH-UHFFFAOYSA-N
MMV693153 OSM-S-351 AEW 292-1 ClC(C=C(Cl)C=C1)=C1C2=NN=C3C=NC=C(OCCC4=CC=CC=C4)N32 InChI=1S/C19H14Cl2N4O/c20-14-6-7-15(16(21)10-14)19-24-23-17-11-22-12-18(25(17)19)26-9-8-13-4-2-1-3-5-13/h1-7,10-12H,8-9H2 VJQTVLCLRZKBED-UHFFFAOYSA-N
MMV693154 OSM-S-352 AEW 293-1 FC(C=C1)=CC=C1C2=NN=C3C=NC=C(OCCC4=CC=CC=C4)N32 InChI=1S/C19H15FN4O/c20-16-8-6-15(7-9-16)19-23-22-17-12-21-13-18(24(17)19)25-11-10-14-4-2-1-3-5-14/h1-9,12-13H,10-11H2 QCWQNZCCYWUBQM-UHFFFAOYSA-N
MMV693155 OSM-S-353 AEW 294-1 FC(F)OC(C=C1)=CC=C1C2=NN=C3C=NC=C(OCC(C4=CC=CC=C4)CO)N32 InChI=1S/C21H18F2N4O3/c22-21(23)30-17-8-6-15(7-9-17)20-26-25-18-10-24-11-19(27(18)20)29-13-16(12-28)14-4-2-1-3-5-14/h1-11,16,21,28H,12-13H2 MGANJQKOPZQELF-UHFFFAOYSA-N
MMV693161 OSM-S-359 EGT 48-1 FC(F)OC(C=C1)=CC=C1C2=NN=C3C=NC=C(SCC4=CC=CC=C4)N32 InChI=1S/C19H14F2N4OS/c20-19(21)26-15-8-6-14(7-9-15)18-24-23-16-10-22-11-17(25(16)18)27-12-13-4-2-1-3-5-13/h1-11,19H,12H2 KEZIWQVAJDNGBM-UHFFFAOYSA-N
MMV693162 OSM-S-360 EGT 45-1 FC(F)OC(C=C1)=CC=C1C2=NN=C3C=NC=C(S(CC4=CC=CC=C4)=O)N32 InChI=1S/C19H14F2N4O2S/c20-19(21)27-15-8-6-14(7-9-15)18-24-23-16-10-22-11-17(25(16)18)28(26)12-13-4-2-1-3-5-13/h1-11,19H,12H2 HSYPMILIAZBMAQ-UHFFFAOYSA-N
MMV693163 OSM-S-361 EGT 39-1 FC(F)OC(C=C1)=CC=C1C2=NN=C3C=NC=C(S(CC4=CC=CC=C4)(=O)=O)N32 InChI=1S/C19H14F2N4O3S/c20-19(21)28-15-8-6-14(7-9-15)18-24-23-16-10-22-11-17(25(16)18)29(26,27)12-13-4-2-1-3-5-13/h1-11,19H,12H2 OCXPXTXAACVDON-UHFFFAOYSA-N
MMV693165 OSM-S-362 EGT 51-4 FC(F)OC(C=C1)=CC=C1C2=NN=C3C=NC=C(N4N=NC(C5=CC=CC=C5)=C4)N32 InChI=1S/C20H13F2N7O/c21-20(22)30-15-8-6-14(7-9-15)19-26-25-17-10-23-11-18(29(17)19)28-12-16(24-27-28)13-4-2-1-3-5-13/h1-12,20H WUWMNWSXMOOYGG-UHFFFAOYSA-N