A set of 16 Series 4 Triazolopyrazine Frontrunner compounds were sent to have their efficacy re-evaluated against Plasmodium falciparum in-vitro at Dundee.
N.B. Potency values are an average of 2 runs. In one case (MMV672687), the 2 runs gave more-divergent-than-ideal values, however the average is still reported.
Discussion of the Frontrunner compounds and previous in-vitro data can be found here.
The following results were obtained: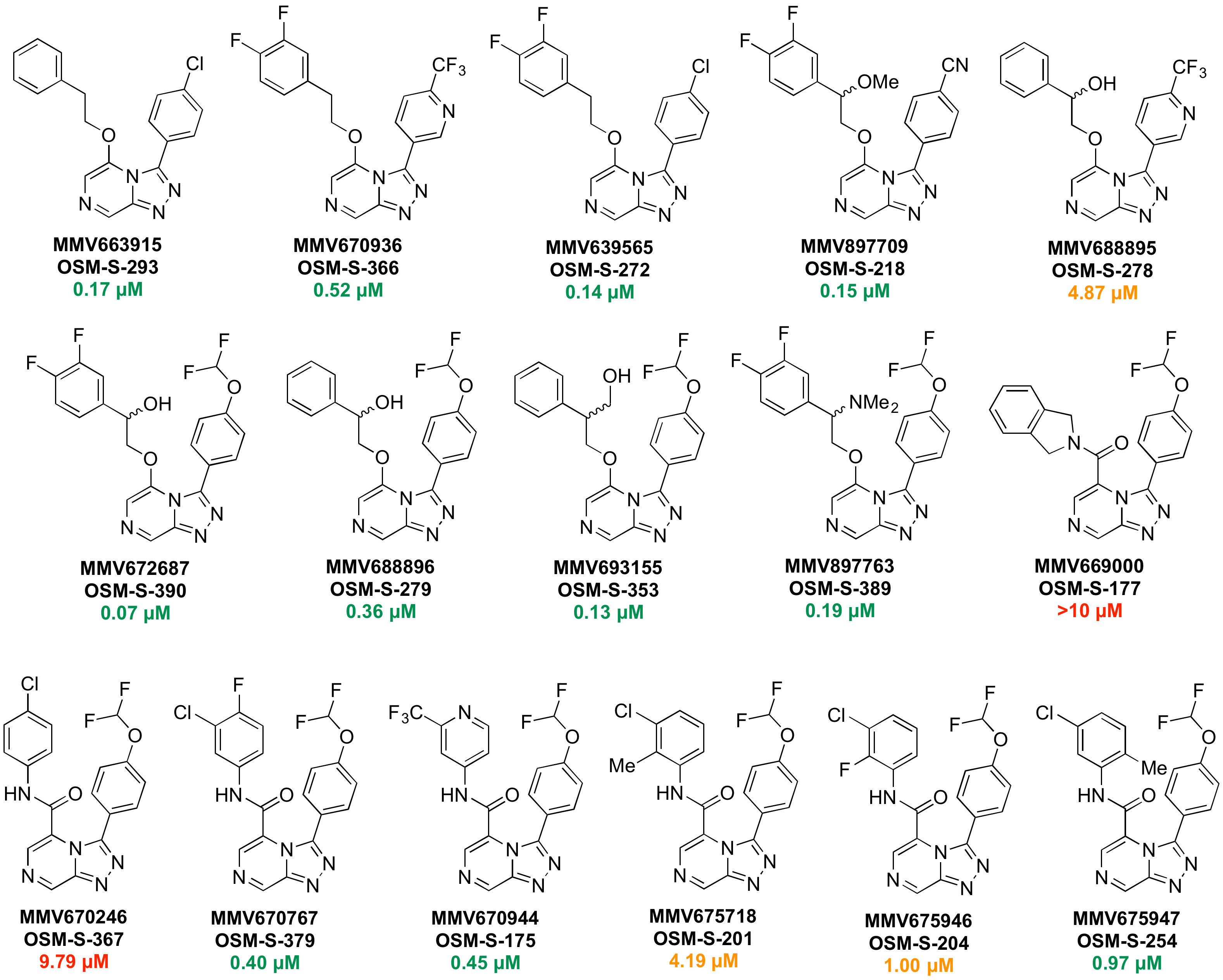 Brief comments:
In comparison with the previous Frontrunner data linked above, all but one of the new potency values were slightly higher than before, but all values still indicate the active compounds were active etc.
MMV672687 had better activity than before even considering the N.B. above.
Strings:
MMV663915 OSM-S-293
ClC(C=C1)=CC=C1C2=NN=C3C=NC=C(OCCC4=CC=CC=C4)N32             InChI=1S/C19H15ClN4O/c20-16-8-6-15(7-9-16)19-23-22-17-12-21-13-18(24(17)19)25-11-10-14-4-2-1-3-5-14/h1-9,12-13H,10-11H2
MMV670936 OSM-S-366
FC1=C(F)C=CC(CCOC2=CN=CC3=NN=C(C4=CN=C(C(F)(F)F)C=C4)N32)=C1 InChI=1S/C19H12F5N5O/c20-13-3-1-11(7-14(13)21)5-6-30-17-10-25-9-16-27-28-18(29(16)17)12-2-4-15(26-8-12)19(22,23)24/h1-4,7-10H,5-6H2
MMV639565 OSM-S-272
ClC(C=C1)=CC=C1C2=NN=C3C=NC=C(OCCC4=CC(F)=C(F)C=C4)N32 InChI=1S/C19H13ClF2N4O/c20-14-4-2-13(3-5-14)19-25-24-17-10-23-11-18(26(17)19)27-8-7-12-1-6-15(21)16(22)9-12/h1-6,9-11H,7-8H2
MMV897709 OSM-S-218
FC1=C(F)C=CC(C(OC)COC2=CN=CC3=NN=C(C4=CC=C(C#N)C=C4)N32)=C1 InChI=1S/C21H15F2N5O2/c1-29-18(15-6-7-16(22)17(23)8-15)12-30-20-11-25-10-19-26-27-21(28(19)20)14-4-2-13(9-24)3-5-14/h2-8,10-11,18H,12H2,1H3
MMV688895 OSM-S-278
OC(C1=CC=CC=C1)COC2=CN=CC3=NN=C(C4=CN=C(C(F)(F)F)C=C4)N32 InChI=1S/C19H14F3N5O2/c20-19(21,22)15-7-6-13(8-24-15)18-26-25-16-9-23-10-17(27(16)18)29-11-14(28)12-4-2-1-3-5-12/h1-10,14,28H,11H2
MMV672687 OSM-S-390
OC(C1=CC(F)=C(F)C=C1)COC2=CN=CC3=NN=C(C4=CC=C(OC(F)F)C=C4)N32 InChI=1S/C20H14F4N4O3/c21-14-6-3-12(7-15(14)22)16(29)10-30-18-9-25-8-17-26-27-19(28(17)18)11-1-4-13(5-2-11)31-20(23)24/h1-9,16,20,29H,10H2 
MMV688896 OSM-S-279
OC(C1=CC=CC=C1)COC2=CN=CC3=NN=C(C4=CC=C(OC(F)F)C=C4)N32 InChI=1S/C20H16F2N4O3/c21-20(22)29-15-8-6-14(7-9-15)19-25-24-17-10-23-11-18(26(17)19)28-12-16(27)13-4-2-1-3-5-13/h1-11,16,20,27H,12H2
MMV693155 OSM-S-353
OCC(C1=CC=CC=C1)COC2=CN=CC3=NN=C(C4=CC=C(OC(F)F)C=C4)N32 InChI=1S/C21H18F2N4O3/c22-21(23)30-17-8-6-15(7-9-17)20-26-25-18-10-24-11-19(27(18)20)29-13-16(12-28)14-4-2-1-3-5-14/h1-11,16,21,28H,12-13H2
MMV897763 OSM-S-389
FC1=C(F)C=CC(C(N(C)C)COC2=CN=CC3=NN=C(C4=CC=C(OC(F)F)C=C4)N32)=C1 InChI=1S/C22H19F4N5O2/c1-30(2)18(14-5-8-16(23)17(24)9-14)12-32-20-11-27-10-19-28-29-21(31(19)20)13-3-6-15(7-4-13)33-22(25)26/h3-11,18,22H,12H2,1-2H3 
MMV669000 OSM-S-177
O=C(N1CC(C=CC=C2)=C2C1)C3=CN=CC4=NN=C(C5=CC=C(OC(F)F)C=C5)N43 InChI=1S/C21H15F2N5O2/c22-21(23)30-16-7-5-13(6-8-16)19-26-25-18-10-24-9-17(28(18)19)20(29)27-11-14-3-1-2-4-15(14)12-27/h1-10,21H,11-12H2 
MMV670246 OSM-S-367
O=C(NC1=CC=C(Cl)C=C1)C2=CN=CC3=NN=C(C4=CC=C(OC(F)F)C=C4)N32 InChI=1S/C19H12ClF2N5O2/c20-12-3-5-13(6-4-12)24-18(28)15-9-23-10-16-25-26-17(27(15)16)11-1-7-14(8-2-11)29-19(21)22/h1-10,19H,(H,24,28)
MMV670767 OSM-S-379
O=C(NC1=CC=C(F)C(Cl)=C1)C2=CN=CC3=NN=C(C4=CC=C(OC(F)F)C=C4)N32 InChI=1S/C19H11ClF3N5O2/c20-13-7-11(3-6-14(13)21)25-18(29)15-8-24-9-16-26-27-17(28(15)16)10-1-4-12(5-2-10)30-19(22)23/h1-9,19H,(H,25,29)
MMV670944 OSM-S-175
O=C(NC1=CC=NC(C(F)(F)F)=C1)C2=CN=CC3=NN=C(C4=CC=C(OC(F)F)C=C4)N32 InChI=1S/C19H11F5N6O2/c20-18(21)32-12-3-1-10(2-4-12)16-29-28-15-9-25-8-13(30(15)16)17(31)27-11-5-6-26-14(7-11)19(22,23)24/h1-9,18H,(H,26,27,31)
MMV675718 OSM-S-201
O=C(NC1=CC=CC(Cl)=C1C)C2=CN=CC3=NN=C(C4=CC=C(OC(F)F)C=C4)N32 InChI=1S/C20H14ClF2N5O2/c1-11-14(21)3-2-4-15(11)25-19(29)16-9-24-10-17-26-27-18(28(16)17)12-5-7-13(8-6-12)30-20(22)23/h2-10,20H,1H3,(H,25,29)
MMV675946 OSM-S-946
O=C(NC1=CC=CC(Cl)=C1F)C2=CN=CC3=NN=C(C4=CC=C(OC(F)F)C=C4)N32 InChI=1S/C19H11ClF3N5O2/c20-12-2-1-3-13(16(12)21)25-18(29)14-8-24-9-15-26-27-17(28(14)15)10-4-6-11(7-5-10)30-19(22)23/h1-9,19H,(H,25,29)
MMV675947 OSM-S-254
O=C(NC1=C(C)C=CC(Cl)=C1)C2=CN=CC3=NN=C(C4=CC=C(OC(F)F)C=C4)N32 InChI=1S/C20H14ClF2N5O2/c1-11-2-5-13(21)8-15(11)25-19(29)16-9-24-10-17-26-27-18(28(16)17)12-3-6-14(7-4-12)30-20(22)23/h2-10,20H,1H3,(H,25,29)
Attached Files
Nov 2016 Frontrunner Results.cdx
Nov 2016 Frontrunner Results.png
Nov 2016 Frontrunner Results.xlsx