A new set of 20 Series 4 Triazolopyrazine compounds were sent to have their efficacy evaluated against Plasmodium falciparum in-vitro at Dundee.
N.B. Potency values are an average of 2 runs. In certain cases (MMV897697, MMV897698, MMV897699, MMV897700, MMV897708, MMV897714), the 2 runs gave more-divergent-than-ideal values, however the averages are still reported.
The following results were obtained: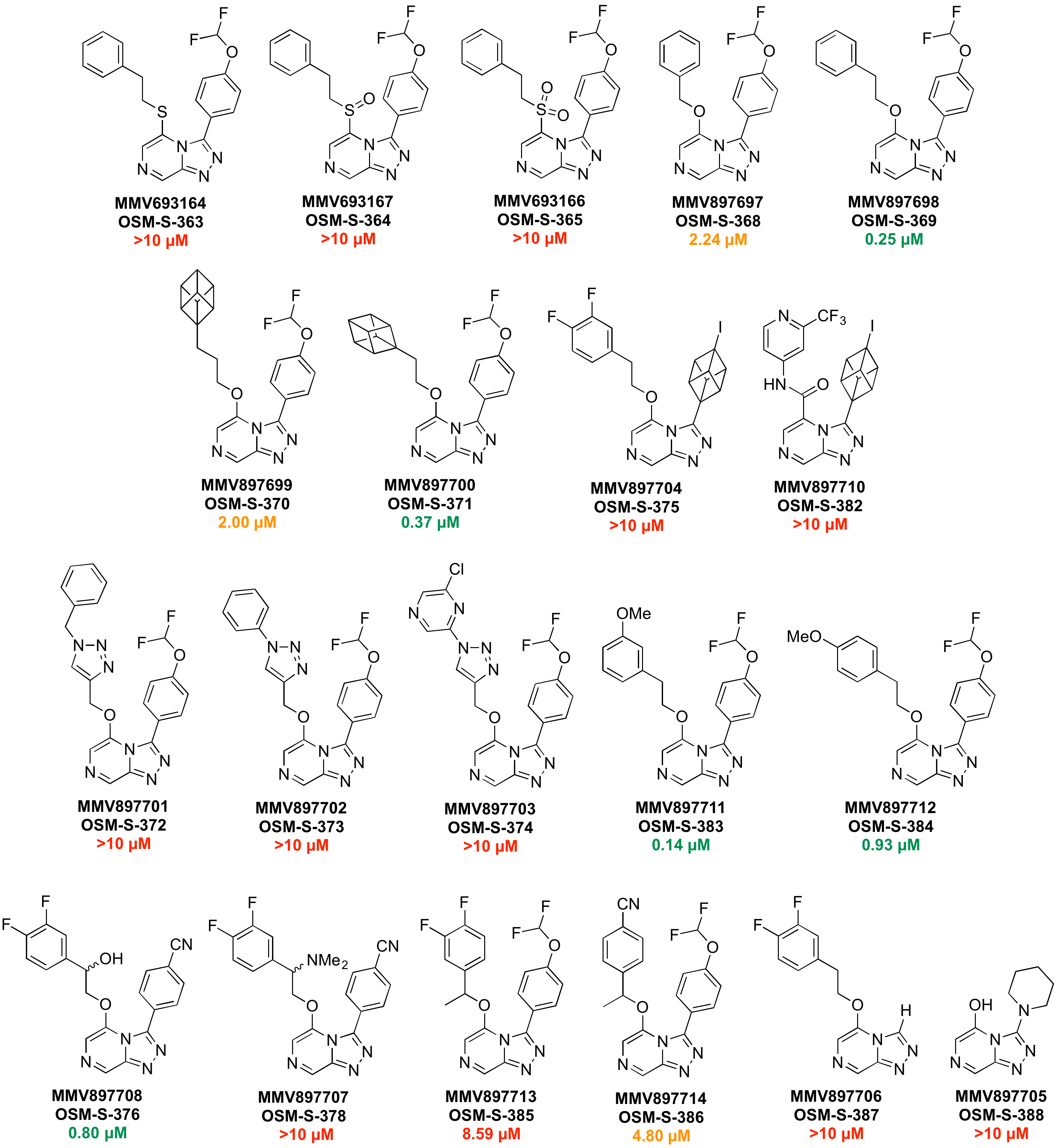 Brief comments:
Thioether, sulfoxide and sulfone were inactive again. The comparative ether compounds showed good to moderate activity.
Left hand cubane bioisosteres showed good to moderate activty. Right hand isosteres were inactive.
All ether-triazole linked compounds were inactive.
Both 3- and 4-OMe compounds were active
MMV897708 showed slightly reduced activity to the OCHF2 analogue (MMV672687). MMV897707 was inactive compared with the active OCHF2 analogue (MMV897763).
Compounds with a methylated benzylic position showed moderate activity.
MMV897706 and MMV897705 were inactive.
Strings:
MMV693164 OSM-S-363
FC(F)OC1=CC=C(C2=NN=C3C=NC=C(N32)SCCC4=CC=CC=C4)C=C1       InChI=1S/C20H16F2N4OS/c21-20(22)27-16-8-6-15(7-9-16)19-25-24-17-12-23-13-18(26(17)19)28-11-10-14-4-2-1-3-5-14/h1-9,12-13,20H,10-11H2
MMV693167 OSM-S-364
O=S(CCC1=CC=CC=C1)C(N23)=CN=CC2=NN=C3C4=CC=C(OC(F)F)C=C4 InChI=1S/C20H16F2N4O2S/c21-20(22)28-16-8-6-15(7-9-16)19-25-24-17-12-23-13-18(26(17)19)29(27)11-10-14-4-2-1-3-5-14/h1-9,12-13,20H,10-11H2
MMV693166 OSM-S-365
FC(F)OC1=CC=C(C2=NN=C3C=NC=C(N32)S(CCC4=CC=CC=C4)(=O)=O)C=C1 InChI=1S/C20H16F2N4O3S/c21-20(22)29-16-8-6-15(7-9-16)19-25-24-17-12-23-13-18(26(17)19)30(27,28)11-10-14-4-2-1-3-5-14/h1-9,12-13,20H,10-11H2
MMV897697 OSM-S-368
FC(F)OC1=CC=C(C2=NN=C3C=NC=C(N32)OCC4=CC=CC=C4)C=C1     InChI=1S/C19H14F2N4O2/c20-19(21)27-15-8-6-14(7-9-15)18-24-23-16-10-22-11-17(25(16)18)26-12-13-4-2-1-3-5-13/h1-11,19H,12H2
MMV897698 OSM-S-369
FC(F)OC1=CC=C(C2=NN=C3C=NC=C(N32)OCCC4=CC=CC=C4)C=C1   InChI=1S/C20H16F2N4O2/c21-20(22)28-16-8-6-15(7-9-16)19-25-24-17-12-23-13-18(26(17)19)27-11-10-14-4-2-1-3-5-14/h1-9,12-13,20H,10-11H2
MMV897699 OSM-S-370
FC(F)OC(C=C1)=CC=C1C2=NN=C3C=NC=C(OCCCC45C6C7C4C8C7C6C58)N32 InChI=1S/C23H20F2N4O2/c24-22(25)31-11-4-2-10(3-5-11)21-28-27-12-8-26-9-13(29(12)21)30-7-1-6-23-18-15-14-16(18)20(23)17(14)19(15)23/h2-5,8-9,14-20,22H,1,6-7H2
MMV897700 OSM-S-371
FC(F)OC(C=C1)=CC=C1C2=NN=C3C=NC=C(OCCC45C6C7C4C8C7C6C58)N32 InChI=1S/C22H18F2N4O2/c23-21(24)30-10-3-1-9(2-4-10)20-27-26-11-7-25-8-12(28(11)20)29-6-5-22-17-14-13-15(17)19(22)16(13)18(14)22/h1-4,7-8,13-19,21H,5-6H2
MMV897704 OSM-S-375
FC(C=C1)=C(F)C=C1CCOC2=CN=CC3=NN=C(C45C6C7C4C8C7(I)C6C58)N32 InChI=1S/C21H15F2IN4O/c22-9-2-1-8(5-10(9)23)3-4-29-12-7-25-6-11-26-27-19(28(11)12)20-13-16-14(20)18-15(20)17(13)21(16,18)24/h1-2,5-7,13-18H,3-4H2
MMV897710 OSM-S-382
IC12C3C4C5(C3C1C5C24)C6=NN=C7C=NC=C(C(NC8=CC(C(F)(F)F)=NC=C8)=O)N76 InChI=1S/C20H12F3IN6O/c21-20(22,23)8-3-6(1-2-26-8)27-16(31)7-4-25-5-9-28-29-17(30(7)9)18-10-13-11(18)15-12(18)14(10)19(13,15)24/h1-5,10-15H,(H,26,27,31)
MMV897701 OSM-S-372
FC(F)OC1=CC=C(C2=NN=C3C=NC=C(N32)OCC4=CN(CC5=CC=CC=C5)N=N4)C=C1 InChI=1S/C22H17F2N7O2/c23-22(24)33-18-8-6-16(7-9-18)21-28-27-19-10-25-11-20(31(19)21)32-14-17-13-30(29-26-17)12-15-4-2-1-3-5-15/h1-11,13,22H,12,14H2
MMV897702 OSM-S-373
FC(F)OC1=CC=C(C2=NN=C3C=NC=C(N32)OCC4=CN(C5=CC=CC=C5)N=N4)C=C1 InChI=1S/C21H15F2N7O2/c22-21(23)32-17-8-6-14(7-9-17)20-27-26-18-10-24-11-19(30(18)20)31-13-15-12-29(28-25-15)16-4-2-1-3-5-16/h1-12,21H,13H2
MMV897703 OSM-S-374
ClC1=CN=CC(N2N=NC(COC(N34)=CN=CC3=NN=C4C5=CC=C(C=C5)OC(F)F)=C2)=N1 InChI=1S/C19H12ClF2N9O2/c20-14-5-23-6-15(25-14)30-9-12(26-29-30)10-32-17-8-24-7-16-27-28-18(31(16)17)11-1-3-13(4-2-11)33-19(21)22/h1-9,19H,10H2
MMV897711 OSM-S-383
FC(F)OC(C=C1)=CC=C1C2=NN=C3C=NC=C(OCCC4=CC(OC)=CC=C4)N32 InChI=1S/C21H18F2N4O3/c1-28-17-4-2-3-14(11-17)9-10-29-19-13-24-12-18-25-26-20(27(18)19)15-5-7-16(8-6-15)30-21(22)23/h2-8,11-13,21H,9-10H2,1H3
MMV897712 OSM-S-384
FC(F)OC(C=C1)=CC=C1C2=NN=C3C=NC=C(OCCC4=CC=C(OC)C=C4)N32 InChI=1S/C21H18F2N4O3/c1-28-16-6-2-14(3-7-16)10-11-29-19-13-24-12-18-25-26-20(27(18)19)15-4-8-17(9-5-15)30-21(22)23/h2-9,12-13,21H,10-11H2,1H3
MMV897708 OSM-S-376
OC(C1=CC(F)=C(F)C=C1)COC2=CN=CC3=NN=C(C4=CC=C(C#N)C=C4)N32 InChI=1S/C20H13F2N5O2/c21-15-6-5-14(7-16(15)22)17(28)11-29-19-10-24-9-18-25-26-20(27(18)19)13-3-1-12(8-23)2-4-13/h1-7,9-10,17,28H,11H2
MMV897707 OSM-S-378
FC1=C(F)C=CC(C(N(C)C)COC2=CN=CC3=NN=C(C4=CC=C(C#N)C=C4)N32)=C1 InChI=1S/C22H18F2N6O/c1-29(2)19(16-7-8-17(23)18(24)9-16)13-31-21-12-26-11-20-27-28-22(30(20)21)15-5-3-14(10-25)4-6-15/h3-9,11-12,19H,13H2,1-2H3
MMV897713 OSM-S-385
FC(F)OC(C=C1)=CC=C1C2=NN=C3C=NC=C(OC(C)C4=CC=C(F)C(F)=C4)N32 InChI=1S/C20H14F4N4O2/c1-11(13-4-7-15(21)16(22)8-13)29-18-10-25-9-17-26-27-19(28(17)18)12-2-5-14(6-3-12)30-20(23)24/h2-11,20H,1H3
MMV897714 OSM-S-386
FC(F)OC(C=C1)=CC=C1C2=NN=C3C=NC=C(OC(C)C4=CC=C(C#N)C=C4)N32 InChI=1S/C21H15F2N5O2/c1-13(15-4-2-14(10-24)3-5-15)29-19-12-25-11-18-26-27-20(28(18)19)16-6-8-17(9-7-16)30-21(22)23/h2-9,11-13,21H,1H3
MMV897706 OSM-S-387
FC(C=C1)=C(F)C=C1CCOC2=CN=CC3=NN=C([H])N32                           InChI=1S/C13H10F2N4O/c14-10-2-1-9(5-11(10)15)3-4-20-13-7-16-6-12-18-17-8-19(12)13/h1-2,5-8H,3-4H2
MMV897705 OSM-S-388
OC1=CN=CC2=NN=C(N3CCCCC3)N21                                                     InChI=1S/C10H13N5O/c16-9-7-11-6-8-12-13-10(15(8)9)14-4-2-1-3-5-14/h6-7,16H,1-5H2
Attached Files
Nov 2016 Compound Results.cdx
Nov 2016 Compound Results.png
Nov 2016 Compound Results.xlsx