Reaction successful, product obtained with a yield of 33%
Repeat of Althea's procedure AT-6-4 on a shorter time scale to optimise the amination reaction, as yield/products were found to be inconsistent (AEW 100-4).
Reaction scheme

Procedure
AEW 99-1 (0.100 g, 0.4 mmol), isopropanol (3 mL) and ammonia (6 mL) were added to a sealed tube, stirred and heated at 120°C for 4 hours. The solvent was removed under vacuum.
The crude product was purified by flash column chromatograph on silica (95:4.5:0.5 DCM:MeOH:NH3) to yield the product as a yellow solid (30 mg, 33%)
Data
-TLC
TLC of crude reaction mixture in 95:45:0.5 DCM/MeOH/NH3. Not very clear separation, but solvent system used successfully to purify product (see AT-6-4)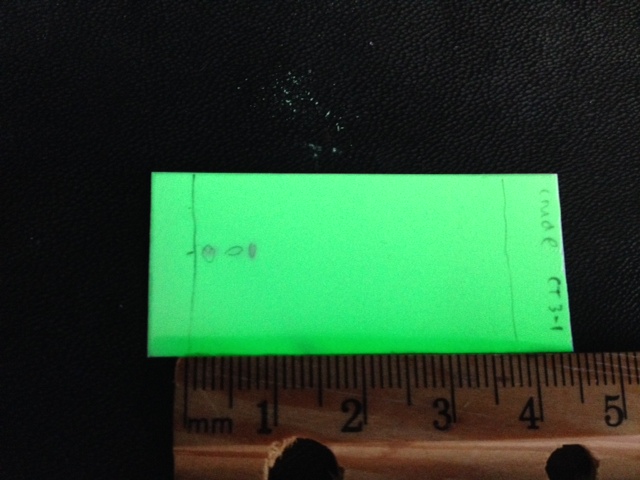 -NMR
1H NMR of starting material AEW 99-1
AEW 99-1 SM for CT 3-1 proton.pdf
1H NMR of crude reaction mixture after drying. Starting material has disappeared, with a mix of other compounds. The major product appears to be the desired product upon comparison with AT 6-4. 
CT 3-1 crude proton.pdf
1H NMR of first fraction after column purification. Appears to be a mix of products, with the major peaks not corresponding to the desired product.
CT 3-1 1st fraction proton.pdf
1H NMR of second fraction after column purification. One product, consistent with desired product according.
CT 3-1 2nd fraction proton.pdf
HIRAC
CT 3-1 HIRAC.pdf
InChI
InChI=1S/C6H2BrClN2S/c7-4-1-3-5(11-4)6(8)10-2-9-3/h1-2H
to
InChI=1S/C6H4BrN3S/c7-4-1-3-5(11-4)6(8)10-2-9-3/h1-2H,(H2,8,9,10)
Attached Files
CT 3-1 scheme.cdx
CT 3-1 scheme.png
CT 3-1 HIRAC.doc
CT 3-1 HIRAC.pdf
AEW 99-1 SM for CT 3-1 proton.pdf
CT 3-1 crude proton.pdf
AEW 99-1 SM for CT 3-1 proton.zip
CT 3-1 crude proton.zip
CT 3-1 column 0-7.JPG
CT 3-1 column 7-14.JPG
CT 3-1 column 14-22.JPG
CT 3-1 2nd fraction proton.pdf
CT 3-1 1st fraction proton.pdf
CT 3-1 1st fraction.zip
CT 3-1 2nd fraction.zip
CT 3-1 crude.JPG