Repeat of See Bromination of MNR113-1 to give MNR115-2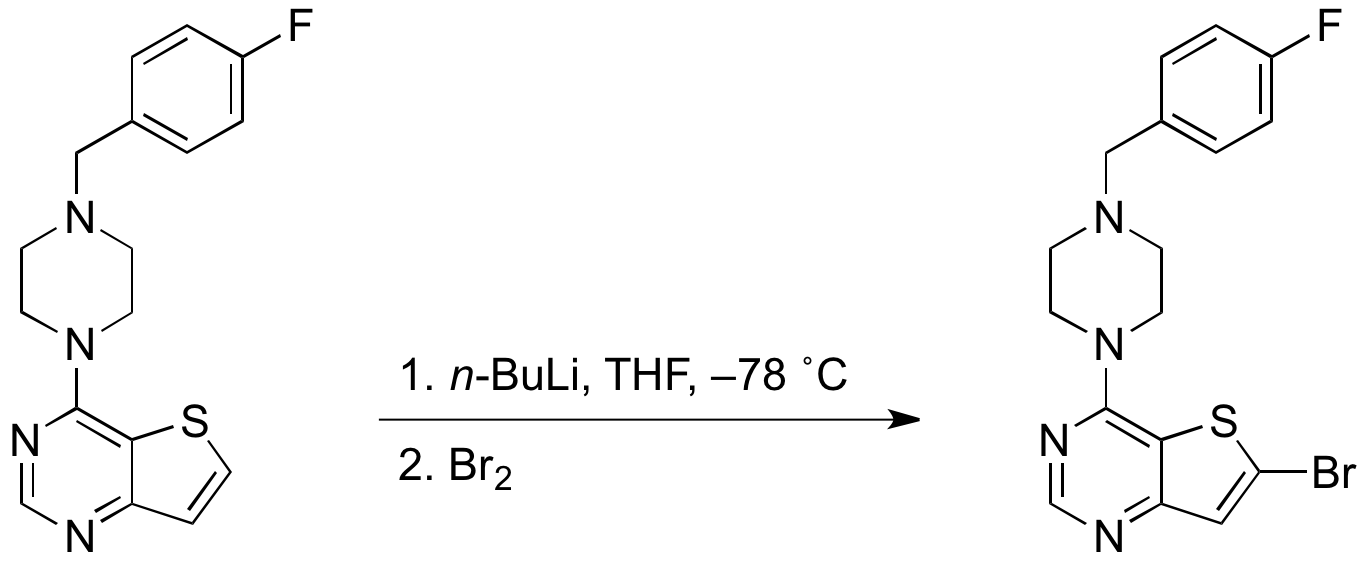 Procedure:
Crude AEW 53-1 (740 mg, 1.13 mmol, 1 equiv.) was dissolved in THF (46 mL) and cooled to -78 °C.  To the stirring solution was added n-BuLi (2.5 M in hexanes, 1.35 mL, 3.38 mmol, 1.5 equiv.) and the stirring was continued for 30 minutes.  Bromine (0.23 mL, 4.51 mmol, 2 equiv.) was added dropwise and the reaction mixture was allowed to reach room temperature and was stirred for 2 hours. (Stirred for 6 hours in total as seminars and meetings happened). Quenched with a saturated aqueous soln. of sodium thiosulfate and extracted into EtOAc, washed with brine, dried (MgSO4), filtered and evaporated to give an orange solid. Aqueous basified and extraction procedure repeated to give an orange oil. Proton NMR ran on both fractions - quite messy but looks product like. 
Flash column chromatography over silica (40% EtOAc in Hexane to 100% EtOAc) gives single spot of orange oil. [N.B. Columned too slow, product came out in neat EtOAc]. Contains product plus impurity. Requires further purification for characterisation.
Crude 1H NMR:
AEW 70-1-A.zip
AEW 70-1-B.zip
TLC Crude (100% EtOAc):
AEW 70-1 100% EtOAc.jpg
1H NMR first column:
AEW 70-1 first column.pdf
AEW 70-1 column.zip
Hazard and Risk Assessment:
Attached Files
AEW 70-1.png
AEW 70-1-A.zip
AEW 70-1-B.zip
AEW 70-1 100% EtOAc.jpg
AEW 70-1 column.zip
AEW 70-1 first column.pdf
AEW 70-1 column.zip