Product obtained in 78% yield.
===
Scale up of
PMY 1-4
from 3 mmol to 20 mmol scale.

Experiment start time: 1751 EST 22/08/11
4-fluoroaniline (2.10 mL, 22.2 mmol, 1.1 equiv.) and
2,5-hexanedione
(2.30 mL, 20.7 mmol, 1 equiv.) were heated to 130 °C (oil bath temp.). After 14 hours (0805 EST) the reaction was allowed to cool whilst stirring. The reaction set solid, colourless needles and brown oil. 10%
citric acid
(10 mL) was added and the mixture stirred for 15 minutes. Crude product was filtered and the filter cake washed with 10%
citric acid
(20 mL) and water (40 mL). The brown solid was dried under vacuum (3.24 g, 86% of theory yield).
Split into batches; PMY 1-5a (1.67 g) and PMY 1-5b (1.57 g)
Recrystallisation:
PMY 1-5b (1.57 g) was dissolved in hot EtOH (10 mL). The solution was allowed to cool to room temperature without stirring, seeded (<5 mg, PMY 1-5a) and cooled in ice. Immediate precipitation of fine tan needles. Dissolved on warming to room temp. Slow addition of water and stirring provides smooth crystallisation. Once complete, filtered and washed with 20% EtOH
(aq)
(3 × 10 mL) to give fine off-white needle crystals. Dried under vacuum (1.17 g, PMY 1-5b).
Attempted recrystallisation of PMY 1-5a (1.67 g) as above. Faster addition of water resulted in oiling of product and poor crystals.
Use 20% EtOH(aq) to complete precipitation next time?
Combined mother liquors were combined and extracted with
n
-hexane (3 × 15 mL). Combined extracts were concentrated under reduced pressure to give a brown oil that crystallised on cooling. This and solid PMY 1-5a were dissolved in EtOH (15 mL) and recrystallised as above to give off-white crystals. Dried under vacuum (1.10 g, PMY 1-5a).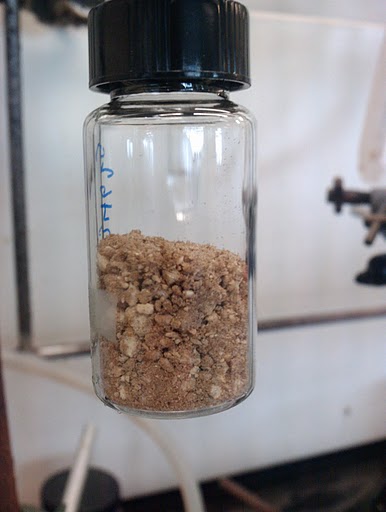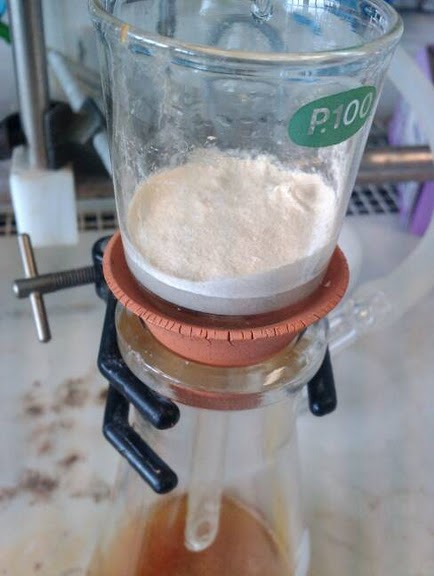 Left: PMY 1-5 crude, right: PMY 1-5a after 2nd recryst.
Further crystals obtained from PMY 1-5a mother liqour, dried under vacuum (0.71 g, PMY 1-5c).
Total Yield:
2.98 g, 78% (PMY 1-5a+b+c).
Melting Point:
48-49 °C (EtOH/water)
TLC visualised with UV and vanillin (10% EtOac/2% Et3N/petrol):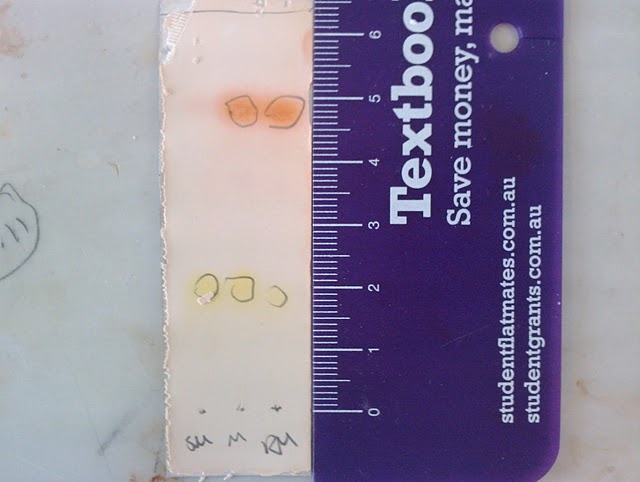 TLC at 14 hours.
SM mix (left), mixed (middle), reaction mixture (right).
Mass Spectrometry:
m/z
(APCI+) 190 [M+H]
+
, 100%.
1H NMR Spectra:
1HNMR
13C NMR Spectra:
13CNMR
Hazard and Risk Assessment
As for
Paal-Knorr Synthesis of 1-aryl-2,5-dimethyl Pyrrole Core (PMY 1-2)
, except reaction carried out neat and on a larger scale.
See also:
Paal-Knorr Synthesis of 1-aryl-2,5-dimethyl Pyrrole Core (PMY 1-4)
Paal-Knorr Synthesis of 1-aryl-2,5-dimethyl Pyrrole Core (PMY 1-3)
Paal-Knorr Synthesis of 1-aryl-2,5-dimethyl Pyrrole Core (PMY 1-2)
Paal-Knorr Synthesis of 1-aryl-2,5-dimethyl Pyrrole Core (PMY 1-1)
Attached Files
TLC
PMY 1-5 crude
PMY 1-5a
1HNMR
13CNMR