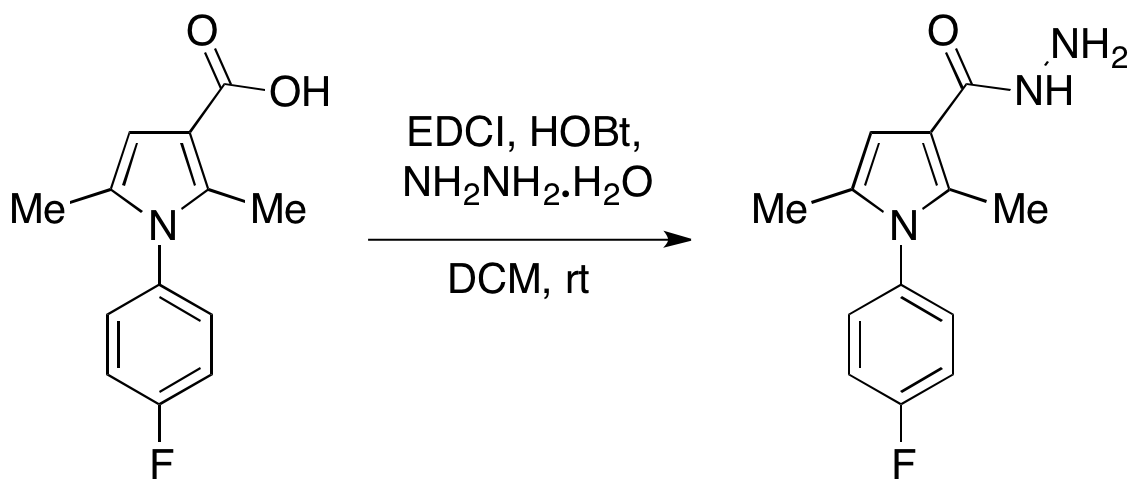 AEW 10-1 (200 mg, 0.86 mmol, 1 equiv.) was dissolved in DCM (8.6 mL) under Argon. EDC (198 mg, 1.03 mmo, 1.2 equiv.) and HOBt (12 mg, 0.09 mmol. 0.1 equiv.) were added and the yellow solution stirred at room temperature for 20 minutes under Argon. Hydrazine hydrate (0.1 mL, 1.29 mmol, 1.5 equiv) was injected in a single portion. The reaction mixture fizzed and then a white ppt crashed out from the yellow solution.
(no TLC taken as had to rush to a talk).
After 2 hours, the ppt had dissolved and the reaction mixture was once again a yellow solution. TLC indicated that all the SM had been consumed. Reaction quenched with a saturated aqueous solution of ammonium chloride (5 mL) and then extracted with DCM (10 mL x 2). The organic layers were washed with brine, dried MgSO
4
), filtered and evaporated to give a pale yellow oil that was dried at the high vac and then stored in the fridge overnight.
1
H NMR of the crude looked promising but not as clean as anticipated. A TLC was run again prior to column chromatography and more spots were visualised, including one at the same R
f
as SM (
suggested decomposition in the fridge o/n
). The crude mixture was purified by flash column chromatography over silica, 1:1 to 1:0 EtOAc/hexane. The first two TLC spots co-eluted and then the bottom spot was obtained by flushing the column with EtOAc to obtain a white foam (<75 mg, <0.30 mmol, <35% yield
still contained EtOAc and not completely pure but used in next reaction)
.
TLC before o/n freezer (25% EtOAc in hexane, UV):
AEW 14-1 1.jpg
TLC after o/n freezer (50% EtOAc in hexane, vanillin)
AEW 14-1 2.jpg
Crude 1H NMR:
1HNMR_AEW 14-1 crude.pdf
AEW 14-1 crude.zip
1H NMR after column (white foam):
AEW14-1_3.zip
1H.pdf
Hazard and Risk Assessment:
HIRAC AEW 14-1.pdf
This post is linked by:
Attached Files
AEW 14-1.png
AEW 14-1 1.jpg
1HNMR_AEW 14-1 crude.pdf
AEW 14-1 2.jpg
AEW 14-1 crude.zip
HIRAC AEW 14-1.pdf
1H.pdf
AEW14-1_3.zip