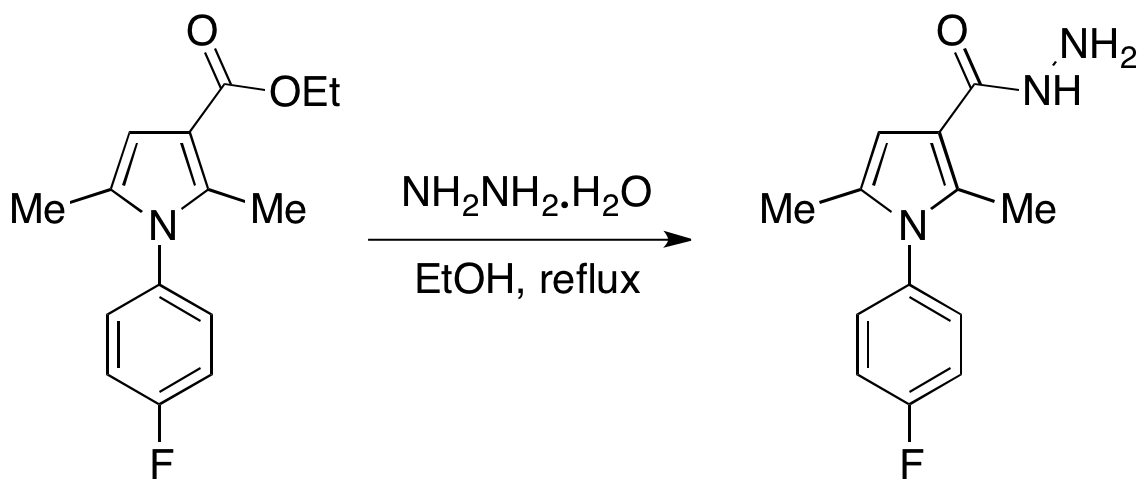 AEW 7-1 (1 g, 3.83 mmol, 1 equiv.) was dissolved in EtOH (38 mL) and hydrazine hydrate (0.29 mL, 3.83 mmol, 1 equiv.) was added and the reaction mixture was heated to reflux. After ~3 h, TLC indicated no reaction.
Reaction mixture was allowed to cool to room temperature and then ethanol was removed
in vacuo
. The orange oil was stirred and hydrazine hydrate (1.2 mL) was added. An off-white solid crashed out instantly and was stirred for ten minutes before being filtered and washed with water. Unfortunately, NMR revealed this 'product' to be starting ester. Hydrazine hydrate (5 mL) was added to the solid and the reaction mixture heated to reflux with stirring for 15 hours. TLC analysis indicated no reaction
[quite surprising!]
.
TLC (10% EtOAc in Hexane after 3 hours, UV and then vanillin):
AEW 13-1 vanillin.png
AEW 13-1 UV.JPG
1H NMR of solid collected following addition of hydrazine hydrate (prior to reflux):TLC (10% EtOAc in Hexane after 15 hours at reflux (100 ˚C), vanillin):
AEW 13-1 after reflux.JPG
Hazard and Risk Assessment:
HIRAC AEW 13-1.pdf
This post is linked by:
Attached Files
AEW 13-1.png
AEW 13-1 UV.JPG
AEW 13-1 vanillin.png
HIRAC AEW 13-1.pdf
AEW 13-1 after reflux.JPG