Biological evaluation of OSM-S-106 through 116 (excluding OSM-S-107) performed in Vicky Avery's lab by Sabine Fletcher.
The compounds look good in this round - all but cpd OSM-S-113 show activity.
I already ran the cytotoxicity as well, and none of the compounds was particularly cytotoxic (see 'summary report' file and curves in PDF).
Solubility: minor floating specks after dissolving in OSM-S-106; all others fine
Unfortunately I made a minor mistake: I started the Artemisinin CRC curve at the wrong concentration, 40 uM (same concentration as the compounds) as opposed to the usual 2 uM. The IC50 value obtained for the control is correct (4 nM), just the x-axis range of the curve is different compared to the previous runs. Sorry for that!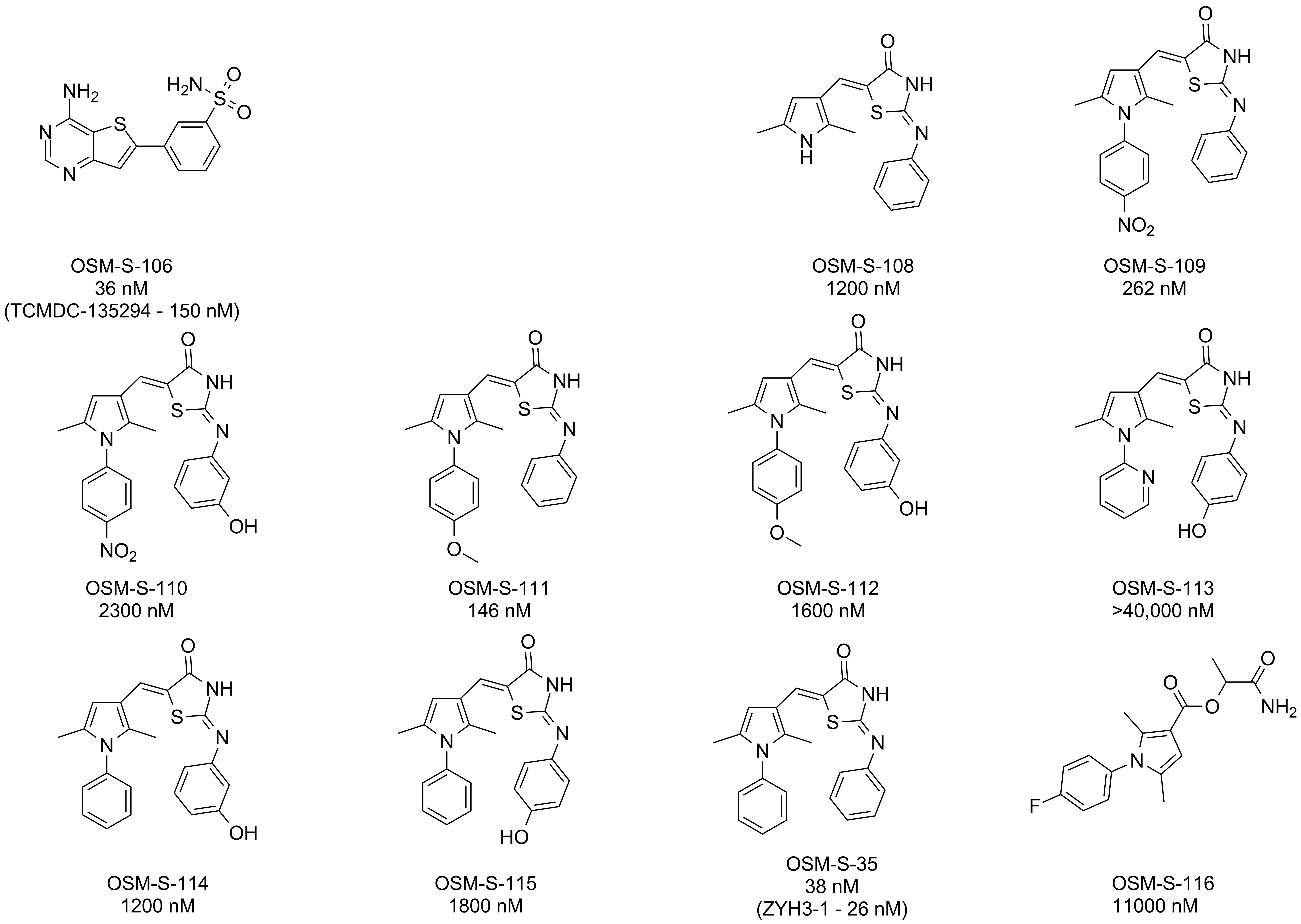 Displacement Curves
2013_02_19 Sydney cpds batch 4 on 3D7 page1.pdf
2013_02_19 Sydney cpds batch 4 on 3D7 page 2.pdf
2013_02_19 Sydney cpds batch 4 on HEK page 1.pdf
Strings
ID
InChI
3D7 IC50 (nM)
OSM-S-106
 InChI=1S/C12H10N4O2S2/c13-12-11-9(15-6-16-12)5-10(19-11)7-2-1-3-8(4-7)20(14,17)18/h1-6H,(H2,13,15,16)(H2,14,17,18)
 36
OSM-S-108
 InChI=1S/C16H15N3OS/c1-10-8-12(11(2)17-10)9-14-15(20)19-16(21-14)18-13-6-4-3-5-7-13/h3-9,17H,1-2H3,(H,18,19,20)/b14-9-
 1200
 OSM-S-109
 InChI=1S/C22H18N4O3S/c1-14-12-16(15(2)25(14)18-8-10-19(11-9-18)26(28)29)13-20-21(27)24-22(30-20)23-17-6-4-3-5-7-17/h3-13H,1-2H3,(H,23,24,27)/b20-13-
 262
 OSM-S-110
 InChI=1S/C22H18N4O4S/c1-13-10-15(14(2)25(13)17-6-8-18(9-7-17)26(29)30)11-20-21(28)24-22(31-20)23-16-4-3-5-19(27)12-16/h3-12,27H,1-2H3,(H,23,24,28)/b20-11-
 2300
 OSM-S-111
  InChI=1S/C23H21N3O2S/c1-15-13-17(16(2)26(15)19-9-11-20(28-3)12-10-19)14-21-22(27)25-23(29-21)24-18-7-5-4-6-8-18/h4-14H,1-3H3,(H,24,25,27)/b21-14-
 146
 OSM-S-112
 

InChI=1S/C23H21N3O3S/c1-14-11-16(15(2)26(14)18-7-9-20(29-3)10-8-18)12-21-22(28)25-23(30-21)24-17-5-4-6-19(27)13-17/h4-13,27H,1-3H3,(H,24,25,28)/b21-12-

 1600
 OSM-S-113
 InChI=1S/C21H18N4O2S/c1-13-11-15(14(2)25(13)19-5-3-4-10-22-19)12-18-20(27)24-21(28-18)23-16-6-8-17(26)9-7-16/h3-12,26H,1-2H3,(H,23,24,27)/b18-12-
 >40,000
 OSM-S-114
 

InChI=1S/C22H19N3O2S/c1-14-11-16(15(2)25(14)18-8-4-3-5-9-18)12-20-21(27)24-22(28-20)23-17-7-6-10-19(26)13-17/h3-13,26H,1-2H3,(H,23,24,27)/b20-12-

 1200
 OSM-S-115
 

InChI=1S/C22H19N3O2S/c1-14-12-16(15(2)25(14)18-6-4-3-5-7-18)13-20-21(27)24-22(28-20)23-17-8-10-19(26)11-9-17/h3-13,26H,1-2H3,(H,23,24,27)/b20-13-

 1800
OSM-S-35
 InChI=1S/C22H19N3OS/c1-15-13-17(16(2)25(15)19-11-7-4-8-12-19)14-20-21(26)24-22(27-20)23-18-9-5-3-6-10-18/h3-14H,1-2H3,(H,23,24,26)/b20-14-
 38
OSM-S-116
InChI=1S/C16H17FN2O3/c1-9-8-14(16(21)22-11(3)15(18)20)10(2)19(9)13-6-4-12(17)5-7-13/h4-8,11H,1-3H3,(H2,18,20)
 11000
Attached Files
2013_02_19 Sydney cpds batch 4 on 3D7 page 2.pdf
2013_02_19 Sydney cpds batch 4 on 3D7 page1.pdf
2013_02_19 Sydney cpds batch 4 on HEK page 1.pdf
testing_04Feb13_data.png